I often get asked - How do I motivate employees? Well, that's my talent as a public speaker- to deliver motivational and inspirational business talks. What I don't always tell these corporate clients is that they should take a look at their company culture if employees are leaving.
At the start of every year the Internet is full of courses, webinars, and other online teachings about a New Year, New Job. Many people, dissatisfied with their job start thinking seriously about changing jobs as January looms. Christmas is over, and the niggles about your job seem even worse in the cold dismal weather that is part of January.
Getting great people to work for you is one thing, then you have to keep them. Employees usually only work well if they feel appreciated and there are some rules, regulations and bureaucracy that are guaranteed to make them reach for the job app on their mobiles.
Generally, people complain if they feel their voice is never heard in an organisation, but there are small petty rules that seem to be the straw that breaks the camel's back and trigger an exit, so smart companies would do well to cut back on these rules as much as possible.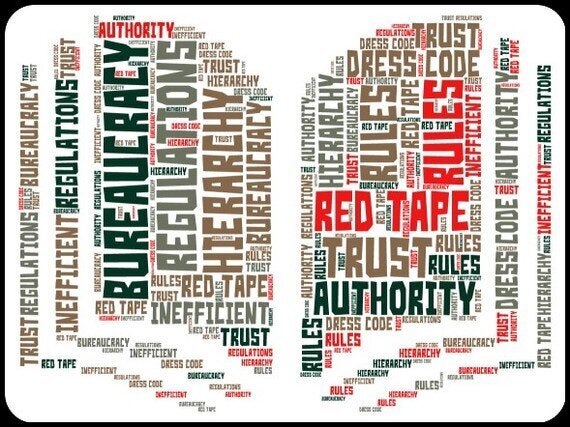 picture courtesy of www.pamwarren.co.uk
Oh dear, is it alright to wear shorts in the summer, two or three inch heels, how short a skirt, what colours make bosses see red? Seriously, can't a dress code be "appropriate business wear"? Are managers so insecure they cannot have a quiet word with an employee about their work wear or do 21st century companies have to impose a school uniform approach to their employees clothing?
On a factory floor where you pay employees a wage according to hours worked then clocking in and out is part of the work culture. It is insulting to apply that approach to executives who work ridiculously late getting a project to deadline...and come in at 9.15 the next day instead of 9 am.
Expenses forms in triplicate
Wake up people - there are online apps that can handle this kind of thing. Employees often know much more efficient ways of handling paperwork via their smartphone or tablet than the existing company systems. A smart boss would ask their employees for suggestions and then get the IT department to make it happen- maybe by connecting employees own devices to the company systems.
This is a serious bone of contention in many companies. If your employee illness rates seem to be soaring - it is likely to be a company not an employee issue. Implementing wellness rather than sickness policies seem to be effective in shifting the culture away from a blame approach towards encouragement to stay healthy.
Meetings, meetings, meetings....
The obsession with making employees endure endless meetings that don't come up with anything is a symptom of bureaucracy managing the company. The best rules for meetings should be, "are they needed and no more than three items on the agenda".
However, there is one over-arching complaint from employees who cite bureaucratic rules as a reason for leaving their job. "It feels as if the company doesn't trust me". Maybe to keep good employees a company should start with their recruitment policies and a long hard look at the type of people they want to employ.
--------------------------------------------------------------------------
Pam's book 'From Behind the Mask' tells the inspiring true story of Pam's experience before, during and since the Paddington train crash. Get your author signed hardback copy or download the eBook now from Pam's website: www.pamwarren.co.uk.