As a student at Goldsmiths university, Deptford was the place I'd go to rummage for treasure. On market days, (Wednesdays, Fridays and Saturdays) I'd raid the bric-a-brac stalls for whimsical china plates, prom-style dresses and old lady handbags. I'd spend hours cleaning and mending my finds, sometimes selling them on to earn a few quid.
Ten years on, I'm still hanging around south east London, up the road in Brockley. This leafy, peaceful suburb might become more smug by the day (relax, I'm just bitter as I'm being priced out), but Deptford hasn't lost any of its bite. The market's still going and despite the ominous presence of a Tesco Express, there's a healthy ratio of greasy spoons to flat white and sourdough-style eateries.
And so it's back to Deptford I go this weekend, as the New Cross & Deptford Free Film Festival (24 April - 3 May) gets underway. Now in its fourth year, the ten-day event sees local volunteers turn curators, as they pull together an eclectic programme of feature films and documentaries by new and established talent. Best of all, aside from the fact that all the events are free, the screenings take place in a string of interesting local venues. Friday's launch night, for example, is at new venue Number3London, a gallery, studio and café on Creekside, Deptford's arty enclave. The space will be transformed into a 70s disco after a screening of 'Saturday Night Fever' (24 April), while Big Red, the London Routemaster-turned-restaurant, serves up 70s-inspired pizzas and cocktails.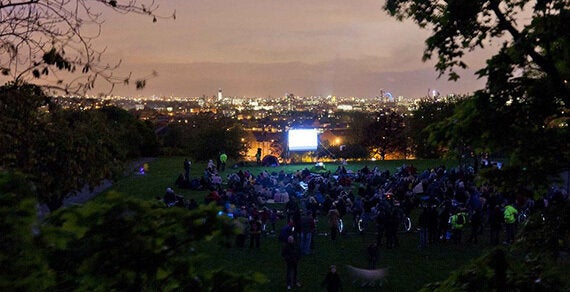 On Saturday 25 April, there are all-day art videos at the Deptford Police Station, a crumbly Edwardian building home to yet-more artist's studios and creative spaces. Over at Sanford Housing Cooperative, the first purpose-built housing co-op to be set up in Britain as an alternative to private ownership, you can watch Boyhood director Richard Linklater's 1991 classic 'Slacker' (25 April). There's a great programme of documentaries here, including Claudia Tomaz's timely 'Give us Space' (30 April), which explores one of London's most pressing issues - the housing crisis.
At the futuristic golden cube that is Deptford Lounge, you can catch cult flicks An American Werewolf in London (27 April) and Carrie (29 April). Meanwhile, at Deptford Cinema, a not-for-profit, volunteer-run cinema that spotlights art and experimental film, there's a screening of Dave McKean's 2014 feature film 'Luna' ( 26 April) and a documentary about London's urban barber shops (1 May).
Not that all the fun is limited to Deptford. Over in New Cross, a selection of unusual buildings will also be opening their doors for the festival. At the Goldsmiths-owned St. James Hatcham Church, (just down the road from that giant squiggle-adorned building Will Alsop designed), you can watch an intriguing film noir entitled 'Arthur Sleep'. This half hour homage to silent cinema will be screened alongside the 1902 classic 'La Voyage Dans La Lune', with a live DJ set by Dom Tuck. Nearby, inside the more pedestrian space of New Cross Learning, there's a chance to see 'Will & Testament', the must-watch documentary exploring the life and political career of Tony Benn (30 April). Alternatively, if you prefer to watch your films in the great outdoors, head to the *hipster klaxon* bike-powered screenings of 'Guardians of the Galaxy' in Fordham Park (25 April), or 'The Wizard of Oz' on Telegraph Hill (1 May). The latter boasts one of the best views of London in the area.
The festival draws to a close on 3 May at The Job Centre (what's next, Antic Collective? A bar in a food bank?) with a screening of 'The Clash: Westway To The World', followed by a Q&A and DJ set by director Don Letts. Best to arrive extra-early for that one.