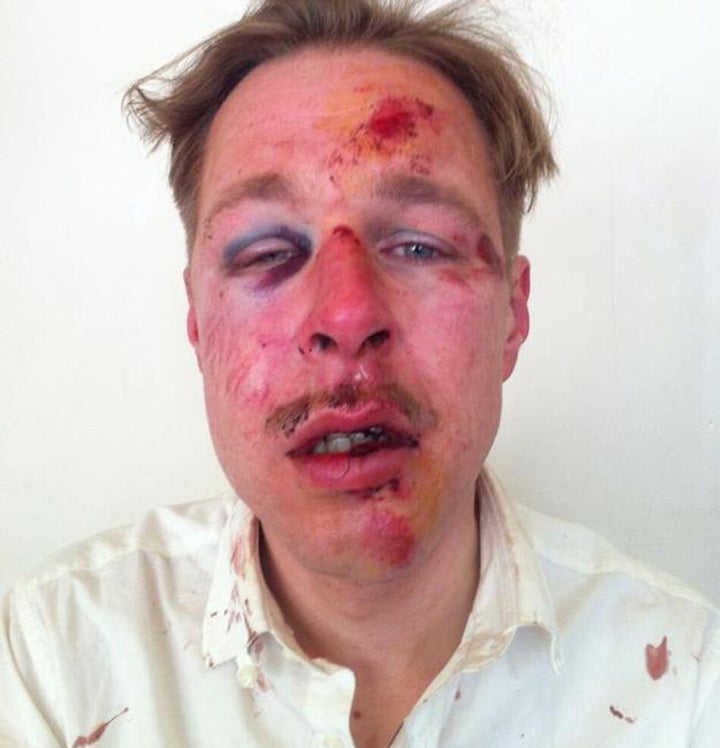 On Monday 8 April many branches of the LGBT media featured the above image, of a Frenchman named Wilfred de Brujin, posted on his Facebook page under the moniker 'the face of homophobia'. De Brujin had allegedly been the victim of a homophobic attack after leaving Rosa Bonheur, a famous gay night in Paris's 19th arrondissement, and walking arm in arm with his lover home. Such was the reaction to the shocking nature of the image that it quickly got re-shared by many of De Brujin's social media connections, eventually going viral.
If you regularly view the gay press stories you may have noticed a significant number concentrating on France in recent weeks, particularly involving the anti-same sex marriage group 'Manif pour Tous'. Their name translates as 'March for All', and they claim to represent the silent majority of the population. When the image of de Brujin's injuries became public, the group's spokesperson Xavier Bongibault was quick to condemn the attack, saying: "there is no link whatsoever to the Manif pour Tous. We have said since the beginning that we are not against homosexuals, we are simply against the government's legislation".
I do not believe for any instance that Manif pour Tous were actively behind this attack. Yet Bongibault is instrumentally wrong when he claims that "there is no link whatsoever" to his campaigning group. After organising a march of 300,000 in Paris against the proposed same-sex legislation on 24 March of this year, Manif pour Tous have flooded France's media with their agenda and sentiment. They conspicuously disalign themselves with right-wing political parties and claim not to be homophobic, arguing for economic success before equal rights, but it cannot be denied that their message is anti-gay.
With a notoriously volatile youth and unfavourable unemployment rates, the social fires in France have risen quickly from this tinder. To align the fight for gay marriage rights in parallel with their country's economic instability is an insidious and nastily clever manner of swaying the fence-sitting public's minds against a minority.
Yet the surprise twist of this story? Bongibault himself is gay. He is quoted as saying on the issue: "I militate in this way: the LGBT Associations I found deeply homophobic, here's why - The idea that a homosexual must be for homosexual marriage because he's homosexual". Fair enough. We can't with any authority dissect Bongibault's psychology, and in a society of equal rights, homosexuals should have the chance to be against homosexual marriage.
But the real deeper issue here, is not being on the side of gay marriage or not, it is being on the side of doing what is right. And if we look at the image again above of de Brujin, I can't help but feel it does not seem that supporting 'Manif pour Tous' is the option that will achieve this.
And for those who may be wondering, with fair reason, why I have written a UK blog post on a French movement? Well, Manif pour Tous have in fact already been here. On the same day they organised their Paris march they staged a protest in Trafalgar Square, which attracted a fraction of the number of supporters as in Paris and an almost equal number of protestors against Manif pour Tous. Heartwarming news for the English capital, but it still remains these mindsets, wherever they are in Europe, are not just antagonistic to those who fight for equal rights, they are poisonously dangerous to those who simply harbour complacency about equal rights.
Popular in the Community