Forget sex, drugs & rock'n'roll. It seems entrepreneurship has never been cooler among today's young people.
Perhaps its today's technology? Maybe its the influence of business in popular culture (hello Alan Sugar!) or maybe its a mindset thing with today's young people living through a recession.
And now brands are starting to turn this passion into action. Heritage American tennis brand K Swiss is partnering with DJ producer and businessman Diplo to launch 'The Board', a campaign built to inspire, and to be led by, the next generation of young entrepreneurs.
Appointing Diplo is a nod to the K Swiss founders, two entrepreneurs who moved to California in 1966 and built the global brand from a revolutionary tennis shoe, the K Swiss Classic. Diplo will serve as the Director of a 100-person board comprised of creative and connected individuals who will work on real tasks to bring the K Swiss brand back to prominence.
And the application site is now open until the end of April.
"We believe that consumer aspirations have shifted. The goal has evolved beyond being the fastest runner or being a celebrity. Young people want their own brands, their own voice and their own businesses. K Swiss is committed to outfitting and inspiring this generation of entrepreneurs. We have created a program with substance, where our customers get involved in the process of rebuilding K•Swiss and make real contributions. As a respected entrepreneur and global music talent, Diplo is the perfect leader for 'The Board'," said Barney Waters, chief marketing officer of K Swiss Global Brands.
Led by Diplo, successful applicants to 'The Board' will be invited to the program's members-only website with a six-course curriculum connecting the group with industry insiders.
Each insider will lead a discussion session specific to their expertise, and then assign a task to the board that relates to K Swiss' business. Members of 'The Board' will make real decisions on real projects that K Swiss will follow. The program will highlight important topics, including: brand positioning, sneaker design, social media promotion and drafting a business plan.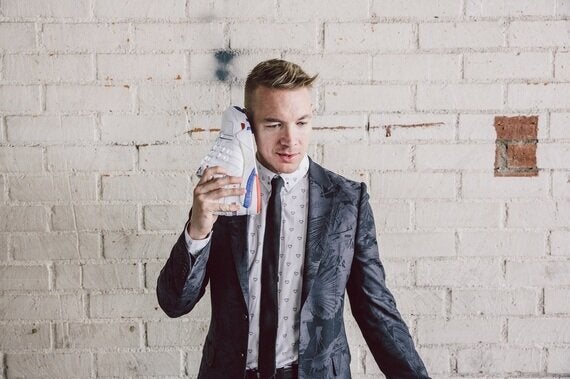 "I was instantly drawn to the K-Swiss brand due to their heritage and longevity in the marketplace," said Diplo. "I am excited to be part of 'The Board', to bring young entrepreneurial minds into the process to help build the next chapter at such a respected brand," said Diplo.
Of course, it wouldn't be an entrepreneurship programme in 2015 without a social media platform too. You can follow the campaign through the hashtags #ourkswiss and #theboard.
Would be great to see health, arts and the public sector take this open approach to ideas too. Business brains, go forth!