Having spent seven days in Thailand including a two night stopover in Bangkok at the Anantara Riverside Resort & Spa, I was ready to begin my healthy holiday at Kamalaya in Koh Samui. Voted as Destination Spa of the Year in Asia and Favourite Spa in Thailand, I was looking forwards to spending one week re-energising myself at this stunning Wellness Sanctuary and holistic spa.
On my arrival to Kamalaya, I was greeted with a cold flannel and drink, and I immediately felt like I had entered a different world, somewhere truly magical and calming. There are 59 rooms and suites ranging from luxurious beach villas to simple rooms, all different and decorated beautifully. My sea view villa was stunning and overlooked the lush jungle and beach; this really was a room with a view and an idyllic place to unwind.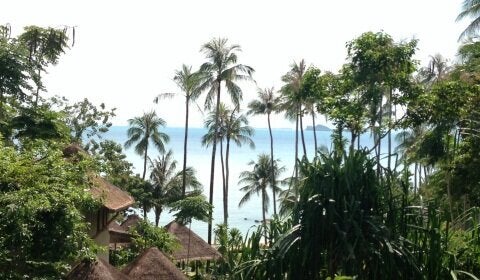 At the centre of Kamalaya is a cave which has been used by Buddhist monks as a place to meditate for hundreds of years. The resort has two restaurants serving the most delicious healthy cuisine I've ever tasted, a library, swimming pools, fitness centre, yoga pavilion and plenty of space to relax in with the most spectacular views. My first night at Kamalaya was actually my birthday and I was given a surprise healthy chocolate cake by the staff after a wonderful dinner. I then reclined back to my room to sleep.
My first day was spent doing a morning yoga class at the yoga pavilion overlooking the sea, followed by a healthy breakfast of a fresh wheatgrass shot, fruit and poached eggs, which became my daily routine every morning. I began my wellness programme with a Body Bio impedance Analysis which is what all clients have at the start of any wellness programme. Electrodes were attached to my fingertips and the results showed how healthy my cells are, body fat, hydration levels, metabolic rate and body mass index. I was pleased to hear my energy levels were very high and my body cell and lean body mass were good.
I then had my wellness consultation with Laurel from Australia, the resident Naturopath who was very thorough and helped assist me in putting together my tailor-made package - the Kamalaya Balance and Revitalise comprehensive programme. This included lots of lovely treatments from Ayurvedic massages to Reiki and Thai massage, as well as personal training and private yoga lessons. I also decided that some detoxing was needed and took Magnesium, Turmeric, Zinc, Chromium, Probiotic and Fibre supplements each day. I ate mostly from the detox menu but did indulge with their chocolate mousse occasionally, which was the best chocolate mousse I have ever tasted!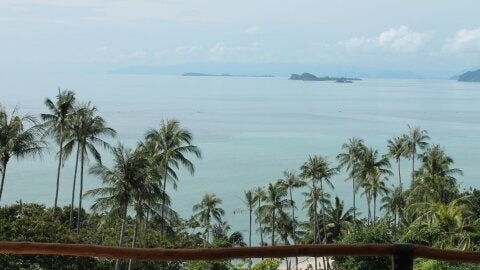 It was after my first 24 hours at Kamalaya that I started to feel so calm and relaxed. Out of all the spa treatments on my schedule, I thought the Traditional Asian foot and Traditional Asian hand massages may have been just a simple hand and foot massage, but they were two of my favourite treatments I had. Words can't describe just how wonderful these treatments are, both based on reflexology pressure points, I was left feeling totally rejuvenated. All the Ayurveda therapies were wonderful, the Shirodhara was another favourite of mine, warm oil was poured continuously over my forehead (considered as the third eye) in order to clear my mind and cleanse my soul - it worked!
My initial Chinese medicine consultation with the doctor was very interesting and I had acupuncture treatment with cupping, which really helped with my digestive and sinus problems. The Chi Nei Tsang treatment, a powerful abdominal massage really helped to unravel my energy blockages and promote circulation. It was slightly uncomfortable at first but very beneficial and I felt good afterwards. The spa at Kamalaya is exceptional, every time I arrived for a treatment my therapist was waiting to meet and greet me. With so many different treatment rooms, both indoors and outdoors and serene views to look at whilst being pampered, this is now one of my favourite spa holidays.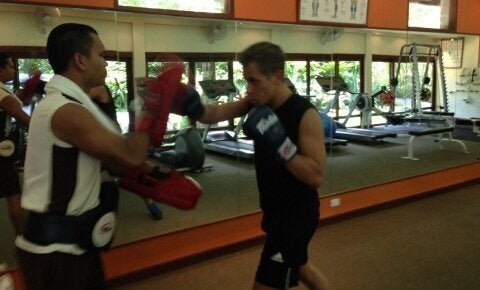 My personal training was focussed on cardio and strength training as well as Thai boxing, the trainer was very good and each session ended with a 10 minute super stretch which I loved and something I always looked forwards to. Fitness holiday training is imperative to me as I don't always have as much time to focus on my fitness as I'd like. I enjoyed all the yoga holiday classes with Nok and Siri, both were inspirational teachers who I learned from and the yoga Pavilion at Kamalaya is a really serene place to practice every day. I highly recommend the personal yoga lessons, it's amazing what you can achieve and learn in just one hour.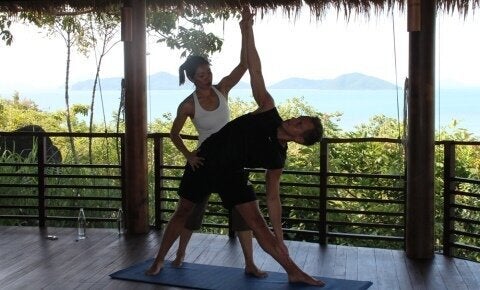 Kamalaya has a comprehensive holistic weekly activity schedule which is given to guests on arrival. I was able to schedule what I wanted to do around my wellness programme, this included morning power walks on the beach, Tai Chi, Yoga, Pilates, Circuit training, Cardio Combat and Stretching. The fitness trainers Sunny and Em at Kamalaya are energetic and fun, I felt so motivated because of them. There are also health lectures and cooking classes to attend so you can learn how to create delicious dishes that you may have enjoyed at Kamalaya. Apart from one rain shower, the weather was perfect all week of around 30+ degrees Celsius. The beach at Kamalaya is very secluded and peaceful; I am always greeted by Krit, who has a smile on his face with my beach bed ready and a drink. When I can't sit still, I go swimming, walking or kayaking.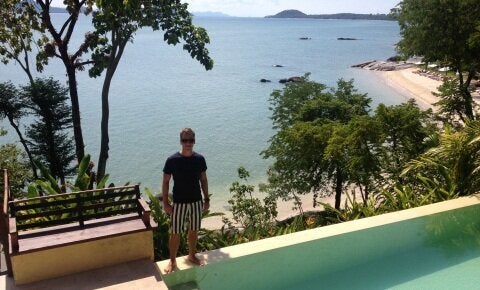 I also got to experience a personal Pranayama session with Smittha, who explains to me it's the 'science of breath' and the control of the vital force in the air we breathe. Pranayama consists of slow, regulated deep breathing which helps to calm the mind, balance the emotions and reduce stress and anxiety. Smittha took me through three stages; beginners Pranayama, complete breath Pranayama and Nadi Shodhana Pranayama. By the end I was nearly asleep and felt so calm, since I've returned home I'm now doing 10 minutes before I go to bed which is really helping me to sleep well. I highly recommend you try it.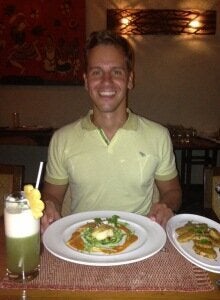 Most evenings I joined the community table and met other solo travellers, mostly from the UK and Australia and we all got on very well. The majority of people who visit Kamalaya on holiday are single travellers so you are not alone, unless you would prefer to be then not a problem. I am fussy with my food and always want to eat well so I was pleased the food was fabulous at Kamalaya and I enjoyed it so much. All the soups were tasty and I recommend the Detox vegetable broth, green vegetable and Pumpkin soups. The Detox Mieng Kam was my favourite starter, a traditional Thai appetiser with a combination of fresh green betel leaves served with dried coconut, fresh pineapple, ginger, shallots and vegetables. My favourite main dishes were the baked snow fish with cucumber avocado mash and the roast duck breast with sweet potato roesti. Detoxing on holiday has never been so delicious - the food is so fresh and healthy.
You can be as busy or as quiet as you like at Kamalaya, the choice is yours. I would recommend choosing a seven day wellness programme over a 10 night stay or 10 days over a 14 night stay so you have longer to enjoy everything on offer. This really is a special place; the staff are wonderful and I understand why so many of our clients return. As I finished my seven day healthy holiday, I left feeling totally restored and calm. I was stronger physically and mentally, and I'll look forwards to returning one day to experience this again.
There are many spas on Koh Samui Island, but none that are as sophisticated and unique as Kamalaya. This is one seriously good spa holiday, guest teachers and practitioners fly in from all over the world and the therapists are world class.