Wellness travel is one of the hottest trends in travel today, as more consumers seek relief from daily stress and constant connectivity. The health and fitness travel trend is being fuelled by aging baby boomers wanting to hold on to their looks and prolong their lifestyle. Travelling for prevention and improving health is why wellness holidays have grown in recent years with a surge of people traveling abroad to stay healthy. Many spa resorts will no longer be positioned as fitness amenities but lifestyle choices offering vegan and gluten-free healthy meal options. The wellness travel industry and consumer needs have evolved from pampered indulgence to personalised, functional health and fitness.
Holidays offering tailor-made healthy programmes where clients can be flexible and choose what they want to do are most popular which is why I created our Fusion Fitness Holidays to fulfil this need. Combining a healthy holiday with culture is another emerging trend now with us launching our brand new Discover Recover holidays which offer a unique opportunity to unite your perfect travel experience of wellness with culture.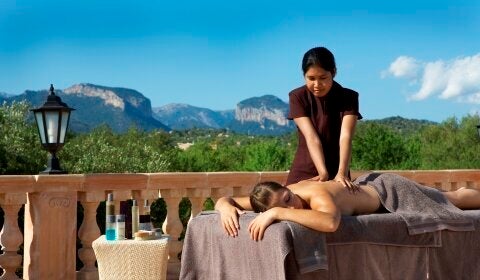 Enjoy a range of spa treatments on your healthy holiday
The wellness holiday industry has been increasing in popularity and will continue. We have become more aware of the importance of staying fit and healthy and our holidays reflect this trend. People don't want to sit on a beach sunning themselves for 10 hours a day; they want to return home with lasting benefits, long after the tan's faded. Due to our sedentary daily lives which can leave us open to health problems in later life, we want to stay active on holiday and use what time we have to boost our health and well-being.
The typical wellness traveller booking these types of holidays are 30+ men and women who lead busy lives and are successful business people. They work hard but have little time to focus on their health and fitness, so seek a holiday to rejuvenate and get back in shape. These people see these types of holidays as a necessary part of their lives and invest in their health and well-being. A high proportion of our clients are single travellers and our holidays are perfect for travelling on your own. Like any machine used on a daily basis, our bodies needs care and attention to ensure they stay in good working order, so these types of healthy holidays are also perfect for a body MOT.
Here are some of my wellness holiday recommendations on my favourite places for stress relief, fitness, weight-loss, detox, spa and yoga.
Where to go for stress relief
If you're looking for somewhere spectacular to de-stress, completely unwind and reconnect with nature, I recommend Zighy Bay in Oman, set in its own secluded bay. The contrast of the spectacular mountains and sparkling beaches makes it the perfect location to recharge your batteries and there are a number of activities, holistic classes and spa treatments to choose from. Enjoy a real sense of relaxation for total renewal.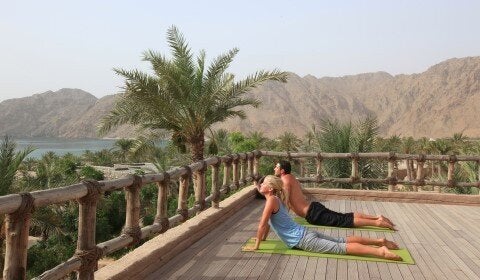 A private yoga class at Zighy Bay
38° North Fusion Fitness at Aguas de Ibiza is the perfect place to shape up whilst enjoying some renowned Ibiza sunsets. From kickboxing to rooftop yoga classes, hiking to mountain biking, there is a full schedule of group exercise and personalised training for maximum results. If you are someone who is looking for a hard core workout week, then this fitness holiday is for you as it can be tailor-made to suit your preferences. You can also unwind with spa treatments, meditation and enjoy healthy meals.
Kamalaya in Thailand is fantastic for a detox holiday. Guest teachers and practitioners fly in from all over the world to this spectacular wellness sanctuary in Koh Samui. The spa therapists are world class and the food is so healthy but delicious. Introductory, basic and comprehensive detox programmes are available to choose from which feature a range of holistic therapies for cleansing to increase energy and vitality. On arrival it's like entering a different world, somewhere truly magical and calming where you end your holiday feeling totally restored in mind and body.
Where to go for weight loss
Longevity Wellness Resort nestled in the green mountains of Monchique has a structured weight management programme that is designed to guide you towards achieving and maintaining your ideal weight. They are also a pioneer in preventative anti-ageing medicine with an extensive timetable of wellness workshops and group activities from yoga and boxing, to nature hiking. The Longevity team will give you the tools and help to aid weight loss, helping you to manage your weight with a healthy diet.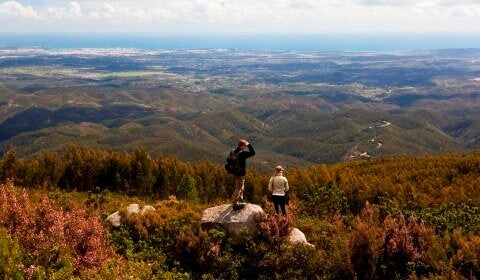 A spectacular view of the Algarve coastline
If you're a fan of yoga, sunshine, delicious healthy food, fresh fruit smoothies and incredible juices then try Absolute Sanctuary, in Koh Samui, Thailand. This stunning Moroccan-inspired boutique resort offers five yoga classes a day including pranayama, meditation, Yoga flow, hatha, Ashtanga, yin, detox and hot yoga. The jungle studio, where all the classes take place has huge windows, so natural light can flood through, allowing you to enjoy a beautiful view. As well as the unlimited yoga offered in their yoga holiday programme, you also get the luxury of a daily aroma or Thai stretch massage at the spa.
My favourite spa holiday is The BodyHoliday in St Lucia, the all-inclusive wellness resort at the northern end of this beautiful island has an impressive amount of holistic, fitness and sports activities with one daily spa treatment included. Having been voted Best Destination Spa in the world by Conde Nast Traveller readers, they offer a vast menu of spa treatments from Ayurvedic to reiki and extensive body and facial treatments with a specialised skin clinic. You will end your holiday feeling relaxed, rejuvenated and recharged.
Where has exceeded my expectations
Ananda in the Himalayas, 3,000 feet above sea-level and surrounded by vibrant green flora and valleys, brisk mountain air, and stunning scenery promotes a holistic approach to healing the mind, body, and spirit through its philosophy of combining Ayurveda and yoga. Bordered by the River Ganges, this chic destination spa nurtures a serene atmosphere and is a beautiful property with friendly staff, great rooms and fabulous food. Spa treatments, yoga, and meditation sessions stimulate spiritual well-being with adventure activities to invigorate physical health.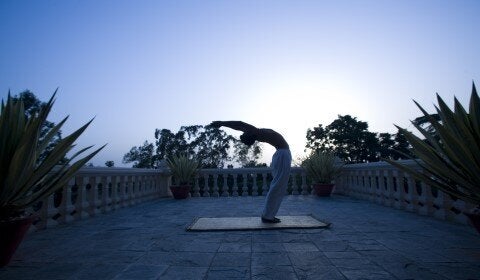 Yoga on the terrace at Ananda in India
Where is new and worth a visit
The Chateau Spa and Organic Wellness Resort is a new destination spa in Malaysia offering a daily schedule of activities including tennis, golf, yoga, mountain biking, horse riding, hiking and jungle trekking to archery, exercise and dance classes, meditation and organic farming.
Paradis Plage in Morocco offers a good mix of yoga, surfing, spa and hiking. It's not luxurious but offers good value and a relaxed atmosphere with spacious accommodation. The yoga studio on the beach is a perfect space to enjoy classes every day and the spa has two hammams.
Buccament Bay, located on the stunning Caribbean island of St Vincent surrounded by lush green mountains, and a beautiful white sand beach offers sporty holidays with a tennis, football and cricket academy to hone your skills or enjoy healthy lifestyle retreats to enhance your well-being.
Related