Earlier this year I experienced what almost half of assistance dog owners have faced in the last year; I was turned away by a taxi driver because of my guide dog.
I have been registered blind since childhood, but have only been a guide dog owner for just under two years. The difference that Jazzy, the three-year-old black labrador/retriever cross who accompanies me everywhere, has made to my life is immeasurable. My confidence, self-esteem and independence have increased in leaps and bounds; she enables me to be independent, doing everyday things like shopping and meeting friends; she helped me get to countless lectures while I studied for my undergraduate degree and even graduated with her own ceremonial robes alongside me. So it is incredibly frustrating when I face discrimination like an access refusal because of the animal that is intended to give me the same freedom and independence as everybody else.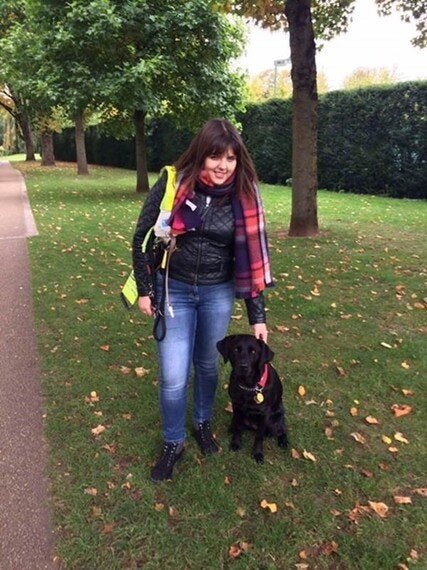 When a taxi driver became hostile towards me when I got into his car with Jazzy earlier this year, I felt incredibly vulnerable. When I got into his car, he immediately became very irate and was shouting very loudly in my face for me to get my dog out of his car. He refused to listen to my explanations of what Jazzy is and why she must travel with me; he later denied refusing me access and even went so far as to accuse me of criminal damage to his car.
It is not only illegal under the Equality Act (2010) to turn someone like me away because they are travelling with an assistance dog, but it also can knock a visually impaired person's confidence and prevent them from doing everyday things like travel to work, or visit friends and family.
Guide dog owners are significantly more likely to be turned away by taxis or minicabs than other passengers. According to research conducted by the Guide Dogs charity, 42% of guide dog owners have been turned away by a driver because of their dog in the last year, compared with 3% of other passengers.
The driver that refused me that day not only made me feel unsafe and degraded, but he also faced no consequences for discriminating against me and my guide dog. The charge he made against me for criminal damage to his vehicle was completely dropped, as unfortunately was my case against him because the relevant county councils involved were unwilling to take responsibility for prosecuting.
This, unfortunately, is a familiar story; drivers and companies are very rarely brought to justice for breaking the law by refusing guide dogs. This is why Guide Dogs is campaigning for tougher sentences for taxi and minicab drivers who illegally turn away guide dog users. By raising the maximum fine from £1,000 to £2,500, they hope to reflect the distress caused by these incidents of access refusal.
The impact of this incident on my life was profound, having practical and emotional ramifications for weeks and even months to come. On the day itself, the incident resulted in my missing my train, which consequentially meant that I'd also missed the prearranged travel assistance I depend on when independently using public transport. It turned what should have been a two-hour journey into an almost four-hour ordeal.
Emotionally, I suffered a big knock to my confidence and became weary and paranoid of using taxi services for some time afterwards. The stress of the incident and the false allegation made against me for criminal damage contributed to my decision to defer my dissertation; the biggest and final project for my undergraduate degree that I was due to hand in a few weeks later.
Before I qualified with Jazzy, my mobility was severely restricted as I felt too self-conscious and lacked the confidence to use the white cane. Having limited vision that enables me to distinguish light from dark and the occasional shape used to mean it was impossible for me to go anywhere independently as I relied on friends and family to act as sighted guides. Having Jazzy has changed all that; I now live independently, travel around the country on a regular basis and don't think twice about stepping outside on my own with Jazzy on hand.
Every time Jazzy and I face an access refusal, it undermines the freedom I have gained thanks to my guide dog. Every time we are made to feel unwelcome, it reminds me of how I used to feel on a daily basis; as though my disability restricts me from being able to live an independent, successful and fulfilling life.
The most common reason given for taxi and minicab drivers' reluctance to receive guide dogs is that the dog will damage or dirty the car in some way. However, guide dogs undergo years of rigorous socialisation and training, as well as regular grooming and veterinary care to ensure that they are safe, clean and healthy.
Guide Dogs is supporting a Private Member's Bill on Disability Equality Training which has been introduced by Andrew Gwyne MP. The Bill, if successful, will ensure all taxi and minicab drivers in England receive correct disability training.
Related