It's been a little while since you last heard from me, and that's because Elaine and I have been on our first ever holiday with my guide dog, Oscar. We enjoyed a week travelling around bonnie Scotland, and Oscar didn't put a paw wrong!
Oscar guided me around Gretna Green and, after we encountered a piper, he decided he loves the bagpipes! In fact, he loves music in general - he goes all quiet and still when it's on, and leans into my leg to listen.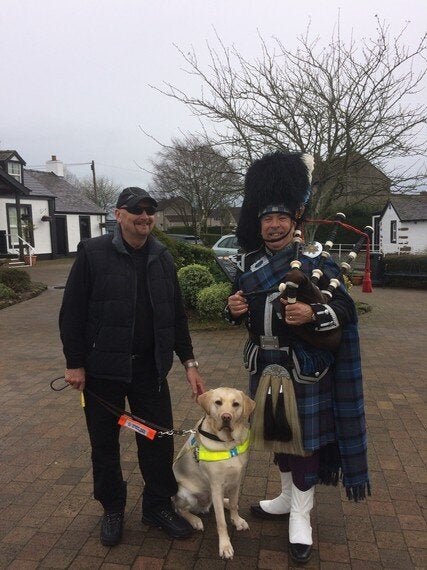 We soared up Ben Nevis on the cable car today, which was very crowded but Oscar wasn't fazed at all. We got recognised from the Guide Dogs advert again at the top, and there were lots of questions about how Oscar guides me - the quick answer is that we work together as a brilliant team! He turned two in February, and I've really noticed his own personality and confidence starting to shine through over the few months we've been together.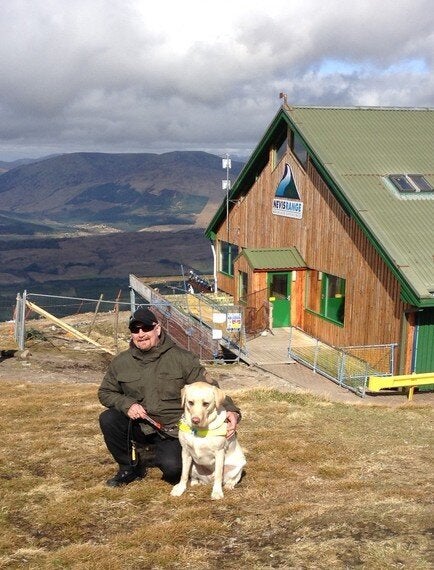 Oscar loves water so when we visited Loch Ness, he had to have a paddle - I think he was looking for Nessie! We made friends with some American tourists at the visitor centre, so learned a bit about guide dogs in the US.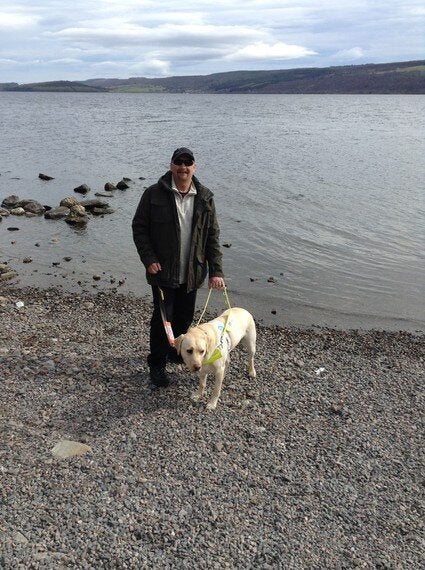 We went on a whisky tour, where Oscar guided me through some very narrow gaps in between the barrels. Guide dogs are taught to judge whether both them and their owner can get through a gap when they're out walking, so Oscar will stop if he thinks the path ahead isn't wide enough for us both. But I encourage him by saying 'find a way', and he'll help me get through.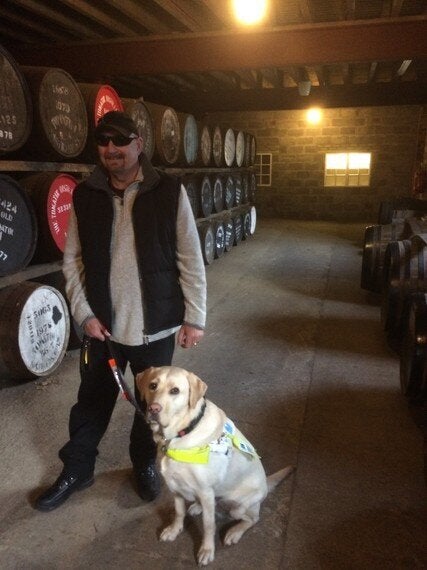 With Oscar by my side, I definitely feel more free than I have for a long time. We popped into a busy café, and I've taught him to find an empty table. I just say 'find a table, Oscar' and he takes us straight to the nearest available seats!
We went to Blair Atholl and visited the castle. In the car park, we saw a chicken and a peacock with its tail all fanned out. I'm sure most other dogs would have gone crazy, but Oscar didn't pull at his harness or even bark. He was just inquisitive, with his head tilting left and right, because he'd never seen anything like that before. It's like having a young child again - there are some things that are still new to Oscar!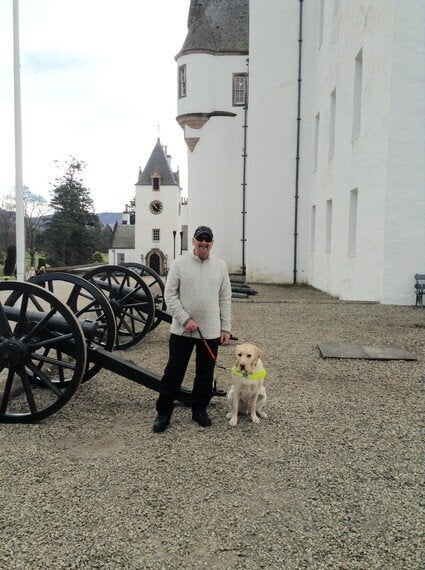 Homeward bound! Oscar has done such a fantastic job; he has enabled me to do and enjoy everything on this holiday. I've felt more like I used to before I went blind, and people have been so interested in Oscar.
I've been able to spread the word about how amazing guide dogs are to locals and tourists from afar afield as Japan and the USA. Before I went completely blind eight years ago, I was a very social person. When I lost my sight, I became very withdrawn and I wouldn't have dreamt of striking up conversations with strangers. Having Oscar has given me my confidence back, so I feel like I'm ready to do business with the world again.
Oscar is a beautiful boy and the light of my life. Let the adventures continue!