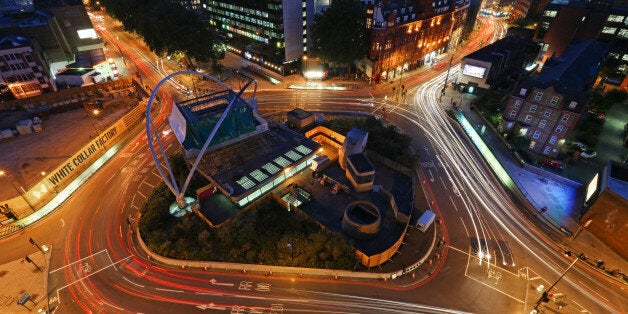 We weren't entirely sure whether anybody would turn up. It was April 2008 and the London tech scene had yet to turn ugly in the aftermath of the financial crisis. In fact it was buoyant: Investment was on a high, bright young things were raising money left, right and centre and everyone wanted to join a startup. Technologist Matt Biddulph was just about to accidentally (and with his tongue firmly in his cheek) coin the term 'Silicon Roundabout' for the startup scene that was growing up around Old Street in East London.
The problem was that most of the technology the roundabout was helping to create wasn't, well, meaningful. Reading TechCrunch was like a drip feed of inane ideas created by white men in their twenties that solved problems for people like them. Oh, another advertising network. Oh, another gambling app. Oh, a dating service. Again.
But the developers and designers we knew wanted something more. They wanted to work on what Tim O'Reilly so directly called "stuff that matters." So when we opened the doors to the Young Foundation in Bethnal Green after their staff had gone home that April Friday evening, in walked some of the most talented people in tech in London. They'd decided to give up their weekend to join our first Social Innovation Camp hackathon to help create tech for good rather than tech for a bank or an advertising agency.
We matched developers and designers with people who understood the problems they were trying to solve - public servants, experts and academics, ordinary people who'd experienced first hand services they wanted to improve. We fed them lasagne and supplied them with post-it notes and wifi. Quite a few of them didn't sleep. And on Sunday afternoon they showed prototypes of services that solved real problems in healthcare, education, environmental sustainability and justice. When we all paused for breath we wondered why nobody had created these kind of services before? Why was it that the really important sectors had been left untouched by the internet revolution?
"When's the next one?" they asked as they left. Good question we thought -- it was going to be a one-off. So we organised another a few months later and after that event they had another question - "how do I quit my job and turn this idea into a real thing?"
We carried on running events in the UK and helped others run Social Innovation Camps in 25 other countries, and in 2011 we started an accelerator programme, Bethnal Green Ventures, to help people go from prototype to social venture. As the model spread, we realised we weren't alone. Other hack weekends started to focus on social issues. There were communities of people using technology in not-for-profits. In the US we found other impact accelerator programmes such as the Unreasonable Institute in Boulder and Impact Engine in Chicago.
Post-crash, the London tech scene became more sober. Early-stage investment temporarily dried up and a new breed of investment started to grow - social impact investment. Perhaps driven by banker guilt, perhaps by others reflecting on where "the business of business is business" had actually got us to. A new group of funders blending profit with purpose began to emerge. Now London has the most vibrant impact investment scene in the world.
In the US, the social realm has traditionally been dominated by philanthropic capital, with big individual donors setting the agenda about how to help improve the world. Whilst innovation in how to donate money to worthy causes is strong in the US, the culture of giving has actually stifled more radical approaches to social change. Europe's more comfortable relationship with the welfare state made it a stronger place to innovate around social issues. London is a unique city where finance, technology and social policy work side by side - which puts it in a perfect position to take advantage of the tech for good movement.
The Tech for Good Meetup group that we help run in London now has over 3,500 members.
HuffPost UK Tech is running a two-week focus on our Tech For Good campaign, which aims to highlight the technology that is driving social change and making a positive, long-lasting difference to our world. If you'd like to blog on our platform around this topic, email ukblogteam@huffingtonpost.com with a summary of who you are and what you'd like to blog about.
Related