When my doctors told me it was cancer, I'm not going to lie, I was really scared.
I was just 24 at the time and felt like a normal healthy guy who loved playing sports and who was up for anything. The first time I remember feeling ill, I was on a ski trip with my friends in France. I was enjoying the days on the slopes and the nights in the bars until one morning I woke up with the feeling that something just wasn't right. Things got gradually worse over the next few months, and eventually I was feeling sick all the time, so I went to see my doctor and after a lengthy investigation process I was told I had bowel cancer.
One of the hardest things was being told that I wouldn't be able to have kids; I thought my life had ended, it was literally the worst feeling of my life, and I really had to fight back the tears. I came out of this appointment feeling terrible, and I went back home and locked myself in my room and cried. Even though I wasn't in a relationship at the time, it was devastating. I knew that one day I wanted to have kids, so before the operation to remove the tumour, I decided to freeze a sperm sample. I knew the chances were slim, but this way I would have a chance of one day being a dad.
I was worried about telling my colleagues at Travis Perkins, but when I did everyone was great. The construction sector can sometimes be pretty macho and looking back I was worried about appearing weak by asking for help. My bosses were very supportive and let me work when I felt well enough and take time off when I needed it. My family and friends were great as well, and talking things through was really helpful and made me feel loads better.
I met my wife Kayleigh in 2010, and at first I just couldn't bring myself to tell her that I might not be able to have kids. Looking back, it was totally the wrong thing to do, but I found it really difficult and embarrassing. When I did manage to tell her, Kayleigh was really understanding and supportive and reassured me we would be able to have a baby one way or another. Even if we had to adopt in the end it wouldn't matter to her as I was the one she wanted to be with.
Fast forward 7 years, and today I am proudly celebrating Father's Day for the first time with Kayleigh and my beautiful daughter Sophie.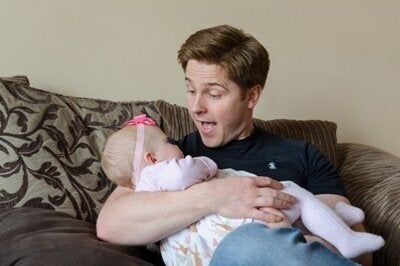 When she was born, I felt an overwhelming sense of elation and pride but also a real sense of responsibility of having someone else in my life to care for who will depend on me so much.
Sophie is coming up to her first birthday and she is doing really well. She's a really happy, cheeky baby and has a beautiful smile and big blue eyes. She's getting to that age now where she is crawling around and keeping Kayleigh and I on our toes!
I'm so proud and I have absolutely loved being a dad. Without a doubt, my cancer and being told it would never happen has made me appreciate it even more. There is nothing more rewarding than walking through the front door after a long hard day at work to a beaming smile from Sophie, it's just amazing!
I think becoming a parent has changed me; I have a different outlook on life, priorities and lifestyle change completely. I am just so grateful and feel so lucky that I've been able to experience being a father as obviously, there was a time in my life when I never thought I would.
I'm sure my first Father's Day will be special and one to remember, I'm really looking forward to it and Kayleigh tells me Sophie has bought me lots of nice presents!
Paul works for Travis Perkins and is supporting Macmillan Cancer Support and the building and construction sector's campaign to help men talk about cancer and the support available. For more information visit www.macmillan.org.uk/saytheword