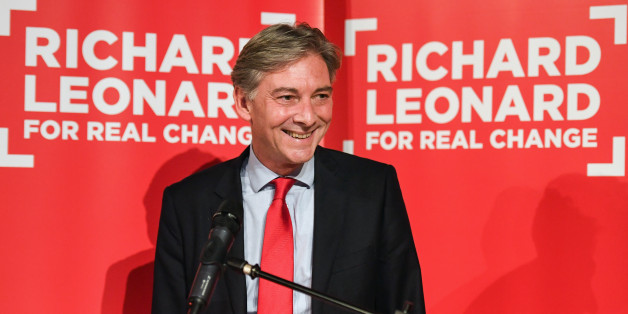 Jeff J Mitchell via Getty Images
Two decades ago, the Labour Party achieved its greatest electoral success in my lifetime, and subsequently held a referendum that saw the creation of a Scottish Parliament; fundamentally transforming the political structure of these islands. Although a mere eight years of age at the time, I vividly remember the fervent sense of optimism and hope that accompanied the return of Labour to government after almost two decades of Tory rule. The campaign to establish that parliament in Edinburgh was partly a reaction against the onslaught of untrammelled Thatcherism during the 1980s and the damage it caused to the social fabric of our country. A parliament at Holyrood would now be equipped with extensive powers over Scottish policy and also tax varying powers to ensure it had the capacity to sustain investment in public services if so desired; acting as a bulwark against any future Tory austerity.
The early years of the new parliament saw significant progress in areas such as the abolition of university tuition fees, free personal care for the elderly and the first tentative steps towards reform of Scotland's feudal land ownership. Despite this progress, there has been nonetheless a tendency towards insipid managerialism, instead of radically reforming Scotland's economic structure and its public services. The opportunity to use devolution to give effect to a more prosperous economy and fairer distribution of national wealth for working class people has been so far unrealised.
Labour stood on a radical manifesto for the Scottish Parliament in 2016, one which proposed to end all public spending cuts in Scotland by using the income tax varying powers of the parliament to set a new upper rate of income tax, as well as replacing the regressive council tax. Unfortunately, the party's focus on social justice was displaced by a continued preoccupation with the constitutional schism that had predominated political discourse after the 2014 referendum - to the detriment of real policies that will improve lives.
The unexpected general election this year finally saw a breakthrough for Labour's socialist programme. Our manifesto, 'For the Many' captured the mood of the electorate in a manner hitherto unseen in recent years. I led our local campaign after my selection as the candidate in Glasgow North East. It was an area that voted 57% Yes in the independence referendum and then ejected Labour in spectacular fashion at the 2015 General Election, with a 39% swing against the party and a majority of over 9,000 for the SNP, so any prospect of success seemed to be remote. What quickly became evident in our conversations with voters during the campaign this year however, was an increasing sense of disillusionment with the SNP's obsession with constitutional politics, combined with a genuine curiosity and enthusiasm for the policies of our manifesto - it demonstrated that real, radical political change was possible across the UK under a Labour government.
Although we hardly dared to believe it at the time, that traction we sensed in the streets of Glasgow was real and ultimately sent me, along with six of my colleagues, to the UK Parliament as MPs. It has been an incredible change in fortune for Labour in Scotland.
We are fortunate to draw on two excellent talents as candidates for the leadership of the Scottish Labour Party; either would be eminently capable of leading our party into government and becoming First Minister.
I have had the privilege of working with Richard Leonard over the last year to create Scottish Labour's new Industrial Strategy. I believe it is the most ambitious economic policy document that has ever been created by a party in the Scottish Parliament. Building upon previous Labour achievements at Holyrood such as creating Co-operative Development Scotland, the Advanced Forming Research Centre and the Scottish Manufacturing Advisory Service, it goes even further in its ambition to use the powers of the Scottish Parliament to help to drive the creation up to £45 Billion of wealth in the Scottish economy through long term measures to build a more resilient, innovative, international, productive and dynamic industrial base in our country. It is centred on radical interventions, such as the creation of a proper Scottish Investment Bank, backed with £20 Billion in patient finance capital. It will also aim to enhance protection of our future global industrial giants from predatory overseas takeovers before they have reached full potential and introduce new powers that will give workers more control and ownership over their industries; ensuring that our democracy will extend into the workplace.
As someone who has worked in our shipbuilding and engineering industries before entering the political arena, I am excited by the prospect of someone with Richard's policy vision and knowledge becoming the leader of the Scottish Labour Party; and putting an industrial strategy at the heart of our programme for government. As an economist with the Scottish Trades Union Congress (STUC) and political officer at the GMB trade union, he has fought for a fairer economy and society for decades; while thinking about and developing the policies that would be most effective at delivering those policy outcomes that favour working people. Although a relatively new face in the parliament, I have no doubt that Richard has all the attributes required to rapidly rise to the challenge of further galvanising our recovery in Scotland, creating a new narrative for Scottish Labour and ultimately leading us into government. That is why, after much deliberation, I will be offering my nomination to Richard in this campaign.
My generation currently stands to be the first to be worse off than their parents. People are restless for change and yearn for a government that will truly break with the neo-liberal economic consensus that has formed the basis of our political discourse since Thatcher's disruptive government of the 1980s. They are looking for a radical party of government, akin to Attlee's government of 1945 that will fundamentally reshape the economic order of our country to benefit working people once again.
Regardless of whom our next Scottish leader is, when the next Scottish and General Elections come, they will be the biggest Labour campaigns in this country for decades, and we will be ready to serve in government, in Scotland and across the whole UK.
Paul Sweeney is the Labour and Co-op MP for Glasgow North East and shadow Scotland minister