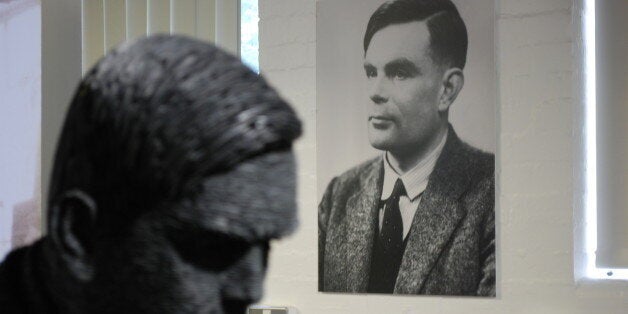 The House of Commons will debate what has been labelled the Turing Bill tomorrow, a bill proposed by John Nicholson MP.
But ahead of this, the UK Government announced a general posthumous pardon to all gay and bi men who were prosecuted during the 20th Century by unjust and discriminatory sexual offences laws, just as Alan Turing received an individual pardon in 2013. These laws like gross indecency were used by the criminal justice system to prosecute men for having or suggesting consensual sex with other men right the way up to 2003 when
We welcome this move. But we don't think it goes far enough. As well as issuing a blanket pardon, John Nicholson MP's proposed bill, closes a loophole which means some gay and bi men who are still alive and living with those convictions still can't have them deleted, despite them being unjust and not illegal today. We urge the government to look at bringing this into their proposal.
We also don't agree with the Government's interpretation of John Nicolson MP's Bill that a pardon that also includes people still living today is not possible because people who committed crimes that would still be illegal today would think they had been pardoned - John Nicolson's Bill explicitly excludes pardoning anyone convicted of offences that would still be illegal today, including non-consensual sex and sex with someone under 16.
And we think it is the right time for the Government to combine this pardon with an apology to all those affected by these unjust laws.
The Private Members Bill sponsored by John Nicholson MP (SNP) and supported by MPs from all parties will enable the Government to fulfil its election manifesto pledge to issue a pardon to everyone convicted under old offences like gross indecency that were used by the criminal justice system to prosecute men for having or suggesting consensual sex with other men.
The persecution of gay and bi men under these laws was at its worst in the early and middle of the 20th century, but continued in many cases right up until the laws were repealed in 2003. It is estimated that around 50,000 men were prosecuted, many are still alive today, while many have since died without them or their loved ones ever receiving an official acknowledgement that the state was wrong to prosecute them for being who they are.
The Bill cleans up unfinished business from the last Parliament, where the coalition took two important steps forward in righting these past wrongs.
In 2012 they introduced the Protection of Freedoms Act which put in place a mechanism for people still living to apply to have a conviction or caution for a number of key discriminatory offences related to men having consensual sex with other men to be disregarded, that is physically deleted from the criminal record.
And in 2013, the Government issued the pardon to Alan Turing, acknowledging that it was wrong for the state to persecute him for being gay, and recognising the huge debt the nation owes him for his role in code-breaking in the Second World War and as one of the founding fathers of computing.
Alan Turing was an extraordinary man, whose life was cruelly cut short by the way he was treated for being gay. But his story is just one of many thousands of men who were similarly persecuted for their sexual orientation, and it is time that the Government officially acknowledges that every single prosecution was unjust.
John Nicolson MP's Bill also closes an important loophole in the Protection of Freedoms Act which meant that men arrested under one section of the Sexual Offences Act 1956 called Section 32 (Soliciting by Men) cannot have their conviction physically removed from the criminal records (disregarded). This law was often used in a discriminatory way right through to the 1980s and 1990s, allowing the police to arrest men who simply chatted up other men (in many cases the unfortunate victims of this law found themselves chatting up plain clothes police officers stationed near a gay pub or other location where gay and bi men socialised). The law was repealed in 2003 with the others on the basis that it was used in a discriminatory way, but the Protection of Freedoms Act did not allow men persecuted under this particular law to have their crimes disregarded. That is wrong, and this Bill will ensure that those people who want to can apply in future to have an unjust conviction under Section 32 to be physical removed from the records.
This Bill is the right thing to do. It's important that it is passed and doesn't face the fate of many Private Members Bills in Parliament of running out of time. We are urging MPs to support the Bill and urge you to contact your MP to ask them to take part in the debate on Friday and help ensure the Bill gets to the next stage on its journey into law so that we finally draw a line under the terrible persecution many gay and bi men faced in the UK in last century.
See Stonewall's short guide for details on the current process for deleting gay sex convictions and which offences are currently covered
Popular in the Community