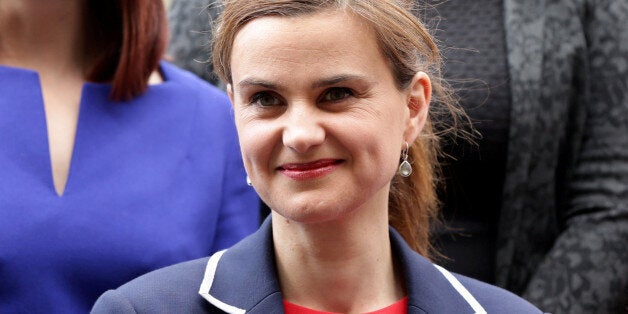 MPs and Labour staffers were gathered in the Strangers' Bar in the House of Commons, primed for the England-Wales football match, when the news first filtered through.
Mobile phones buzzed with news alerts, texts and tweets and the mood of the room instantly turned sombre. "We were just stunned," said one party worker.
None of them realised that by the time they'd got the news, 41-year-old Jo Cox had already been pronounced dead by medics at Leeds General Infimary.
Well-liked by MPs from all parties across the House, Jo's proud track record working for Oxfam in the field of overseas aid and development ensured she was highly respected for her expertise.
Barely five feet tall, she packed a political punch that belied her diminutive stature, as proved in a hushed House, whenever she rose from the green benches to ask a well-crafted question about Syria or refugees.
Only a few days ago, she was - typically - at the front of the queue in the annual MPs v Lords 'Tug of War' competition, to raise funds for Macmillan Cancer Support. Jo was the lead puller for the women's team.
And among Labour colleagues, she was not just liked but dearly loved by many who knew her. Unmissable when she wore her distinctive red dress or blue blazer, she once told me that one constituent had wondered why she wore the outfits so many times, joking that she was only an MP - and didn't actually have a TV star's wardrobe budget.
Jo was happiest when she was getting stuck in campaigning, and only on Wednesday waved off her husband Brendan and their two children - aged three and five - as they took to a dinghy with an 'In' flag, to counter Nigel Farage's Brexit 'flotilla' on the Thames.
The family loved the water, and lived on their Dutch barge houseboat near Tower Bridge when she was in London during the week, on Parliamentary duties. On Tuesday night, the Coxes held a drinks reception attended by several of her fellow 2015 intake Labour MPs.
Typically, the group of new MPs at the party was eclectic, ranging from Corbyn supporters (Cox herself nominated him for party leader, though she didn't vote for him in the leadership election) to those on other wings of the party.
Born and raised in her Yorkshire constituency of Batley and Spen, she told my colleague Owen Bennett (in our HuffPost 15 From '15 Interview series) she was proud of being "a local lass". She pointed out that all her family lived local, joking that "there's one cousin who lives just slightly outside the constituency, they're the black sheep of the family because they live like 20 minutes away from the homestead".
At the age of 16 she thought she might follow her dad and work in the local toothpaste factory. But although she did summer work there, she in fact got the grades to get to Cambridge, the first in her family to graduate.
She admits Cambridge was a culture shock at first. "I was a working class lass from Batley who hadn't been anywhere apart from the odd holiday on the Costa Del Sol. Suddenly being in an environment where kids had had gap years and been to India or whose parents were diplomats or who had lived overseas - I was completely out of my comfort zone and I felt intimidated by it all," she said.
"But I got over it. I think it took me ten years to regain the confidence and assurance I had when I was 18, but in doing so it made me realise a lot of things about how the world works and how it's fine for someone from my background to go on an achieve and push the doors open for any institution and any role and any job."
Jo came to politics late, but it was her experience at Cambridge that made her realise it was a career path she could one day take. Her political hero was the late Robin Cook, who inspired her with his vision of a foreign policy that could help the most vulnerable in the world. She agreed with Cook's principled opposition to the invasion of Iraq, but always felt that the West had to use its diplomatic and humanitarian power to help those in need.
After university, she became an aid worker - often in the field - and then worked on British child poverty with the NSPCC and Save the Children. It was while working at Oxfam - in Brussels, New York at the UN and in conflict zones all over the world - that she acquired the expertise that she brought to Parliament. "I would jump on a plane and be in Kabul one week and then Dafur the next," she told us. From working with child soldiers in Uganda to tribal elders in Afghanistan, she confounded the hackneyed image of young MPs having not had any experience in 'the real world'.
Her husband Brendan worked for Gordon Brown in Downing Street, before going on to a senior post at Save the Children. Jo became an adviser to Sarah Brown, not least in her campaign to cut the number of mothers dying in childbirth in the developing world.
As soon as she arrived at the House of Commons, Jo immediately raised the issues that she was most passionate about. In her maiden speech, she championed the diversity of her Yorkshire constituency, declaring it had been "deeply enhanced by deeply enhanced by immigration, be it of Irish Catholics across the constituency or of Muslims from Gujarat in India or from Pakistan, principally from Kashmir."
She set up the All-Party Parliamentary Friends of Syria Group within months of winning her seat in 2015. And she abstained in the crunch vote on UK military action in Syria, writing for HuffPost that she felt the airstrikes were not part of a wider plan to resolve the conflict. "I believe in action to address Isis, but do not believe that it will work in isolation," she wrote.
And only recently she campaigned vigorously for the Remain campaign in the EU referendum, working with other parties and in a non-tribal way that marked out her politics.
In her interview with us last year, we asked her what one thing she would change about UK politics if she could. "A more consensus style of politics looking at problems and getting the best brains involved in them to find solutions," she said.
But Westminster will also remember her as a mother, wife and friend. In that interview, Jo was asked what was the last book she had read. She replied: "Probably a children's book to my kids. Probably 'I Want My Hat Back'."
And when asked which three words her best friend would use to describe her, she said, simply: "Passionate, compassionate and loyal." She was undoubtedly all three.
Related