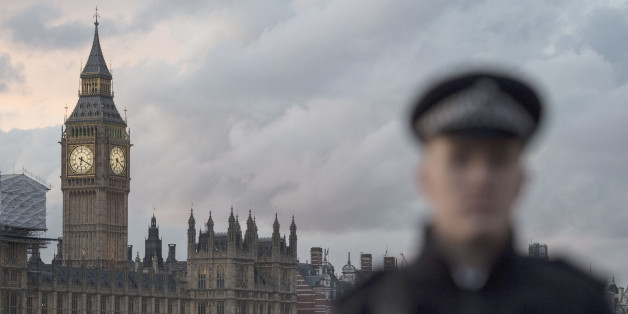 This blog is adapted from the Thursday 23 March edition of The Waugh Zone, which can be read here, and subscribed to here
Today, Commons Speaker's chaplain, the Reverend Rose Hudson-Wilkin, lead the daily prayers with MPs. And the prayers included all those so brutally murdered in the attack on Westminster - in its grounds and on its bridge.
This morning the combined sense of defiance and reflection is what matters most. After prayers, we will get the usual Thursday morning question times for International Trade, for Women and Equalities and the Business Statement. Prime Minister Theresa May, who rightly said that we should meet "as normal", is expected to make a statement on the terrorist incident at about 10.30am.
I wrote my piece HERE last night on how the awful events unfolded before our eyes yesterday. The most heartbreaking thing was seeing police and paramedics try so hard to save the life of PC Keith Palmer, before those blankets were placed carefully over his body on the cobbles of New Palace Yard. The empty stretcher stood helplessly nearby. In nearly 20 years working in the Commons, I always said I'd never tire of the view from our Press Gallery office. This morning, the police tapes and debris are a reminder that this is a crime scene.
Jo Cox's widower Brendan said last night: "I don't care about the name of the attacker. This is the name I will remember" as he linked to a photo of father and husband, 48-year-old PC Palmer. He's a man many of us have seen in the Palace for years, going about his daily duty of checking passes and letting groups in and out of the building. Last night Tory MP James Cleverly, who served with him in the Royal Artillery, paid generous tribute to "a lovely man, a friend".
The horror of those mown down on Westminster Bridge is hard to comprehend. This morning we learn that one of those killed was Aysha Frade, a mother of two who was on her way from a nearby college to pick up her children from school. Another of the dead was reported to be a Romanian citizen.
It's a fast-moving story, with arrests in Birmingham and efforts to work out just how the killer was motivated to carry out such callous acts. But as Parliament tries to get back to normal, in memory of those killed, we should remember that Westminster is ultimately not a private club, the caricatured preserve of the elite. It is where the public are represented every single day.
Yes there are Hogwarts-style idiosyncracies to the place, but in recent years much has been done to open up the building to visitors, while tightening up security. Just think of who was present yesterday as the terror attack took place: a group of young Derbyshire boxers visiting Westminster Hall, whose coach rushed to give first aid to the stricken PC; a party of schoolchildren whose singing kept up the spirits of those in lockdown in Central Lobby; members of the public down for the day to see MPs from the public gallery; visitors to the new Education Centre.
Today's Order Paper too has a typical list of Thursday events that underline the varied and important work done by MPs: as well as question times, two debates on pension compensation and social mobility; Westminster Hall debates on the Syrian refugee crisis and on aid to Nigeria. And there's the local as well as the global: Tory MP Charles Walker has an adjournment debate on "Ratty's Lane incinerator in Hoddesdon".
Deputy Speaker Lindsay Hoyle put it well today when he said: "We lost one of our village policemen. This is our village." But as well as being a community of more than 2,000 people who work here, it is in the end the nation's Parliament. Westminster has for too long been portrayed as the 'other', as a place disconnected from the rest of the country. And an attack on it is an attack on us all. That's why we'll keep calm and carry on today.