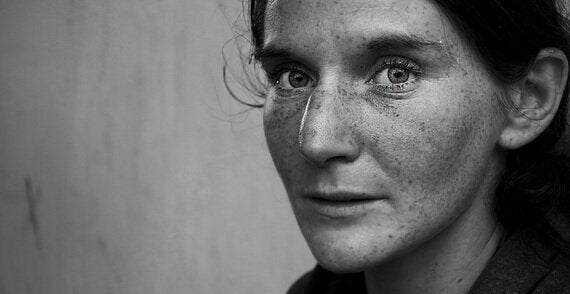 As a filmmaker, I've always been curious to hear people's stories. Everybody has a story to tell and the first thing I often wonder when I meet someone is what theirs is. This was the case with Naomi, the young woman whose experience sleeping rough on the streets of London inspired the story for my latest film, A Horse Called Oz.
When I first met Naomi she was zipped up in a frayed overcoat that was bulging with borrowed fleeces and jumpers, standing on a crowded street on a set of mismatched crutches. Her nose had been broken several times and remained crooked, there was a curved scar on her forehead, and teeth were missing from the left side of her mouth from where her jaw had been broken. She had been on the street for three months. She was 21-years-old. The clues to her life were everywhere, but the most striking thing about her was her disarming smile. She was keenly intelligent and had a wicked sense of humour.
I interviewed Naomi over several months about her experience sleeping rough on the street. She had spent the last month sleeping in a graveyard, where apparently it was safest for her at night. I assumed, as most people would, that there must surely be somewhere someone like Naomi could go for help. I quickly realised that it was more complex than that.
Before she began living on the street, Naomi had lived in Devon where she had worked as a horse-riding instructor at the local stables. The traumatic details of her past that led her to sleeping rough were not dissimilar to many other young people on the street.
Naomi is now off the street but her future is no less uncertain. She has aspirations of working with horses for a living, but right now her concerns are more immediate. The excitement and possibility of her future is clouded by the fear that she could wind up in the same situation again.
But Naomi is not the only one facing homelessness. According to Centrepoint, the UK's leading charity for homeless young people, it's estimated that 15,000 young people will be homeless this Christmas. Nearly one in five of young people in the UK have had to sleep in an unsafe place in past 12 months, according to a ComRes poll. This poll gives the first ever national picture of the scale of rough sleeping among young people.
A Horse Called Oz is not a film based on Naomi's life, but it is inspired by some of the experiences that shaped her time on the street. Of the handful of often heavy-handed programmes on homelessness I've seen, few have ever connected with me on a personal level. The result is often dull and preachy, presenting a sensationalised view and fuelling stigmatisation, concerned more with pointing a finger at political and economic factors, rather than focusing on the individual.
Film is a powerful medium that can touch us urgently and deeply. The central idea behind Oz is to take an inward look at the personal struggles of someone like Naomi. The film follows the character over a 24-hour period and focuses on what matters to her most in the immediacy of the moment. Each choice she has to make is inadvertently a choice for survival. Beyond that the rest is unimportant.
In looking to make a film like A Horse Called Oz, with so many great ideas for stories wanting to be made, how does an independent filmmaker get their film funded and find an audience at the same time? Previously, the very word 'crowdfunding' sent chills down my spine. I saw it as a fast-track way to probable public embarrassment, like having to stand on a chair in front of the class to read your homework. But one thing you have to get over very quickly as a filmmaker is bashfulness. With this in mind, I decided to embrace the idea of crowdfunding.
But in crowdfunding, you quickly realise that money is only part of the equation. The real purpose behind the process is engaging an audience interested in a social topic like homelessness. It's an opportunity for the public to vet the content they want to see, be the first people to see it, and have a direct impact on the making of the film from its conception. You even get a credit on the film while you're at it too.
Through the crowdfunding campaign, the film has gained the attention of several major homeless charities and I'm proud to announce that we recently partnered with Centrepoint, who support thousands of homeless young people into housing and employment every year. Telling this story has been a passion of mine and I hope that we are able to find enough supporters to reach our goal, so that we can bring Naomi's story to the screen and raise awareness of homelessness.
Image copyright blogger's own
Related