Chemo Cookery Club - Around the Christmas Table 2016
The questions I get asked the most at this time of year aren't about nutrition and what's
good to eat when in treatment for cancer, they're about these times of celebration and
how to prepare dishes that help make people feel included when eating can be a real
challenge - when the mere sight of food can be off-putting, smells are nauseating and
everything can taste of nothing. Caring for a loved one can be befuddling.
For my first 'chemo Christmas' my dear friend Barbara came to England from Canada to
give me a hand over the holidays. My husband Simon had just come out of hospital and
was undergoing another tour of chemotherapy. He was fragile and tired and so was I.
I hardly had the strength to boil an egg and he barely had the desire to eat one. Barb
quietly started putting the house to rights, floors got polished and pillows plumped. Then
a tree appeared, a few fairy lights began to shyly twinkle and a warm fire gently popped
and crackled. She was determined to fatten Simon up and rid me of the dark circles
under my eyes. Her simple gift of caring for both of us was the best Christmas present
During Simon's treatment we had established a daily routine of starting the day sipping a
fruit smoothie and when he was ready we'd talk about what he might like to eat for
supper. Some days he said nothing but usually he'd opt for his comfort food like beans
on toast. At first I tried to slip in foods I thought would add extra nutrition but more
times than naught the lentils were replaced with an extra dollop of HP. Who was I to
argue - at least he was eating.
Now Barb and I have been cooking together since we were kids so for this particular
Christmas we bundled Simon up next to the fire and started concocting 'little and often'
dishes that cut through his 'metal mouth' and were easy for him to digest. Our goal was
to pack as much flavour and nutrition into as few bites as possible. They inevitably took
on a yuletide theme like chestnut soup and mince pie milkshakes and before we knew it
we'd created my first Chemo Christmas Menu.
Now, every year Chemo Cookery Club sends a festive menu to tingle tired tastebuds and
hopefully bring a little cheer to those of you that might be a bit more challenged over the
Christmas season. This year's menu can be found at:
Penny Ericson is a chef and carer and the founder of Chemo Cookery Club.
Here are the recipes for Chestnut Soup and Mince Pie Milkshakes from the very first
Christmas Menu, you will see that there is a 'thumbs-up' guide for each. These guides are
standard for all Chemo Cookery Club recipes and are very popular as they help to target the
Wow, what can I say! We were at a friend's restaurant the other and he served his chef's version of these. It was like drinking Christmas. If you prefer less dairy use frozen yoghurt and dairy substitutes that you are comfortable with. The flavour will be the same.
750 ml vanilla ice cream, slightly softened
Place the mince pies in a food processor or blender and liquidise. Next add the ice cream and whip until completely smooth. At this point you can place the mixture and store until ready to use.
To make the shakes, add equal amounts of mince pie, ice cream and milk, blend until smooth and serve immediately.
Each portion provides 9g protein and 430kcals.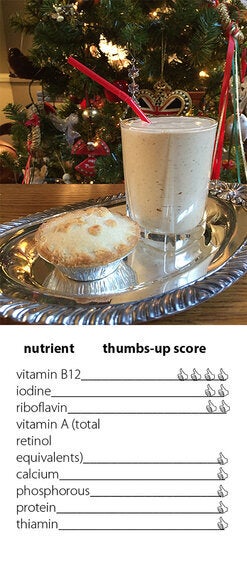 This is an elegant French classic and one of my favourites. Heaven in a cup. It's rich, creamy and light at the same time.
415 g chestnut purée, 1 tin
2 stalks celery, finely chopped
1 medium white onion, finely chopped
whipped cream for serving
a few chives, finely chopped
Cook the chestnut purée and stock in a deep pan on medium heat for about 20 minutes. Season to taste then add the sugar, lemon zest, butter, celery and onion. Allow to simmer for a further hour. The mixture should be soft enough to pass easily through a sieve. Adjust the thickness by adding half the warm milk before straining. Once strained, add sufficient milk to create a velvety texture. Serve warm with a dollop of whipped cream and sprinkle with chives.
Each portion provides 7g protein and 330kcals.