Yesterday the number of Syrian refugees registered by the UN in Lebanon passed one million. Most Lebanese people will tell you the real number is much higher.
Syrians have been fleeing for three years, and not everyone registers their arrival. Some won't register out of fear of reprisals if they return home. And some who arrived with money feel registering once their cash runs out would take away their last shreds of dignity and identity. The Lebanese Red Cross is giving vital help, including food and blankets, to thousands of refugees. But even with this support, day-to-day life can be incredibly difficult.
Syrians now make up a quarter of Lebanon's population. It's hard to imagine another country coping with this kind of influx. While other nations debate how many Syrian refugees they to allow across their borders, neighbouring Lebanon continues to accept desperate, injured and homeless people fleeing in search of safety.
Struggling to pay the rent
In the years before the conflict, it was common for Syrians to work in Lebanon and send money home. Now it's no longer a choice, and the competition for work is fierce. A recent study (by the International Labour Organisation) found the average monthly income for a working Syrian refugee in Lebanon is almost 40 per cent less than the country's minimum wage, and a third of Syrians are unable to find employment at all. The study found that women are more severely affected - more likely to be unemployed, and earning less when they do work.
Making ends meet is a constant worry. The average monthly rent for Syrian families in Lebanon is around $190pcm and even people living in makeshift camps report having to pay rent for the privilege of a small patch of land to put up a tent or shelter. This may not sound like much, but factor in the low wages, the cost of utilities, food, water and healthcare and it's hard to see how families can balance the books.
Kettermaya: a community of survivors
In one town, Kettermaya, a landowner has made the unusual decision to provide the land for free. He's also giving free water and electricity, and has built a toilet and shower block. The Lebanese Red Cross regularly visit to check on the welfare of the community and give food, blankets and basic aid.
This help eases some of the pressure on refugees, but life is still incredibly hard. Everyone has experienced serious traumatic events as a consequence of the conflict.
While most settlements consist of communities from a similar areas and extended families, Kettermaya is made up of disparate family groups from right across the country. Some people no longer have extended families, or have seen their community destroyed.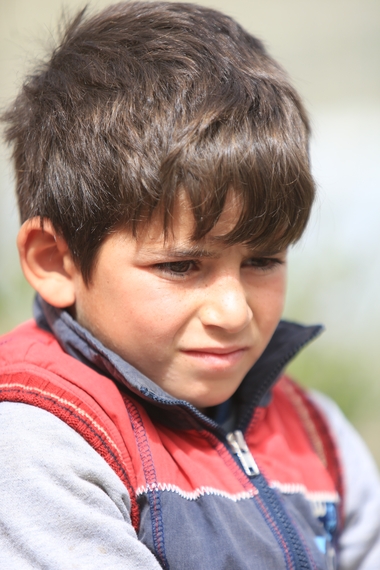 Eight-year-old Sefedine from Al Moadamiya lost most of his family in an attack. He and his mother only survived because Sefedine had been shot in the leg one hour before the attack, and the pair were in hospital when it happened.
Now they live with their old neighbours, the only other people from Sefedine's street to have survived. His mother is too traumatised to work and the family are dependent on the support of others in the camp and their Lebanese neighbours.
Hamid, 11, breaks rocks to feed his family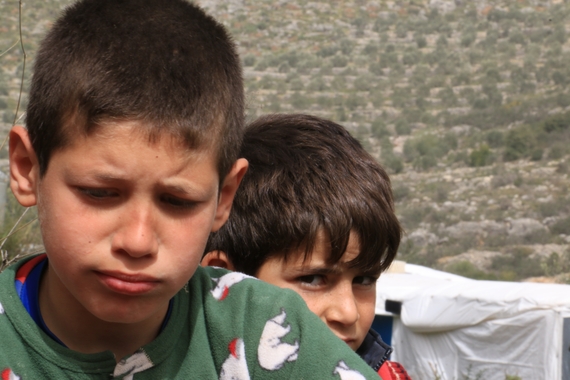 Eleven-year-old Hamid breaks rocks and cleans gardens to support his family.
"I don't want to go to school, I want to work to send money to help my grandmother. My grandmother is back in Syria, and she is taking care of my cousins. I make money by working with my uncle. There is a nice Lebanese lady, she gives my family food and helps us out. If I tidy her garden she gives me a bit of money."
"My friends are gone. Some of them died. Some of them went to other countries. Some of them are still in Syria, but I don't get any news about them. In the future I want to build a family of my own and to be comfortable. And I want to be Syrian - I want to go home."