Eric Pickles' replacement as the Department of Communities and Local Government, Greg Clark, is talking a good game. He's telling council leaders today that whether it can provide enough homes is a "defining test" for any government. This, he says, is so that communities can stay together and avoid the "exile" of young people fleeing from high rents and unaffordable house prices.
He's right.
The priced out generation are missing out on the future they hoped for because successive governments have failed to build enough homes. The impact is huge. Homelessness is rising, along with rents. A quarter of young adults under the age of 35 already live with their parents and if nothing is done to build then the number of young homeowners could halve by 2020.
A new report also out today from Shelter and the IPPR think-tank has looked at the specific impact of the housing shortage in our 'Growing Cities': places which are creating lots of jobs, but not building enough homes. Cities like York, Cambridge, Oxford and Bristol where the rents are getting out of control.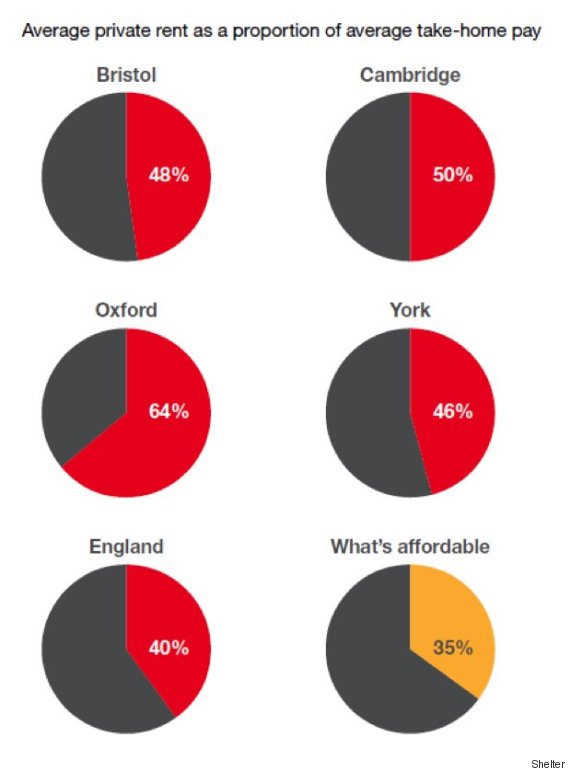 We've heard a lot about devolution, and the shortage of homes is without doubt something that can't be solved by relying on either hyper-local or centralised national plans. We need to give our successful, growing cities - those which are creating new businesses and jobs - the powers and budgets they need to build to build enough new homes.
Thankfully we've done the thinking behind this, and here's how it can be done:
1. First, we mustn't cut house building budgets any further, instead we should increase them. The affordable house building budget took an almighty 60% chop in 2010 and any further cut will dramatically reduce our cities' ability to build enough new homes. Funding should be protected, increased modestly and where possible devolved to cities which are ambitious about building more genuinely affordable homes.
2. Second, the role of government is to strongly incentivise cities to do the right thing. In particular the government should incentivise councils within a city-region to work more closely together. If some councils fail to play ball, the final back-stop should be a fast-tracked boundary review to give the city room to grow.
3. Third, we need the public sector to get stuck into building, in partnership with private builders. The biggest and best infrastructure projects of recent years - think the Olympic Park and Crossrail - have been partnerships between public and private. At the moment, cities sit back from development, simply saying yes or no to the plans of private developers. We should be more like Germany and the Netherlands and take a proactive approach to getting new places built.
4. Finally, we need proper, local debates about greenbelts. The greenbelt debate is too often polarised between "protecting" and "concreting over". Nobody seems satisfied with the result. Cities should be given the power to set up Greenbelt Community Trusts, where local people can have full democratic input to decide the land to permanently protect and the few places that might be appropriate for affordable homes.
There is a way to stop the harmful impact on young people of unaffordable rents and house prices, but it's a going to a take a big, bold plan from politicians to make it happen.
We're waiting for this government to show that they're serious. They could be the first for generations to turning our housing crisis around, but only they turn their talk into real action - and investment - in homes that those on ordinary incomes can actually afford.
Pete Jefferys is Senior Policy Officer at the housing and homelessness charity Shelter