Via Garibaldi in the Italian port city of Genoa was designed as part of Le Strade Nuove or New Streets project in the late 16th century and is lined with sumptuous palaces or palazzi built by noblemen and rich merchants. A few steps off this elegant thoroughfare is a warren of little streets and narrow passages called the Caruggi.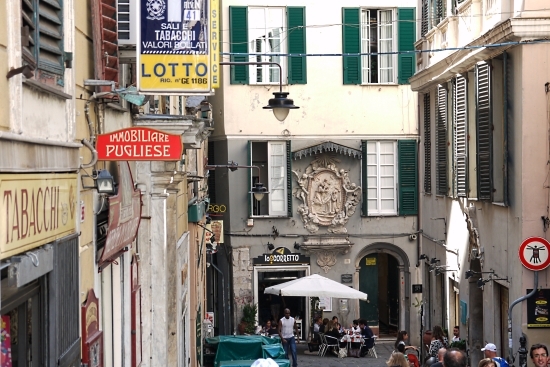 The Caruggi - Photo by Peter Morrell
This is where you find the shops of the tradesmen who supply the goods to keep the heart of the city beating and the thing that keeps an Italian heart beating is food. After a few hours of looking in awe at paintings, sculpting and the intricate plasterwork of the palazzi, I darted down an alley to see how the ordinary Genoese lived.
I was soon in a maze of passageways lined with specialist food shops offering a vast range of delicacies. There was a butcher offering only tripe, the basis for Sbira, a Genoese soup, and another, Polleria Anne e Sergio, selling everything related to chicken. Close by a window displayed Cappon Magro, 'fast day capon', a meatless dish for Fridays and Christmas Eve.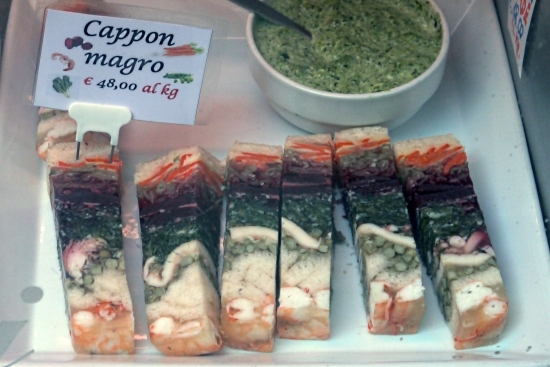 Cappon Magro - A Traditional Dish - Photo by Peter Morrell
Fish stalls abound, their displays packed with glistening sea-fresh squid and bright eyed pesce. Other shops, like Bottega dello Stoccafisso, were selling another Genoese favourite, Baccalà, dried salt cod. Jostling for position were the fruit and vegetables stalls piled high with produce as plump and rosy as you will ever see.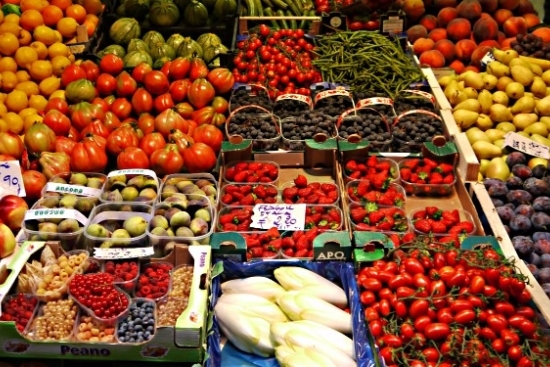 A Fruit Stall in the Caruggi - Photo by Peter Morrell
I popped in to Caffé Fratelli Klainguti, founded in 1828, where composer Giuseppe Verdi would take coffee and eat their delicious pastries. When Verdi had finished his caffè he would wander down the street to Pietro Romanengo fu Stefano. It was here he bought candied fruit so good he eulogised about it in a letter to a friend.
I passed an Enotica, a wine shop, where you can sample a glass before purchase and even have a snack and, as I turned a corner, found the most bizarre art deco styled barber's shop.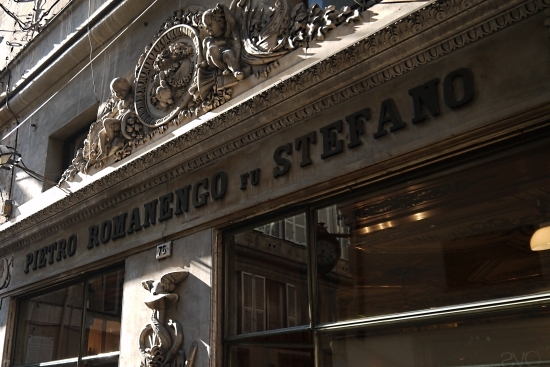 Pietro Romanengo fu Stefano - Photo by Peter Morrell
It was time for a stop, and down near the port is the historic Liquoreria Marescotti - Bar Cavo in Via di Fossatello. Under the vaulted ceiling of the upstairs room I sipped Marescotto, their cocktail of vermouth and green chartreuse, while eating deliciously oily focaccia bread with wafer thin slices of air-dried ham.
But Italy is not just about food, it's about style and this is certainly true of the harbour area, the Porto Antico. It was designed by Renzo Piano, architect of London's iconic Shard, so as you would expect it has panache. The first attraction I looked at was the Genoa Aquarium, with its brand new, Piano designed, Cetaceans pavilion. This is a spectacular split level structure with a 24 metre glass wall which lets you see the movements of these beautiful mammals.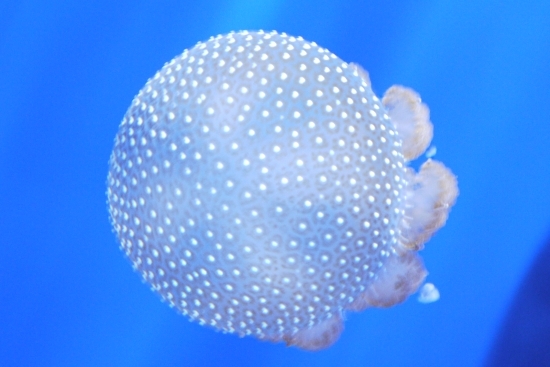 Jelly Fish in the Aquarium - Photo by Peter Morrell
Close by is the Galata Maritime Museum, built on the site of a 17th century shipyard. The various display areas take you from a faithful reproduction of a galley, a slave powered warship, to a fascinating glimpse of the conditions that poor émigrés endured on ships that crossed the Atlantic en route to a new life in the Americas. Along the way there were exhibits about the evolution of the port and how it created the city's fortune.
The evening saw me travel four miles or so east along the coastal road to the Ristorante Capo Santa Chiara, with its al fresco terrace perched over the Mediterranean. This was Italian food at its finest, stuffed squid to start, an entree of pasta with the renowned local pesto, and fresh fish matched with the fruity local white wine.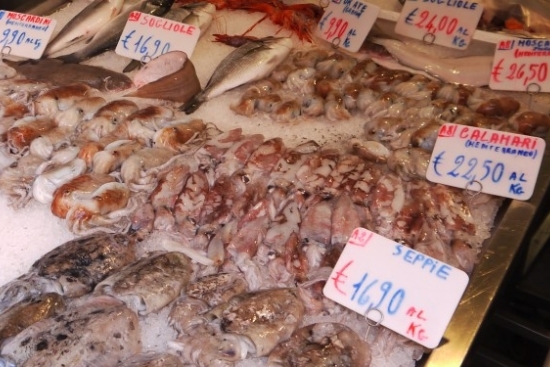 A Genoese Fish Stall - Photo by Peter Morrell
The next day, my last, and it was a trip back to the harbour for a ride on Il Bigo. This is an observation cabin that is hoisted 150 feet up in the air to give an unrivalled 360 degree view of the port and the rooftops of Genoa.
Right next to Il Bigo is the Ristorante Tre Merli, the ideal spot for an early lunch on the open air terrace overlooking the harbour. The food was a succession of tasty snacks and one dish I particularly liked was Focaccia al Formaggio. This is something of a local specialty made with focaccia dough which is used as a wrap for latte ligure tracciato, local fresh cheese made with Ligurian milk.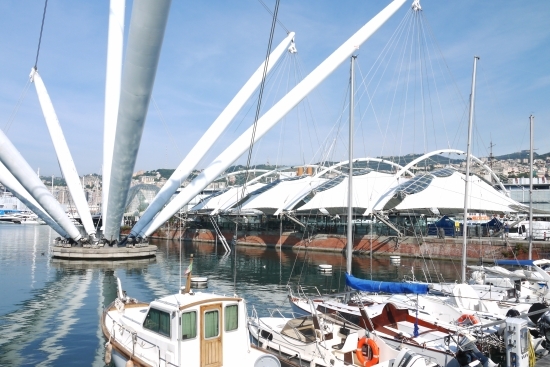 The Arms of Il Bigo - Photo by Peter Morrell
With the relaxing and refreshing lunch over it was time to say goodbye to Genoa for the short 90 minute direct flight back to London. It had been an enjoyable couple of days which had given me the opportunity to experience both Genoese history and its lifestyle. Easily accessible from the UK and with a lot to occupy the visitor in the compact centre it is an ideal city break destination.
For more information on Genoa visit www.visitgenoa.it
For more information on Liguria visit www.turismoinliguria.it
Direct return flights from London Stansted to Genoa start at £50 with Ryanair. www.ryanair.com
Direct one way flights from London Gatwick start at £39 with British Airways. www.britishairways.com
Entry to the Genoa Aquarium costs from £20 per person. www.acquariodigenova.it
Entry to the Galata Museo del Mare is £10 per adult and £5 per child. www.galatamuseodelmare.it
All images ©Peter Morrell