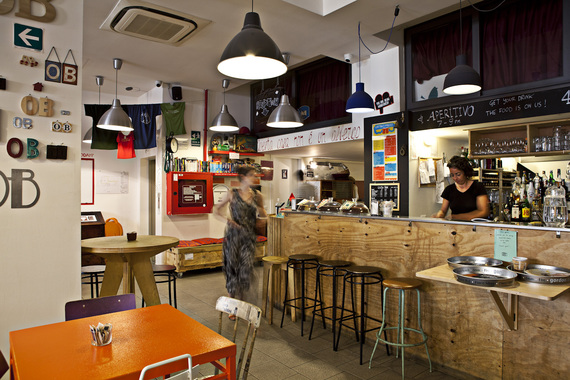 Image: Ostello Bello
In part two of this series looking at Europe's new paradigm of hostelling, we take a look at the brilliant and feisty young newcomers to be found in the cities of Italy. The bel paese (beautiful country) is no stranger to tourism due to its unprecedented amount of world heritage sites: from the colosseum, to the leaning tower of Pisa, to the labyrinthine passageways of Venice. The philosophy of la dolce vita, of hedonism and pleasure seeking, has been the conventional pursuit of visitors to Italy, where romance is rarely below sky-high. Of late, however, a new niche has been eked out, for travellers seeking to travel in the modern way, and Italy has some hostels to contest the brilliant might of Portugal's offerings. Here are some of Italy's best:
Milan - Ostello Bello
Ostello Bello is one of those hostels that comes along and turns your comfy world of living upside down. It's generous both in spirit and the physical - included in the price are towels, padlocks, and even food (we're talking genuine tubs of tasty pasta and selections of fruit). Their multilingual staff have cumulatively visited more than 200 hostels, and with it comes their thoughtful gestures gathered from their travels, as well as admittedly a friendly swagger. Head and shoulders above the rest, Ostello Bello offers language lessons, cultural events, waterfall showers, a surprisingly active blog, Grandma-style home cooked meals, and a healthy surfeit of beautifully-designed communal rooms. Even local Milanese visit for the lively atmosphere. While the price tends to be higher than most of its competitors, Ostello Bello is well worth the cost: a real gem.
Ostello Bello (ostellobello.com), rooms from €28 per night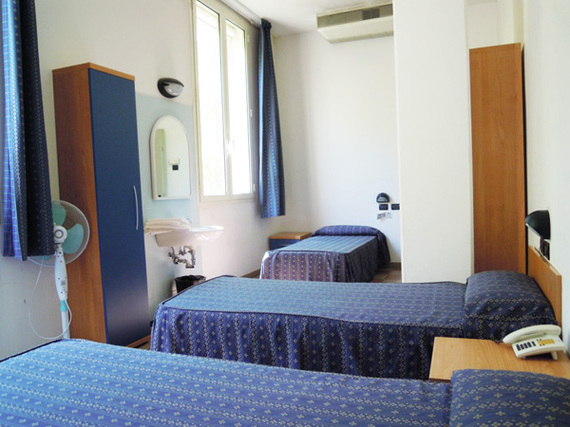 Image: Albergo Pallone
Bologna - Albergo Pallone
The medieval-colonnaded city of Bologna, lined with terracotta-hued buildings themselves adorned with miles of porticoes, may well be known for its left wing politics, but it has a real deficit in quality backpacker accommodation. Other than the luxury hotel offerings, Bologna's budget offerings tend to be a few kilometres out of town, or ridden with bed bugs. Fortunately, Albergo Pallone is a space of relative solace, presenting a cheap and adequate option. More along the lines of a old-school youth hostel, areas of the building are a little fusty, but it is in an excellent location, not far from the main train station, Bologna Centrale. There is a decent canteen, good wifi, but certainly worth getting a single.
Albergo Pallone (albergopallone.it), rooms from €20 per night
Rome - La Controra
Based in a delightful 18th century building in pleasant neighbourhood, La Controra Rome Hostel is located somewhere between Piazza della Repubblica and Villa Borghese (and a relatively short walk from the Termini station, for sprawling size Rome that is). It straddles the boundary between Rome's Municipio I (Historical Center-Prati) and Municipio II (Parioli/Nomentano-San Lorenzo), orientating itself as a "flashpacker" destination with its new, high-quality, and functional design. The beds guarantee a good night sleep, while "Sicily-styled kitchen" provides complimentary self-service espresso for breakfast. The only issue is perhaps the potential lack of atmosphere: with the hostel set over two different floors, the vibe can tend to be a little low-key. Nonetheless, the wonderful, old rickety lift provides the perfect entrance.
La Controra Hostel Rome (lacontrorahostel.webstarts.com), rooms from €24
Florence - Plus Florence Hostel
Established offerings in Berlin and Prague set the tone for Plus Florence Hostel: quality and consistency. In many ways it falls within the realms of a hotel with its seasonal outdoor swimming pool, indoor gym, and spacious panoramic roof terrace. However, that also means that there is no communal kitchen, as many hostels are equipped with - although there is a decent onsite restaurant - while there are few communal areas to socialise that don't have loud music (this tends to attract a certain crowd). That is merely quibbling though: the dorms are spacious, the reception efficient, whereas rooms are extremely functional and eco-friendly, with room cards needed to activate lights and air-conditioning. Situated in the northern part of central Florence, near Santa Maria Novella train station, it is fairly well-placed to explore Florence.
Plus Florence Hostel (plushotels.com), rooms from €20 per night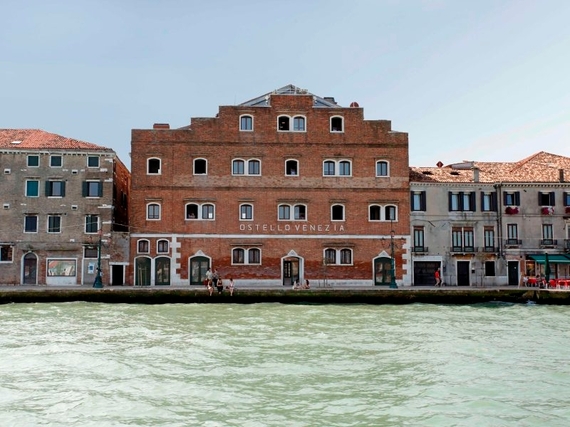 Image: Generator Venice
Venice - Generator Venice
Literally along the waterfront - perhaps, not such a rarity in this city - Generator Venice is located in a dazzlingly converted 19th century grain house. It has been given a recent makeover by the same interior designers that worked on famous members' club Soho House, and it shows: this is a 21st century hostel. The property boasts tasteful Fantini mosaic flooring, charming Rubelli textile curtains, and a Murano glass chandelier centrepiece in the common area. The Giudecca location ensures bearable prices, only five minutes from San Marco, but this too is a double-edged sword: daily transport costs of the vaporetto can become eye-watering. The 16-bed dorms certainly aren't for the claustrophobic either, but it's nothing that a seasoned backpacker couldn't deal with. The real unexpected bonus of this place - beyond all of the glitz - is the cobbled embankment, allowing guests to revel under the night sky, and admire the majestic lights of Venice. Request a sea view.
Generator Venice (generatorhostels.com), rooms from €34 per night