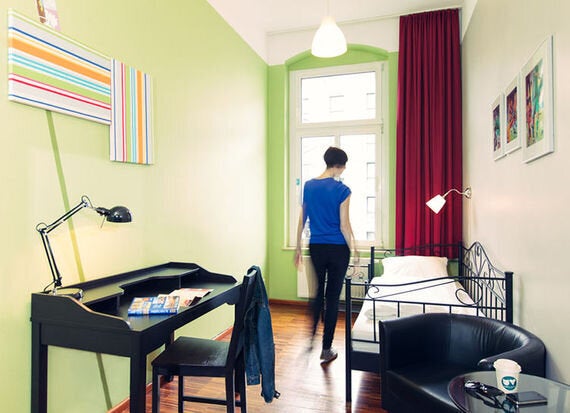 Image: Circus Hostel, Berlin
In part three of this series looking at Europe's new paradigm of hostelling, we take a look at the surprisingly well-rounded options served up by Germany. Despite the country's rich and gripping, war-torn history, none of Deutschland's cities have tended to have the iconic draw of the real urban heavyweights - Paris's picturebook charm, London's vibrant swing, or Rome's devastating beauty. That's not to say Germany doesn't have its own unique attributes: bierpalast are heavenly havens and lederhosen are a traditional costume to rival any. These days, however, the powerhouse of Europe has eschewed its stereotype of cold efficiency by adding excellent services, facilities and a bit of heart to its accommodation. Here are our picks of Germany's very best.
Berlin - The Circus Hostel
The first thing you notice about The Circus Hostel, all pristine panels and daintily curated furnishings, is its impressive proximity to the U-Bahn (it would be embarrassing if you couldn't throw a stone that distance). Having just undergone renovations and a re-design, this hostel - right on the corner of the vibrant city junction that is Rosenthaler Platz - is probably Berlin's premier offering at this moment in time. Service is attentive, security is first rate, and rooms are certainly satisfactory. There are loads of nearby eateries should you wish to explore, but Circus has a decent cafe, and - best of all - a bar with its own in-house microbrewery. On top of that, they provide online guides to local attractions such as the converted art bunker Sammlung Boros and the Berlinale.
The Circus Hostel (circus-berlin.de/hostel), rooms from €23 per night
Munich - Wombats City Hostel
As the name suggests, this Munich establishment is something of a gathering spot for backpackers from all corners of the globe. It's a large place, with numerous 6-bed dormitories, though a gregarious character and spirit is prevalent - you won't find yourself lost in its voluminous space. But for all the talk about open expanses and outbacks, this is one hell of a clean hostel: it has twice won Hostelworld's "Cleanest Hostel Worldwide" award, with bathrooms often sparkling. From that solid base, there's also an excellent all-you-can-eat breakfast, a wonderful chill-out zone in a glass-roofed courtyard (featuring many a hammock and bean bag) and robust in-room lockers to keep any concerns at bay. It's just a short walk from the Oktoberfest to boot.
Wombats City (wombats-hostels.com/munich), rooms from €25 per night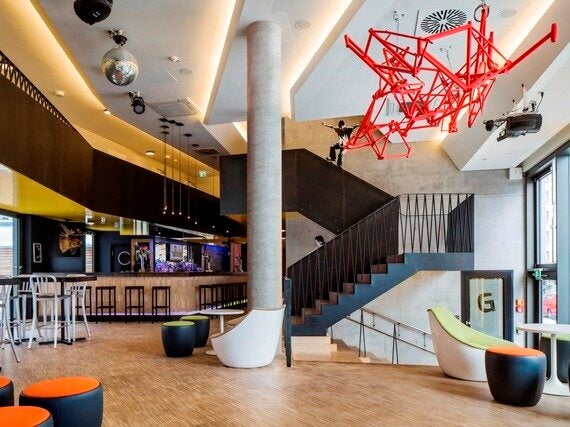 Image: Generator Hostel, Hamburg
Hamburg - Generator Hostel
The Hamburg arm of the Generator Hostels is a fine outpost, and is housed in a building that The Beatles once used as a recording studio in the 1960s (there are references to this with a number of commissioned pieces of wall art). A towering block, it is full of bold colours and confident design, which is apparent from the get-go, with the hostel's prominent wooden reception hard to miss. The spaces for socialising are excellent in addition to the 24-hour cafe and well-stocked bar (try out the Generator Special cocktail). Perhaps the only downside are the relatively compact bathrooms, though given the building's history, construction limitations are understable. But all rooms have en-suite facilities, and the location is conveniently next to the central station.
Generator Hostel Hamburg (generatorhostels.com), rooms from €20 per night
Leipzig is one of Germany's rising stars, and the city's new Say Cheese hostel is proof of that. The modern 116-bed building somewhat straddles the line between hostel and hotel with both modular, almost bauhaus furniture yet a with a fairly warm vibe and friendly approach to socialising. It's certainly not you typical German establishment - Flamenco classes, Paella nights, Mojito workshops show that it has a certain international flavour, and hispanic staff. Based in Leipzig's historic centre, Say Cheese is only a few minutes walk from the local sights such as the market square and St. Thomas Church, and handily away from any noisy thoroughfares. Happy sidenotes are the in-house cooking facilities and the comfy feather pillows and duvets.
Say Cheese Leipzig (say-cheese.net), rooms from €19 per night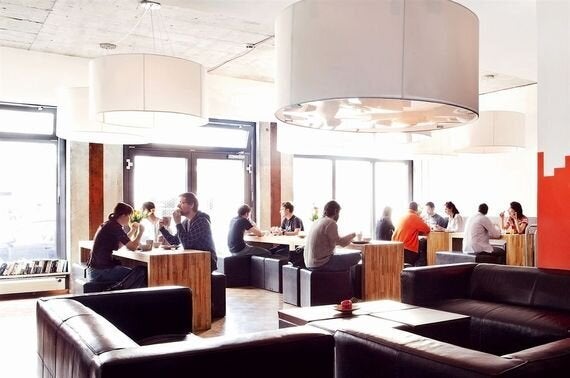 Image: Five Elements, Frankfurt
Frankfurt - Five Elements
Free beer tasting, free pasta, free night walks, free crêpes, free cupcaking making classes - those aren't the five elements that this Frankfurt hostel are named after, but they certainly are the way to a backpackers heart (nb. these offerings are not simultaneous). It's not the cosiest of spaces, instead preferring to evoke the image of urban cool, and the downstairs hang-out area has a pool table and foosball table to compliment it. Don't let the fact that Five Elements is based in Frankfurt's Red Light District turn you off, it's as safe as you'll be in any city. The old town square and hall are only a short stroll away as is the Äppelwoi pub-quarter in Sachsenhausen. The 8-bed dorms are fully-functional, though if you have the money, splash out on the panoramic roof apartment.
Five Elements Frankfurt (www.5elementshostel.de), rooms from €18 per night