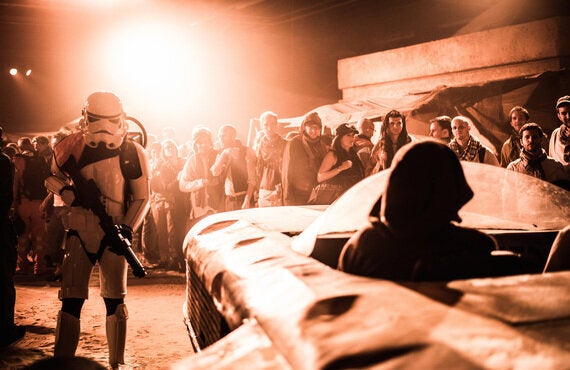 Shuffling between an underground gambling den and a pair of wily Bedouin traders passing off prohibited booze as "potatoes", I'm confronted by a belligerent stormtrooper who wants to know my business in the area. This six-foot towering replica, glimmering a pristine white and even speaking with a robotic twang, gives short shrift to my rebellious dissent, and in the blink of an eye I've been incarcerated in a back-alley prison. All the while, peculiar lifeforms with faces the shape of butternut squashes glare on at me.
You see, extroversion is the key to Secret Cinema, the flagship force and kickstarter behind the zeitgeist of "immersive" events that have swept over Western metropolises in the past few years. In Irvin Kershner's 1980 cinematic cornerstone, Star Wars: The Empire Strikes Back, the company have once more trodden along the cult, cinephilic choice, but increasingly these options have been the blockbusters. Last summer's Secret Cinema production of Back to the Future made £3.4 million over its five-week run, while in just a few days it has launched Luke Skywalker & co. back into the UK box office top 10, for the first time in 35 years - perhaps not so difficult with tickets at £75 a pop.
Nonetheless, The Empire Strikes Back was ambitious and meticulous as ever. An essential experience for Star Wars fans. Where else would you get the chance to high-five Wookie, or frolic around the desert-cum-souk remake of planet Tatooine? (It should be noted that the customary exploration period for this edition is generally set in the 1977 film Star Wars: A New Hope). With those who have a strong personal connection with the franchise, of which there are undoubtedly many, the 400-plus actors who play and perform - at just the right tone - will forge great memories.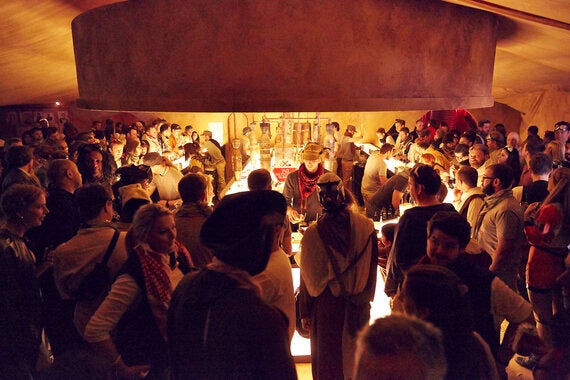 But, to be clear, this is not Secret Cinema's finest production. It really does test the boundaries between the expansive and the industrial - it's twice the size of last year's Back to the Future installation. There was never quite the charm of say 2011's The Third Man, which quite brilliantly transformed Farringdon's old Victorian Farmiloe building, and seemed to have hidden treasure everywhere. The numerous food stalls, pop-up bars, costumes, and other potential expenses, meanwhile, seem very much in line with the East End's skyrocketing prices. Even the attendees were more straight-laced than at previous iterations - this was no Comic-Con.
For all the naysayers there will be, however, Secret Cinema still offers a unique glimpse into the potential future of cinema. Surprises, which I shall not spoil, are aplenty. Whereas, some great innovations this year helped fuel a loose, late-night screening feel, where joyous chants, cheers and whoops were common. Of fundamental importance, too, is that the movie choices remain unquestionably excellent. Their force stays strong, for now at least.
SECRET CINEMA Presents STAR WARS: THE EMPIRE STRIKES BACK takes place from now until 27 September www.secretcinema.org/tickets