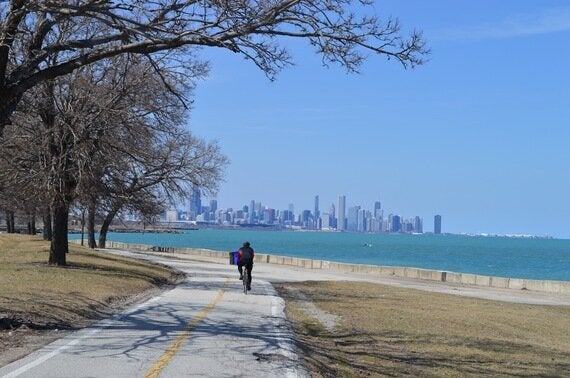 Having experienced the UK's wettest winter for years, endured floods and gone through literally countless umbrellas you'd have thought the least appealing trip to take would be one entitled "Water, Water, Everywhere". However, I'm a Piscean and love water in seas, lakes and rivers as opposed to the falling from the sky kind and therefore signed up for the above named fam trip. The fam trip or familiarisation tour giving a snap shot of a region was on offer following IPW (International Pow Wow, the US's premier international travel trade show). This year IPW was held in Chicago, Obama's home town, the windy city and echoing the word's of Frank Sinatra "One town that won't let you down, it's my kind of town". I've been to Chicago a couple of times before and love the architecture, the fact that white sand beaches lie yards away from dramatic high rises and that the water in Lake Michigan is as blue as the Caribbean. I've always got a kick out of cycling the 18 mile Lake Front Trail with it's dramatic views of the city but above all I adore the popcorn. Popcorn aficionados won't know what's hit them once they've tasted hand crafted gourmet popcorn from Garrett Popcorn, the Chicago Mix combines sweet caramel crisp with savoury cheese corn and like pringles is coated with some magic ingredient that makes it extremely moorish, I defy anybody not to finish a packet or tin.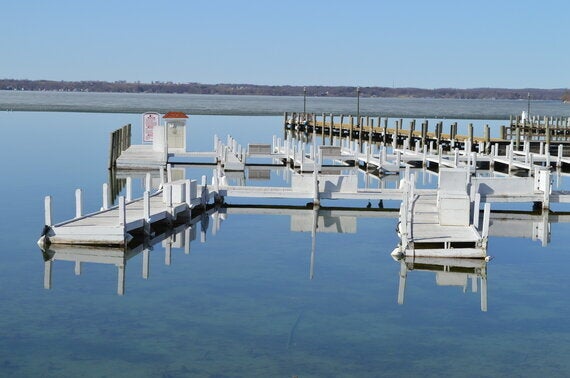 Chicago lies on Lake Michigan but historically wealthy Chicagoans would head for another lake, Lake Geneva, not the larger Switzerland one but the considerably smaller but equally picturesque one, an hour and 30 minutes away in nearby Wisconsin. Here they built vast mansions, entertained, played golf and sailed on the lake. The town of the same name has an interesting museum, charting the areas history and alongside various artefacts, there's also a recreation of the local school. The rules for teachers "you may not loiter down town in ice cream stores" and punishments for pupils, "3 lashes for girls going to boys play places" made for some very revelatory reading. I'd have had a hard time as either in 1915 ! The Mid West has had one of the coldest winters on record and unbelievably in Mid April Lake Geneva was still partly frozen (in the winter months, it's possible to drive across the lake and even ice sail on it). The Grand Geneva Resort and Spa with it's outdoor fireplace lounge therefore offered some warmth as well as a touch of glamour - the resort opened in 1968 as the first playboy club to open in the US.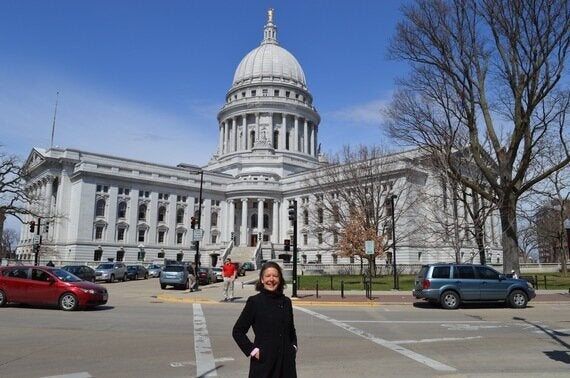 Madison, the State Capital of Wisconsin sits on an isthmus between two lakes, Lake Monona and Lake Mendota (try saying those after a few glasses of wine) and is home to a very dramatic capital building. You'd be forgiven for thinking you're in DC as the capital building's dome is the second tallest in the US after the one in Washington. It makes for a great photograph and if a city can be said to have one iconic building this is it. Interesting tours are offered even for those like myself not that knowledgeable or interested in American politics. It's still fun to have your photograph taken behind the Governors's desk and wonder at the granite structure glowing like a beacon no matter what the weather and Wisconsin can be said to have all weathers. Locals say that if you don't like the weather in Wisconsin, wait 5 minutes, it's not a question of four seasons in one day but more like 4 seasons in one hour. As fam trips go, I'm now a lot more familiar with Wisconsin, the Heart of America and the dairy capital of the US. Who knew that Wisconsin produces more mozzarella that anywhere else in the world and more cranberries than New England. To be honest, I originally thought that the capital was Milwaukee, another lakeside city also offering up a few surprises.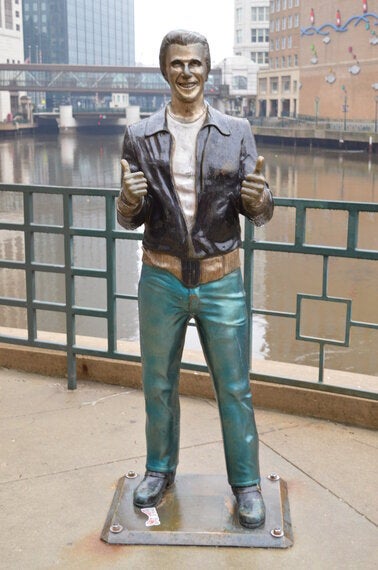 A fan for many years of "Happy Days", I somehow hadn't registered that the TV series was set in Milwaukee and that The Fonz was quite so small, at 5'5" my height. The diminutive bronz statue of Fonzie complete with leather jacket, jeans and two-handed thumbs up is located on the Milwaukee River walk and is actually an inch taller than the TV character.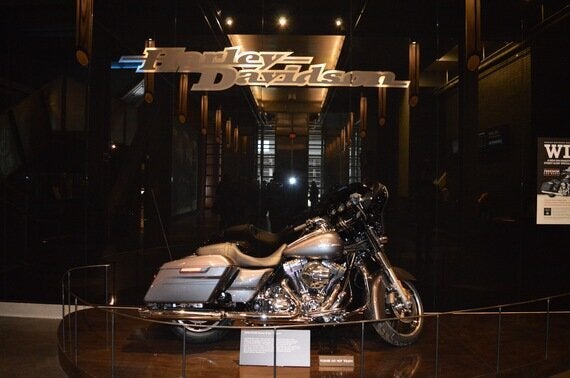 However, although a popular attraction Arthur Fonzarelli's statue is not the main reason folks head for Milwaukee. The city offers beer tours and festivals galore, exotic bloody marys and the Harley Davison Museum, celebrating the history of possibly America's most famous motorbike. There are more than 450 motorcycles and artefacts, dating back to Serial Number one, the oldest known Harley Davidson (resembling a bicycle with a motor attached), to customised rhinestone covered bikes. There's even a bike recovered on an isolated beach in British Colombia, having drifted over 4,000 miles across the Pacific Ocean after being washed away in a storage container. You can have your photo taken on a Harley, watch your favourite Harley movie clips and of course a visit wouldn't be complete without a visit to the gift shop stocked with all manor of Harley Davidson merchandise in the signature colours and logo. It's a museum that really roars to life, even if you're not a HOG, that's a Harley Davidson Owner for the non-bikers amongst us.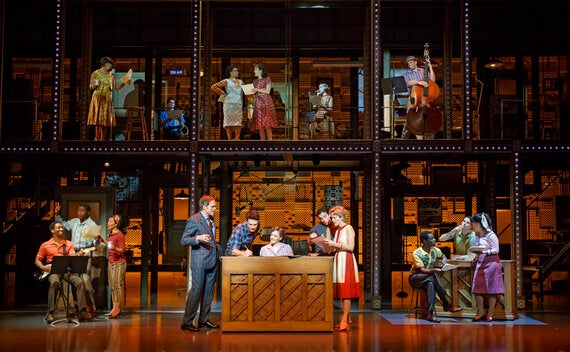 If Harley owners can said to be passionate about their bikes, amongst my many passions are musicals and films, so a stopover in New York on the way back to blighty to catch a show on Broadway and take in a tour of New York's movie sites was in order. I can safely say that I've pretty much seen every musical in the West End and although a lot also appear on Broadway, there's a fair few new openings. Rocky as in the boxing film might not be the most obvious choice for a musical but it's proving to be a sell out hit as is another musical based on a film, the Tony award winning Kinky Boots. The crowd pleasing Motown the Musical is set to replace We Will Rock You at London's Dominion Theatre later in the year so I opted instead to see Beautiful - The Carole King Musical at the Stephen Sondheim Theatre, tempted by The Wall Street Journal review calling it "out of control, amazing". After seeing the show, I'd say this was a pretty accurate sum up of both the show and my first visit to Broadway. As an avid collector of free stuff, the playbill or as I saw it free programme was most welcome as was the full house with appreciative audience, the standing ovation and the interval cocktails named after Carole King hits "One Fine Cocktail", "Earth Movin Mojito", "So Many Dreams". Beautiful tells the inspiring true story of Carole King's remarkable rise to stardom, from being part of a hit song writing team with her husband Gerry Goffin to her success as a solo artist. Those of a certain generation will recognise every uplifting and haunting hit and even if you don't, you'll love the costumes, the hairstyle changes, the jokes about Broadway and the fact that watching a show about Americans in the US, at least the accents are authentic. It's a great night out and one that I hope will transfer to the West End.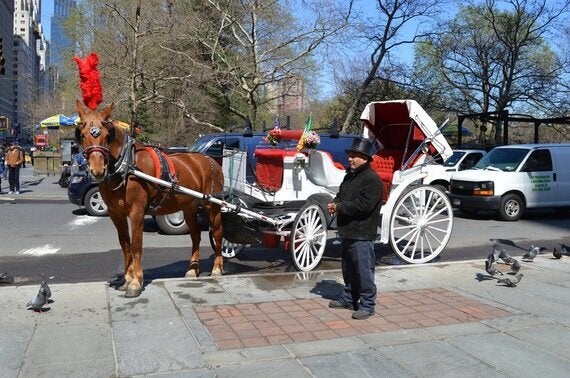 New York is the most filmed city in the world, so it would be difficult to include all TV and Movie sites in one 3 1/2 hour tour but On Location Tours has a good go at it, highlighting the apartment building from Friends, the brownstone used in I Am Legend and all manor of films shot in and around Central Park and The Plaza Hotel. The tour is a good mainstream alternative to the classic hop on / hop of city bus tours as it takes in most of Manhattan's central and down town sites along with giving you a taste of the films that were shot there with some entertaining banter from the enthusiastic guides. Non Americans may not have heard of some of the TV shows included and anyone over 40 might prefer the Turner Classic Movie Sites Tour instead featuring locations from the likes of North by Northwest and Breakfast at Tiffanys, whilst for anyone under 30 I'd suggest the TMZ Tour and if you're a Gossip Girl or Sex and the City fan, these tours also come highly recommended.
Tickets to Beautiful - The Carole King Musical can be booked through Virgin Holidays.