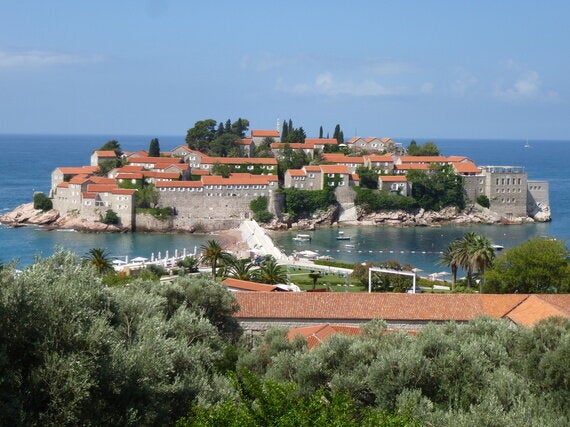 A destination often has an iconic building or place that one instantly associates with it. Think Taj Mahal for India, The Eiffel Tower for France. However, the photo often used to promote the tiny Balkan country of Montenegro is in fact an uber luxury Aman resort, the Aman Sveti Stefan. I see it every day on the tube as it's used in an insurance companies bill board advertising and when seen for real it really is as picture postcard perfect as it looks. However, the rest of Montenegro is equally charming, lovers of Croatia's turquoise sea, Italian architecture and squares and rugged mountain scenery will feel very at home. As Autumn seems to have arrived unexpectedly early in the UK, now is a great time to visit for a last dose of sunshine. I was there for a brief stay in June but the country is so small, not even the size of Wales as the old cliché goes, but two thirds the size, so in a few days you can see most of the main sites with at least one R & R day on the beach. Although, not staying there I chose as my beach day, Queen's Beach at Sveti Stefan. Non hotel guests for a fee are able to enjoy the resort's beaches and recently opened spa. Queen's Beach, a perfect curve surrounded by cypress and olive trees was a favourite of Queen Marija Karadordevic, as well as more recently Novak Djokovic who got married there in July. It's a great place to visit if you want a spot of pampering in the spa and to feel like a well heeled (or not as the case may be, flip fops and beach wear is fine) A Lister for the day.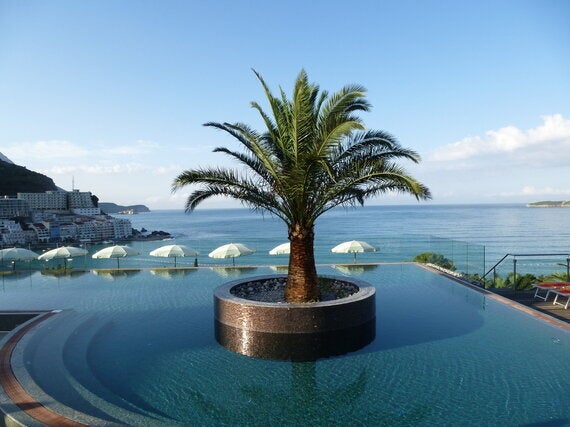 The beach and resort where I was actually staying, although a short walk along the coast was very different, there was an awful lot of people and an awful lot of flesh on display. Busy, blinging, Becici is Montenegro's Benidorm. However, it still makes a good base and my hotel Queen of Montenegro perched above the beach with great views offered another world away from the hordes below. The hotel's large infinity pool was perfect for my daily lengths, once I realised the swallows constantly dive bombing the water were harmless and were never going to hit me. There's a huge breakfast on offer, although I wasn't sure what dumplings and prunes would do for my digestion, so I gave them a miss and still haven't worked out the benefits of the crocheted swimming hats worn by some of the guests. Becici borders Budva, Montenegro's major resort where the star attraction is the Old Town, definitely worth a walk around but if you're short of time save your energy instead for Kotor and the old capital Cetinje.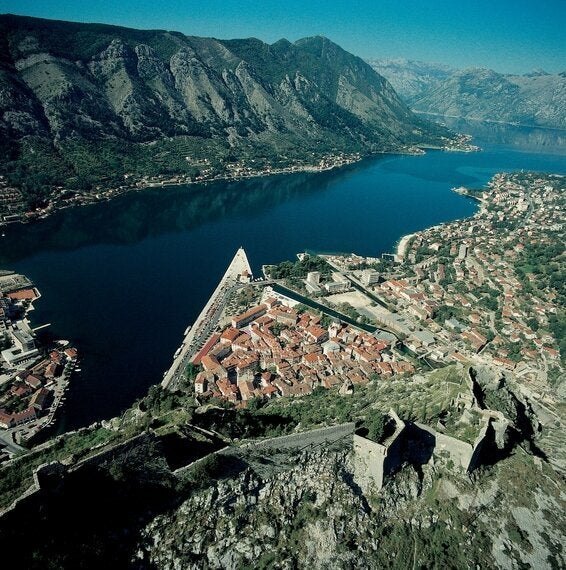 Photo supplied by Montenegro National Tourism Organisation
Kotor on the Southern most fjord in Europe is undoubtedly Montenegro's must see sight and on every cruise ship itinerary. The old city with it's jumble of narrow alleyways, marble squares and churches is exquisitely preserved and I've no doubt on a sunny day spectacular. As luck would have it, on the day I visited the rain didn't stop pouring down, so a few museums were in order to escape the downpours. The Maritime Museum of Montenegro celebrates Kotor's illustrious history as a naval power and inventive use of weaponry - there are displays of decorative hat pins with ferocious spikes .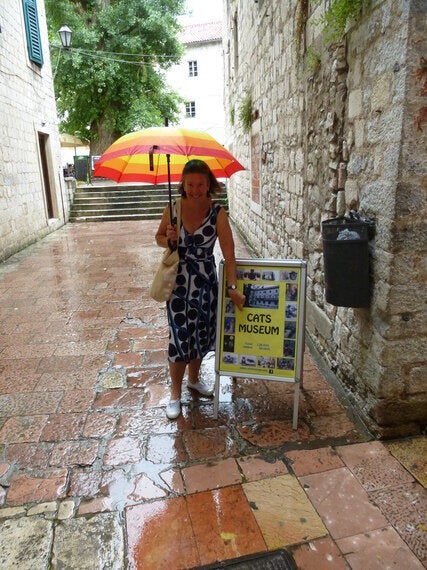 Not so popular on my museum crawl was the Cats Museum. For those that know me well, I'm afraid I'm no cat lover. You may ask the connection with Kotor, so here goes from the museum's website. "As a seat for our Museum we chose Cattaro (Kotor) in Montenegro, a city on the extreme part of Dalmatia for various reasons: its quietness, charming position and its situation of " ideal city for cats" as the population is fond of felines". You may also wonder what on earth is in a Cat Museum and this one surprisingly is home to a rather charming display of period cat images. I'll just have to come back to visit Kotor properly as I was itching to climb St John's Hill to the fortress on top , a 1200m ascent up the fortifications via 1350 steps or as my guide had done in the past a truly vigorous climb along an ancient caravan trail known as the Ladder of Cataro. Far less strenuous but no less exciting was a drive up the zig zaggy back road, there are 25 hair pin turns to the top of Mount Lovcen. Just imagine the scene in the height of summer as back to back tour buses need to reverse to make way for on coming traffic. The road is also a more scenic way of reaching Cetinje, the old capital and another difficult to pronounce place.
Photo supplied by: Montenegro National Tourism Organisation
Montenegro has been in the news a lot recently, mainly for attracting huge amounts of foreign investment all wanting a slice of the pearl of the Adriatic. However, they're not alone in thinking they've discovered a new tourist hotspot, Lord Byron was raving about the area years ago as he so romantically put "At the moment of the creation of our planet, the most beautiful merging of land and sea occurred at the Montenegrin seaside... When the pearls of nature were sworn, an abundance of them were strewn all over this area". Top of the list of new developments is the new Porto Montenegro, now one of the Mediterranean's leading luxury yacht marinas, converted from an old naval shipyard in 2006. If you're not a super yacht owner or guest on one and let's be honest few of us are, it's still a great place to wander around, admiring the boats and having a spot of lunch, before exploring Tivat another attractive coastal town. Further along the coast, great plans are in place at Lustica Bay, where along 35 km of coastline, two bustling marinas, an 18-hole golf course, wellness centres, chic cafes, shops and restaurants and an incredible array of apartments, villas and town houses are either well on their way to being completed or in the planning stage.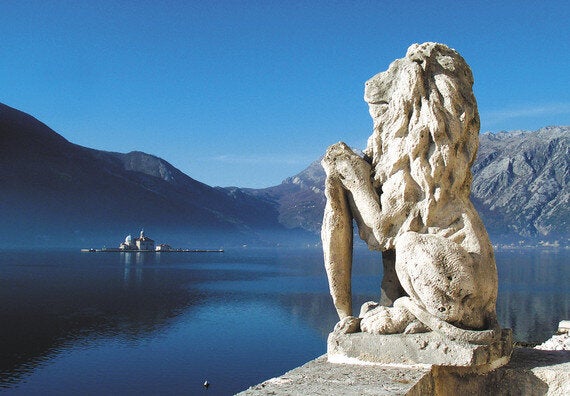 Title: The sculpture of the lion, Buća Palace, Perast, Montenegro
Photo by Stevan Kordić, www.stevan-kordic.com
In the 1950s and 60s Montenegro was a haven for film stars such as Sophia Loren, Elizabeth Taylor and Kirk Douglas and now in the 21st century it is again re-establishing itself as a high end destination. However, it's still considerably cheaper than other similar summer sun destinations and although I really shouldn't be plugging this, cigarettes were £2.30 a packet which would put a smile on most smokers faces. With its unspoilt natural beauty and central location it's little wonder that tourists come. I felt that I only scratched the surface and want to return to see Kotor in sunshine, the vast body of water that is Lake Skadar, Ostrog Monastery perched on a cliff edge and of course to see the completion of the vision that is Lustica Bay .
To find out more about The Queen of Montenegro Hotel visit here.
To find out more about tours in Montenegro visit here.