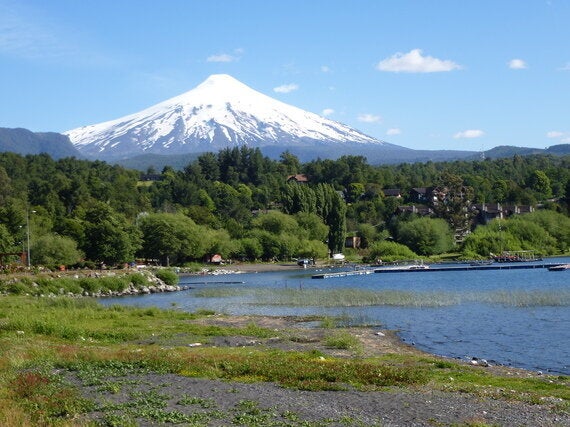 As my friends and I approach out half century, there's been lots of competitive challenges set to celebrate this milestone birthday from running the London Marathon, walking the coast to coast path and canoeing topless down the Zambezi (OK, I made the last one up!) but I felt that as The Petra Trail comes to end it was time to also set myself a test. Volcanoes are two a penny in Chile so climbing a volcano seemed an obvious choice. However, not any old climb but one that involved wearing proper mountaineering boots, carrying an ice axe and wearing a helmet up one of Chile's most active volcanoes - what had I let myself in for !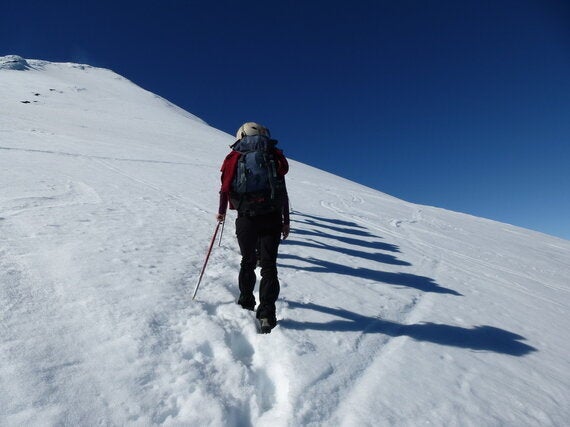 The snow-covered and perfectly conically shaped Volcan Villarrica stands at 2840 metres on the south east of Lago Villarrica in Chile's Northern Lake District. It's climbed from the small but extremely popular town of Pucon. Lonely Planet describes Pucon as the "Queenstown of South America" and a "mecca for adventure sports". Again, this should have been a warning of the thrills to come. Plenty of operators offer volcano climbs but as I wanted to at least try and make another half century I opted to go with one of the more reputable companies AGUAVENTURA a friendly French owned company, offering highly skilled guides (at least one guide per three people). After being kitted out with all the proper equipment and really feeling the part, I failed at the first hurdle. There was a choice of an initial hours walk through the volcano scree, I've done this kind of volcano climbing before and it's one step up to two steps slide down so I opted to take the conveniently located chair lift to avoid this. It's not frowned upon, in fact actively encouraged in order to not tire yourself out for the climb ahead and what a climb. Conveniently stepping into the footprints of the climber ahead and using the ice axe to balance with lots of stops to admire the views below against the electric blue sky, it was surprisingly easier than I imagined.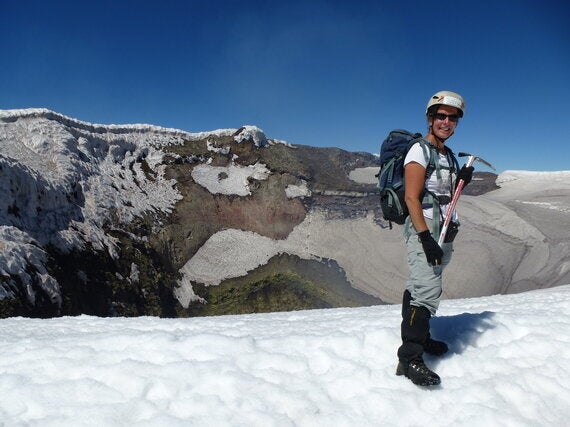 Once at the top, you're rewarded with views of the open crater and although the volcano has a violent history the last eruption was thankfully in 1984. The climb to the top had taken approximately 4 hours but the journey down was to be significantly quicker. Hidden amongst the crampons, jacket and trousers in the rucksack we'd all been given was a small plastic slide, more like a round plastic disc with handles, we were to toboggan down. This I was told would be good fun, by someone with a totally different idea of fun to myself. If you enjoy water slides or fancied a go on the cresta run, then you'll be in heaven. On the other hand, if you're as wet as I am or fear trying to master breaking with an ice axe, I'd team up with one of the guides and cling on to them for dear life instead. The hurtle down has elements of a hair-raising roller coaster ride whilst getting as wet as you would on any water slide. My fellow "mountaineers" loved it, I found it quite frankly terrifying and was thankful to arrive at the bottom in one piece. You don't have to be an adrenalin junkie to climb or descend Volcan Villarrica or need the excuse of a birthday challenge, provided your reasonably fit it can be climbed by any age and it's something I'd definitely suggest travellers to Chile do, keeping your fingers crossed for a clear day.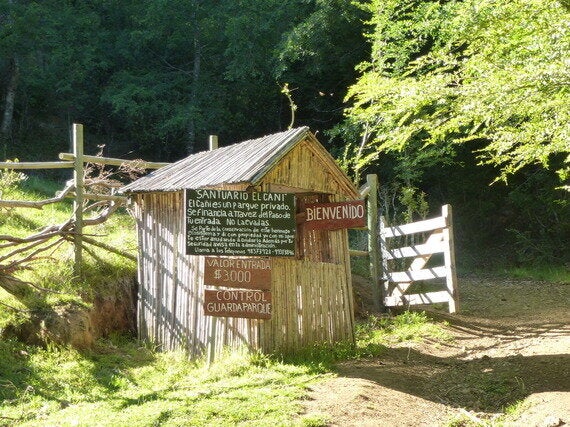 With a day to spare and feeling invigorated and warmed up from the volcano climb, it was time for one last major stretch of the legs before heading to Santiago and city life again. You'd have thought that after over 3 months on the road throughout South America I'd have payed more attention to what was involved (i.e distance, steepness) in a day's hike before setting of. A hike to the mirador at El Cani came highly recommended and can be arranged at the park entrance of through ECOLE a popular hostel in Pucon. I just wish I'd known in advance or had listened more carefully that before entering the sanctuary (reserve) there's an extremely steep and rather boring uphill climb for at least a couple of hours along a rough road. There was therefore initially lots of cursing and thinking how could this possibly be a scenic trek.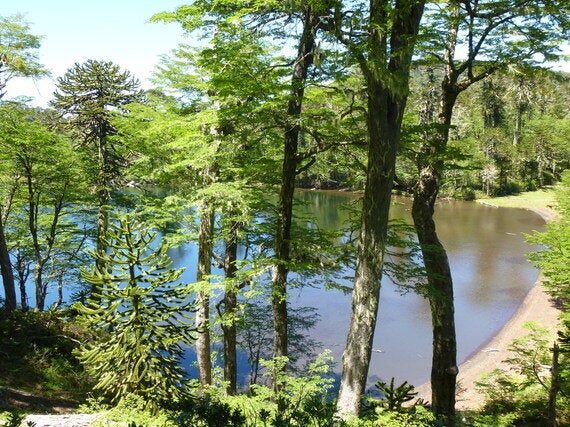 However, once in the Cani Forest Sanctuary (the first private forest reserve in Chile) you feel like Alice entering another wonderland. It's a forest of ancient trees, many of which I'd never seen before making it even more magical. There are few fellow trekkers (just 4 on the day I set out), a couple of beautiful lakes (and by now I'd seen my fare share of stunning lakes) and surprisingly rather a lot of cows. I hadn't banked on a bull blocking my path but once I'd got this far, nothing was going to stop me reaching the look out , so a quick scramble up the hill to avoid any catastrophe and another steep climb and I'd reached the highest peak and views of 3 volcanoes, Lanin, Llaima and Villarrica, looking rather smugly across at the latter knowing that I had climbed it the day before.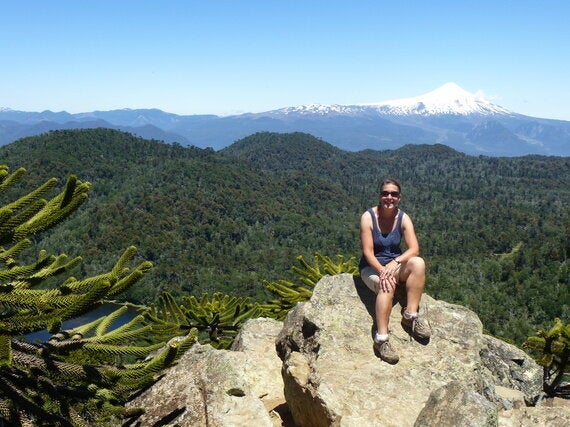 With the impossibly tall and weirdly shaped araucaria trees, lizards darting out at you at every opportunity and gigantic hairy spiders the whole place comes across as a freak of nature and a place for nature freaks. It's an untouched little eden and a wonderfully fitting place to end The Petra Trail.