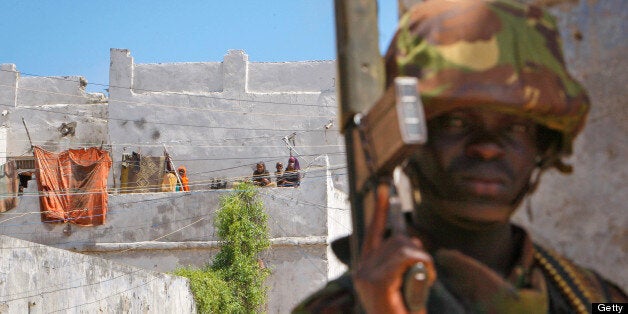 Across China tonight many thousands of people will sit down for dinner in rooms surrounded by ivory ornaments, wearing ivory bracelets, perhaps even eating with ivory chopsticks. All for status, to show wealth and success, to show that they've made it and can afford to adorn themselves and their surroundings with this 'luxury' item. But perhaps tonight, dinner will taste that little bit sourer.
As Kenyan forces still battle to bring an end to the tragic situation in the Westgate Shopping Centre in Nairobi, and as a country and her people, and indeed people all around the world, mourn this tragic and pointless massacre, those that purchase ivory should right now feel particularly guilty.
On Saturday, Somalian based terrorist group Al Shaabab, entered Westgate and started killing innocent people out for their Saturday shop, out to meet friends and family, to go to the cinema, to play and relax. Men died, women died, children died - all races, all religions, all nationalities - slaughtered. No one really knows what the true death toll is, but some are expecting much more than the current quoted figure.
Outside of these innocent victims, the 'faceless' secondary victims - the children, partners, husbands, mothers, wives and fathers all now doomed to a lifetime of sorrow and soul searching. The ones that the press call 'lucky to escape' who will have to battle their nightmares for the rest of their lives after witnessing the massacre. All of these people, all impacted in a way we cannot imagine, all for no reason.
I don't claim to know much about Al Shaabab but I do know about Kenya and about Westgate. I have a team member who lives just a few hundred metres away from the centre, and who left the centre just moments before the terrorists stormed in. I have been there to do all the things that everyone else was doing on Saturday - to eat, to shop, to socialise. I was previously impressed as to how secure it was, with security checking cars and metal detectors on entry, and then an almost alternate reality world on the inside - with the challenges of Nairobi and its notorious violent spiralling crime on the outside, and the world of free wandering happy shoppers buying high priced Western goods on the inside, chatting, eating well and sipping on lattes. For someone from the UK this disparity of rich and poor was challenging, but the truth is it really was the only place to go and feel safe if you weren't a local or if you were anything even loosely middle class.
So...what's the link? How did an ivory bracelet help cause this tragedy? How does dining with ivory chopsticks lead to the killing of pregnant women, families and children out shopping? The truth is that they are absolutely intrinsically linked.
Last year an estimated 40,000 elephants were killed in Africa for their ivory - something that could lead to the extinction of the African elephant in as little as 20 years, and in places like Kenya in not much more than 10 years. The vast majority of the ivory from these elephants went to China.
The ivory trade is devastating Africa and not just its elephants. But the poaching isn't one man and a rifle, it is organised high level criminal syndicates, terrorists and militias. Al Shabaab, the Lord's Resistance Army, the Janjaweed Militia in Sudan, and more are all known to be using ivory to fund their global atrocities. Ivory is the new blood diamond, chopsticks, ornaments and jewellery are the new weapon of death.
Recent reports suggests that Al Shaabab is funding a massive 40% of its operations through the illegal ivory trade. So, to put this in crude figures - if you are an ivory consumer you helped to fund 40% of the killers that entered Westgate on Saturday, which all things being equal accounted for around 25 of the estimated 62 people murdered.
This is in addition to the 1000 officially recorded rangers killed protecting wildlife in the last 10 years, and to the communities who have lost out on tourism as their native animals have been wiped out. In addition to those abducted, mutilated, murdered by militias. You get the idea. Quite simply, whether you care about the elephants or not - stop buying to stop this killing.