Does a Vice President really do anything to get a politician into the White House? Is a VP running mate of any use to a Presidential candidate on the campaign trail? Or is he or she just a face on a poster that's meant to appeal to different voting groups than the would-be President?
The infamous gaffes of certain recent VP candidates have led many people to dismiss the position as an afterthought. And perhaps prospective Vice Presidents are sometimes ineffectual - and occasionally detrimental - when it comes to getting out the vote. But back in 1944 and 1948, it was a different story.
Franklin Roosevelt's advisors persuaded him to pick Harry Truman as his running mate in 1944 for several reasons. First, he had blazed a trail as a determined Senator whose "Truman Committee" saved the US billions of dollars by cracking down on wartime profiteering. Also, the thinking was that his Midwestern routes would appeal to the farmers of that region, a powerful voting bloc. Third, he was not Henry Wallace, the controversial VP who had alienated many in the Democratic establishment and whose unfiltered rhetoric was an ever-present risk for FDR.
Truman proved to be the right choice. He was an indefatigable campaigner who made more than 200 speeches which not only reached millions of voters, but also allowed FDR to focus on the war effort. And, most importantly, they defeated Thomas Dewey and John Bricker. So when it came time for Truman to make his own VP pick four years later (with Dewey again the main opponent), it wasn't surprising that he chose a man cast from the same mould.
With his white hair, bushy eye brows and ready smile, the 70-year-old Alben Barkley looked like a kindly grandfather. But although he reinforced this impression by listening patiently and telling amusing stories in one-on-one conversation, Barkley was a spark plug when on the stump. During his 1923 campaign to be the Democratic nominee for Governor of Kentucky, he had crisscrossed the state relentlessly, giving speech after speech and earning the name "Iron Man." Though he lost the race, he never abandoned his remarkable work ethic, winning a Senate seat in 1926 and becoming Majority Leader of the Senate under FDR.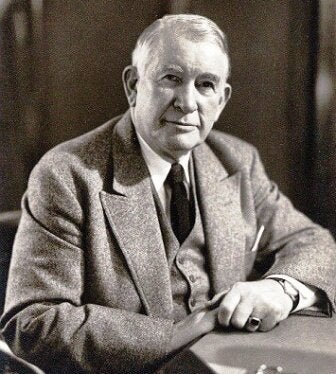 That majority had evaporated in the 1946 midterm elections, which saw Republicans wipe the floor with the Democrats. Though the 80th session passed more than 900 bills, many of these were incremental measures that failed to address the pressing issues of the day. Led by Robert Taft, whose motto was "The duty of the opposition is to oppose," they stifled the President's plans for education, healthcare, low income housing and more, leading to him memorably labeling them the "do-nothing Congress" in 1948.
Truman came into the 1948 Democratic National Convention in Philadelphia under a cloud. Americans for Democratic Action (ADA), FDR's sons and several big city bosses wanted Eisenhower to replace him on the ticket. The left-leaning wing of the party soon fled to follow Henry Wallace under the Progressive Party banner, while the previously "Solid South" was shaken to its foundations by Truman's ambitious civil rights program.
So there was a feeling of doom in the convention hall when Alben Barkley strode to the podium. At least until he spoke. Bristling at the suggestion that Truman was "a gone goose" as Clare Boothe Luce had said at the Republican National Convention, Barkley rolled back the years with a rousing speech that quoted the Old Testament, invoked Lincoln and Thomas Jefferson, and took the Republicans to task for causing gridlock in Washington.
With Hubert Humphrey delivering his landmark civil rights address and Truman giving one of his best speaking performances, the Democratic delegates came to life, finally believing that they at least had a fighting chance of besting the GOP "dream ticket" of Thomas Dewey and Earl Warren come November.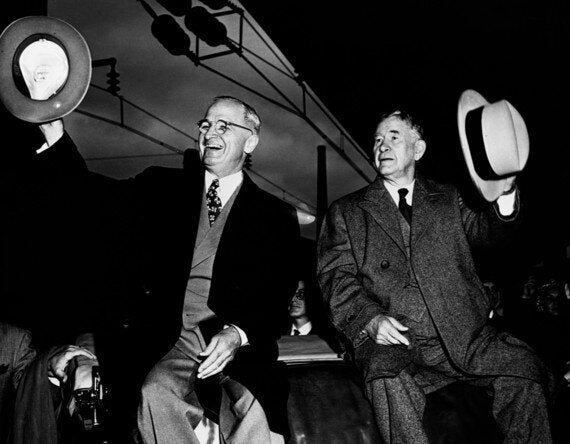 This chance would have come to nothing had not Truman and Barkley continued their pugilism at the podium during the campaign that followed. As Harry gave 'em hell at 352 whistle stops across the country, Barkley was doing a yeoman's job himself, delivering nearly 250 addresses during a grueling, 36-state schedule that proved the "Iron Man" was still made of strong stuff, even as he entered the last few years of his life. Some anti-Truman newspapers unfairly called him "the poor man's candidate" because many of his audiences were small, but his consistent effort soon yielded a rich dividend.
The scrappy old duo of Truman and Barkley outworked and out-punched their younger, meeker Republican opponents across the country, toiling right up until Election Day, even as their opponents rested up. The results? Truman stayed in the White House and the Democrats kicked out the "do nothing" Congress. So maybe the VP choice isn't (always) just an afterthought, at least not when they're made of iron. 2016 election hopefuls take note.