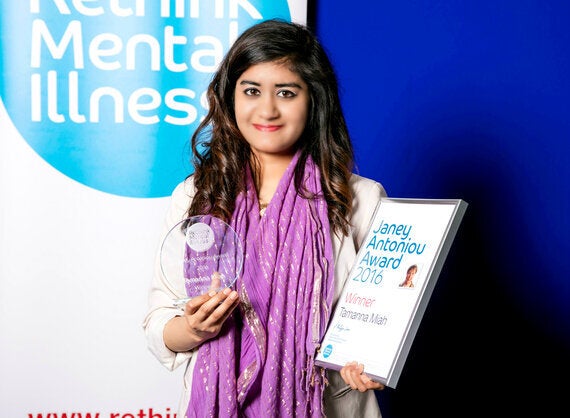 Janey was a dedicated campaigner. She worked tirelessly to improve the care of people living with mental health problems and to address public attitudes, in particular the stigma attached to mental health conditions. As well as her legacy living on through this award, her dedication also provides inspiration to people like me who are continuing her incredible work.
It is really exciting to be recognised by Rethink Mental Illness for the work I have done to champion and raise awareness of mental health. I was incredibly surprised when I was told that I'd won this award, I really didn't expect it at all, because I know that what I do is only a drop in the ocean of the many other people who have also dedicated their lives to mental health campaigning.
An issue that is really important for me is ensuring that more young people and people from ethnic minority communities become more involved in campaigning and feel able to speak openly about mental health. Change must happen across the whole of society, not just in small pockets, as it is only once this has happened that we will make mental health a normal conversation starter rather than a taboo subject.
I started campaigning, volunteering, and speaking out about a range of issues over 12 years ago because I really care about people, and I want to see a society where everyone is accepted and valued for who they are. I am determined to give a voice to the voiceless, and I see campaigning and speaking publicly about issues such as mental illness, as a way to do that. For me, this is now just a normal part of my life, it's what I live and breathe. It has changed my life and I hope, helped many others along the way. Through my volunteering I meet so many people that struggle with their own physical and mental health, and this award is for them too.
I've been through tough times in my life, experiencing bullying, racism and islamaphobia at school, coping with severe anxiety and depression whilst growing up, and dealing with the stigma often attached to mental health problems. However, these experiences are a driving force behind my work, and I hope it encourages others to not feel deterred by set backs in their lives. I want to show people that despite having negative experiences it is not too late to turn your life around and turn it into a positive - there is light at the end of the tunnel.
I'm committed to seeing change, and therefore I work with various organisations to raise awareness of mental illness and to campaign on factors that can impact on our mental health, such as racism, bullying and islamophobia. I volunteer with Rethink Mental Illness on the Step Up: Transitions project, delivering training to young people to support their mental wellbeing through periods of change, as well as raising the profile of mental health through my role as a Rethink Mental Illness Media Volunteer. I've also supported Youngminds Digital Leads team, and worked on various Fixers campaigns on racist bullying and mental health, alongside sitting on The British Psychological Society youth panel and on NHS England Healthy London Partnership. I am also a part of the Time to Change campaign and Heads Together Campaign with the Duke and Duchess of Cambridge to tackle mental health stigma and discrimination.
It is vital that my campaigning enables people to see the bigger picture, we need to understand the different aspects that can impact our mental health and ensure that whatever the reason people may find themselves struggling, there is help and support available where and when they need it. Alongside this, people need to feel able to ask for help, to not feel ashamed or fearful of discrimination or stigma.
I dedicate my award to my best friend who passed away due to various issues one being mental health problems, as well as to anyone who is struggling with their own physical and mental health. Sometimes it can feel as though we are travelling a long road to see the changes we know need to happen to improve the lives of everyone living with a mental illness, but we must not give up. It takes sheer strength and determination for people to change the world the live in. My advice to anyone struggling with their own health is whatever happens, whatever life throws at you, just keep going and don't give up.
On www.rethink.org you can find over 100 factsheets with easy to understand information on a variety of issues related to mental health
Related