Has a record company ever taken you to dinner? I know that Jeffrey Lewis has some strong thoughts about that, but I have been lucky enough to have a few of these dinners, some in honour of me, some in honour of others, but never in Tokyo (until now).
The record label, Hostess, takes Gaz and the band out for a traditional Japanese feast at the Sky View Restaurant, which unsurprisingly had beautiful panoramic views of the city. See?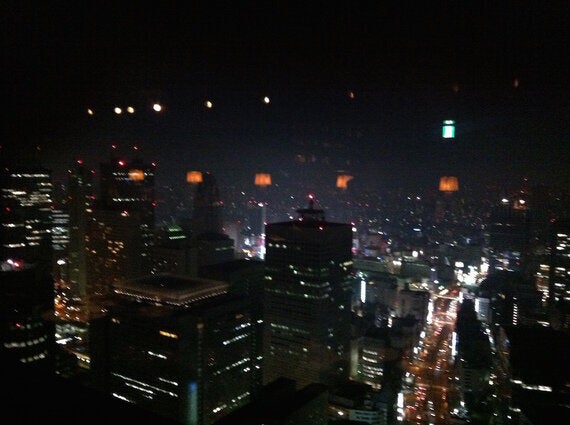 It was one of those places where everyone took off their shoes and sat on the floor. We had our own private room, separated by paper walls, just like in the movies.
The meal was amazing, so many tiny little courses delivered one mouthful at a time. Hostess certainly had the mostest and made us feel warmly welcome (*and there was plenty of warm saki too!)
Loz and I were the only two vegetarian/pescetarian people so here is what's left of our mushroom stuff (not exactly sure what it was, but it was good stuff!)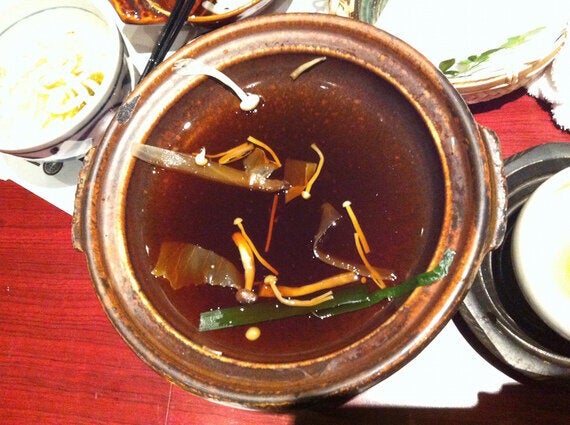 Throughout the evening we could hear the businessmen on the other side of the paper wall getting drunk and drunker and more rowdy until they started applauding one another raucously. To retaliate, we applauded back through the paper wall! Then we started cheering for each other, one at a time, like our own personal encore applause, each member of our party getting their own moment in the sun "Bravo!" we cried and"More! More!" We then did a noisy clapping game similar to the Mexican Wave. It was at this point that a member of staff informed us that the restaurant was closing...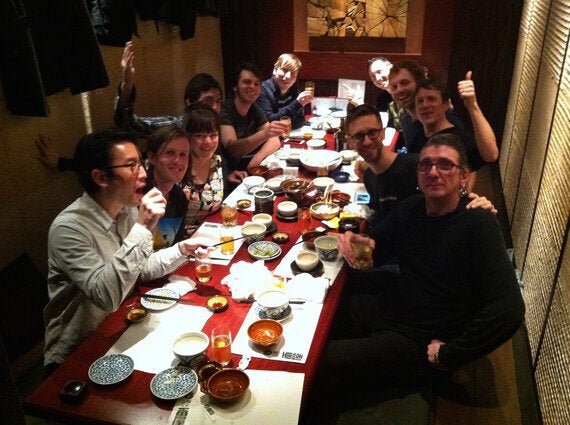 A few people went back to the hotel for a sleep - jet lag moves in mysterious ways, so the rest of us went on a quest to find the New York Bar. That's the bar famously featured in Lost In Translation where Bill Murray meets Scarlett Johannson over a Suntory on the rocks. It must be said, that finding this place was not as simple as one would have thought - as if they don't actually want people to discover it. We found ourselves in an abandoned tube station bright white and silver like we had entered the future; the world of Bladerunner or perhaps more whimsical like The Jetsons. This did not look like the Hyatt! But we eventually found the secret entryway, which was up a flight of stairs (that's kind of a 'thing' here in Tokyo, stuff is really stacked on top of other stuff - it always pays to look up!). So we found it and made our way up the tower, but the lift didn't go to the top.
Turns out there is a second lift, but you need to know where to find it. We explored the empty hallways of the Hyatt, on-edge, expecting to be busted by security because we defo weren't staying there. We found the secret 2nd lift that actually takes you to the top so we had a little lift party...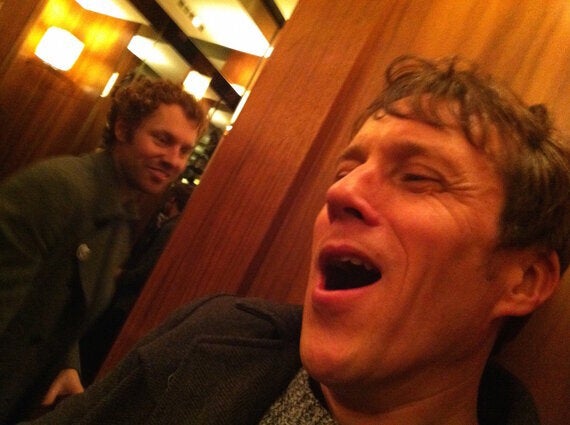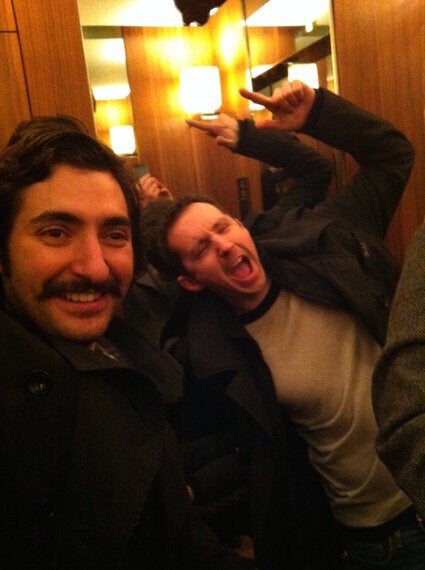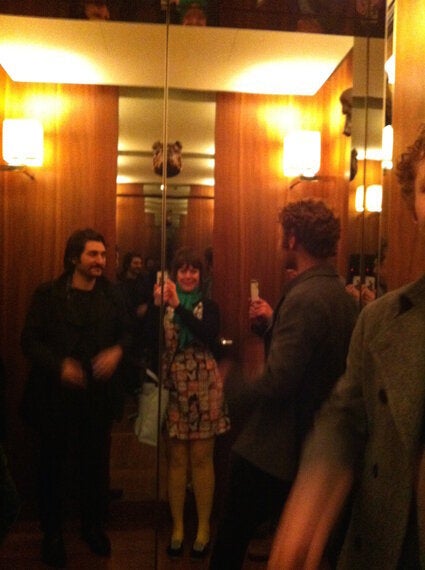 We got to the 52nd floor and there it was: the cocktail waitresses, the lounge singer, the long bar where Bill Murray sat alone drinking his whiskey & of course another breathtaking sky view. We could see the whole of Tokyo at night, with some croony, schmaltzy, bad jazz and it was magical.
The couple at the table next to us had just got engaged, cue selfies with ring finger and big smiles. It was sweet! We had a round of Old Fashioneds and Whiskey Sours and took in the scene. Stumbling back to our hotel at obscene o'clock because in our minds it was London time & 9 hours earlier, so the middle of the day innit? Bedtime felt more like a disco nap.