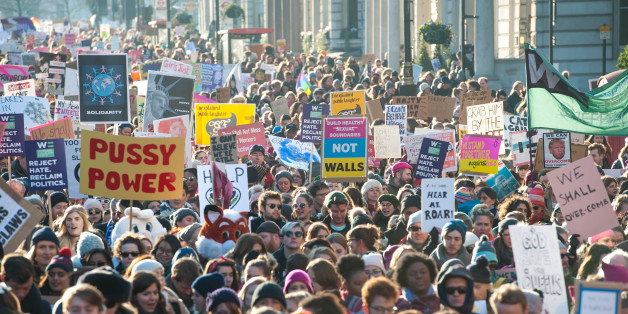 Michael Tubi via Getty Images

I was on a panel event a few weeks ago, and someone asked me how, as a woman in the UK, I thought the election of Donald Trump affected me.
I didn't pause.
The fact is, Trump's election doesn't affect me directly but his rhetoric reverberates around the world. What his presidency is doing to women - to every minority in fact - in the United States is hideous. But I can choose to watch my serotonin levels drop every time I read about him doing something stupid (spoiler alert: it's a lot) or I can look at the bright side. And there is one, no matter how bleak it seems.
This was the year we woke up.
Over the years we've all been, in some way or another, trying to advance women as a gender whether it's equal pay, reproductive rights, protecting and empowering our girls, speaking out against sexual violence or advancing gender parity in every business. But this was the year we did it together.
The Women's March had an unprecedented turnout - millions around the globe organised themselves through social media and rallied together.
This time it wasn't just the white and the middle class - they were there too, but so were women, children and men of all ages, colours and sexual orientations - hell they even brought their cats and dogs.
What made the Women's March different and a turning point for how we deal with and treat women's issues, was the acknowledgement that women aren't a species that exists in isolation.
And while it isn't right that 52% of the population is still having to fight for basic equal rights, my god, wasn't it fantastic that 100% of us decided enough was enough?
So here we are, on the cusp of launching our third annual All Women Everywhere project which will run for the month of March.
This year, we've asked Emilia Clarke, the original Mother of Dragons, to guest edit our women's content on International Women's Day, with a focus around women's rights, equal pay and women behind the camera.
She was our top choice because she speaks out for what is right, is immensely passionate about equality and has a wicked sense of humour (if you don't follow her on Instagram, trust us - it's a treat).
Throughout the month we will also be celebrating and championing the layers of identity that make us the women we are. We will be giving a platform for women in Britain to talk about and share their experiences.
"You cannot be what you cannot see," goes the saying, and so we are also very proud to launch a new focus around BAME (Black, Asian and Minority Ethnic) communities called Born and Raised inspired by HuffPost Canada. Jamelia will be kicking this off with a powerful vlog about her experience as a black woman in Britain.
We've got ideas about how you can get involved with women's groups, we're speaking to the men who help advance women and we'll be asking young girls what feminism means to them.
We'll also be working with the Fawcett Society to explain exactly how Brexit will affect women. On the subject of motherhood, we'll be speaking to students who have children and how they handle it, as well as the challenges women face when returning from mat leave, as told in their own voices.
There's also our hugely powerful blogs platform, if you feel you have something to say. In fact, whether you're male or female, we'd love you to say it because that's what All Women Everywhere is about.
'Be Bold For Change' is the International Women's Day's slogan. And if there is one thing the Women's March has taught us, it's that we have to be bold if we want things to change. We have to speak out and push against that rhetoric.
You can choose to be disheartened by Trump, or you can choose to be connected, empowered and uplifted by those of us making this change together. I know what I'd choose.
HuffPost UK is running a month-long project in March called All Women Everywhere, providing a platform to reflect the diverse mix of female experience and voices in Britain today
Through blogs, features and video, we'll be exploring the issues facing women specific to their age, ethnicity, social status, sexuality and gender identity. If you'd like to blog on our platform around these topics, email ukblogteam@huffingtonpost.com