The reaction to telling people you're going to holiday on your own is generally received in three ways: some are genuinely envious, others think you're mad but will be polite, and others will just say: you're mad.
Especially if you're going to weekend break central: the Cotswolds.
Travelling alone is something I've had mixed experience with: the Maldives was fine, I was called 'weird' by an English couple in Dubrovnik and during an earlier 'test trip' to the Cotswolds last year, I got odd looks from other couples.
So why go back? When I heard that Dormy House had launched a new spa, the siren call was too hard to resist. There was promise of Cotswolds lavender, a jungle shower and all the massage therapists have been trained by massage guru Beata Alexandrovicz, co-founder of Pure Massage in London.
What really struck me when I entered, was that this really is an in-the-know place for romantic hotels that don't bombard you with chintz and cutesy-ness.
Yes there is some use of slate grey and Farrow & Ball colours (but this is the Cotswolds) but what's really interesting is that you can really tell it has Danish owners. Each space, from the lounge complete with crackling fire to the spa, and entryways which have elegant pieces of furniture flanked by lamps with cool, clean lines, has that light Scandinavian touch.
All of which means it's great for men because it isn't oppressively romantic, and the spa is a wonderfully light space with a relaxing lounge centred around a futuristic-looking fireplace suspended from the ceiling, and a bar that serves fresh juices and healthier bites.
On my first night the drive from London exhausted me, so I contented myself with a preliminary exploration of the spa facilities and my, is it beautiful.
A stunner of an infinity pool lined with crisp white loungers faces the outdoors, where there is an outdoor hydrotherapy pool, and when I dipped in and out for a swim it was never too packed (despite the hotel being very busy). The Finnish sauna is a favourite because it looked aesthetically gorgeous with wall-to-ceiling glass and you could really smell the juniper wood while melting into a puddle of goo.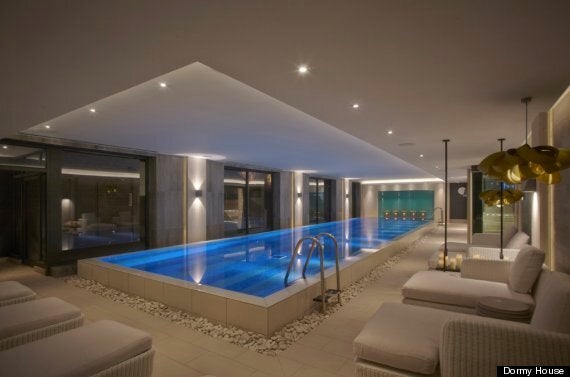 A full-on steam room had tiny cubbyholes for individuals and - a nice touch, I though - a spray hose to wash off anyone else's sweat - something I've always found slightly gross about steam rooms. For a gentler steam, the room opposite is infused with local lavender and this was soothing for a long spell in the warm.
Products in the spa and bedrooms is Temple Spa, a British brand, and this commitment to using British produce also extends to the food.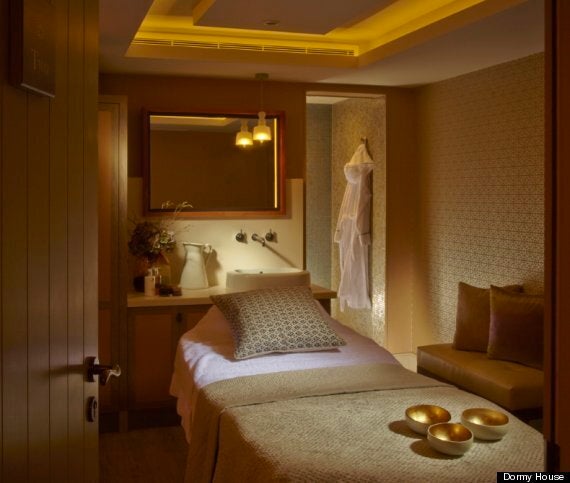 I confess that I was nervous about dinner, which was in the Potting Shed. For the solo traveller, you can to come prepared with a good book but there is still the paranoia that people will gawp. Here, I felt like people just kept themselves to themselves and you feel that even when you're curled up with a book in the sitting room. One explanation may be that non-residents also like to hang out in the hotel, which livens up the atmosphere.
The Potting Shed is one of those rustic yet modern restaurants that serves hearty British food, expertly executed. One night I tried the venison burger which came with fat, yellow chips cooked in Wagyu fat, and another I had a divine interpretation of eggs and ham - slow-cooked hock with a poached egg and parsley cream.
Also - no weird looks, which has to be a first.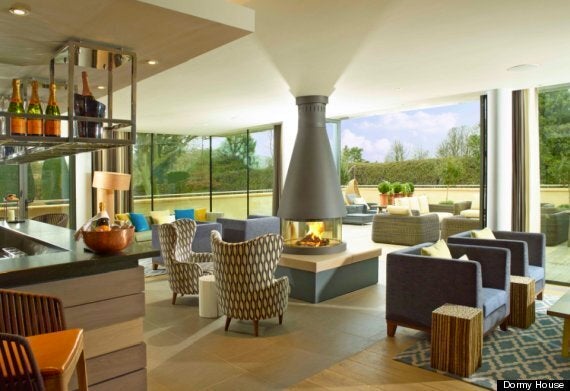 The next day brought blazing sunshine, and before I embarked on a long walk from Broadway (where the hotel is located) to Chipping Campden (allegedly one of Britain's prettiest high streets), I went for a full body massage. The therapists are friendly, don't talk in weird spa-speak (hushed voices) and are knowledgeable about their craft.
Although I enjoyed my massage - I could tell that my therapist was intuitive, considerate and had a good technique - I do feel that there were certain aspects that I wasn't 100% comfortable with, such as the use of knuckles to knead along the sides of the back.
Perhaps it could be that the spa is still in its early days, but I am confident it will grow into a much better experience.
Fully relaxed, it was time to set off for Chipping Campden, and tromping along the footpaths in the searing sunlight was heavenly. There was still evidence of flooding in some of the fields, a LOT of dead badgers and pheasants lining the roads, but as I made my way to the town, it felt like heaven. Moreover (and I felt really treacherous to my husband for thinking this) it was so nice to not be worrying about anyone or anything.
Realising I was famished, I made a quick stop at The Campden Pantry. Like Dormy House it shuns twee, but looks really polished, clean and welcoming inside.
Proprietor Dean serves some of the best coffee I have tasted (and I'm a tea person), alongside a ginormous tuna and spring onion sandwich.
Fuelled up, I stomped back to the hotel, to sink into the juniper sauna, and finish off with a swim and a pedicure in the Champagne nail bar (as nice as it sounds).
It was only once I lay back on the bed, a burger in my belly and found myself dozing off with my nose under a book, that I realised the extremely liberating experience it was to not have to run my schedule past anyone, and just to sit with my own thoughts.
My advice for solo travel: it can be daunting, but once you get over the fear that you won't combust if you don't have someone to talk to every five minutes, it can take you to a place of unimaginable peace.
Rates at Dormy House start from £230 per room, per night, based on two sharing and including breakfast.