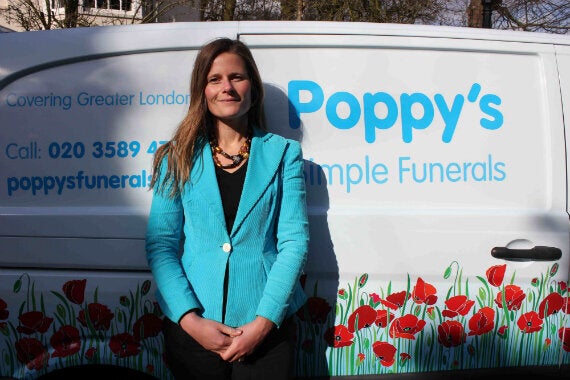 We've just been shortlisted for the First Women Awards, in association with Lloyds Banking Group and we're jumping for joy. It's independent recognition from outside the funeral industry that this work, which feels so important to our little team, is work worth doing. And it recognises that women are excellent at it.
I hope this recognition encourages more women from outside the industry to consider this most uplifting, meaningful of career choices. It's an industry that needs a revolution, and I believe women hold the key.
Of course there are already many good women in the industry. But their ability to affect change is restricted by the awful male/female division of labour dominating this work, which says women are good at empathy and listening, and should be with the living. And men are good at heavy lifting and dealing with grim-ness, and should be with the dead.
This division of labour means women in the industry are mostly 'funeral arrangers'. Often fantastic at what they do, they sit in the high street shops and arrange the funeral with you. They listen as you pour your heart out. When you tell them exactly how you want your mum's scarf to be tied, they will nod. But the problem is these women won't be in charge of caring for your mum. Your mum will be collected, and in the care of (mostly) men, who spend their days in the mortuary with the dead. These guys don't get to hear the stories the funeral arrangers have been told. Of life and love and meaning. The bodies in their care have no gender or identity. They aren't Jane or Patrick. They are the 'deceased'.
Which is, I believe, why Channel 4's Dispatches and ITV's Exposure have shown stomach-churning undercover footage in the last two years revealing (mostly men) employed by some of the biggest funeral companies: calling a dead man 'scum', racially abusing the dead, leaving the dead out on the floor when refrigerated space was full and putting clothes meant for dressing the body in a plastic bag at the foot of a coffin. It shows a hideous lad culture, which desperately needs to change.
Can women care for the dead? Can women handle stretchers, and lift a body into a coffin? Of course they can. They can't do it on their own. But neither can men. Women have always been brilliant at caring. If women can work in care homes, and nurse, they can certainly handle the dead.
But the industry needs more than just women. It needs a revolution. It needs kind, honest men as well as women, who see this work for what it is: critical, important, heroic. The division of labour must be replaced with a holistic approach, which puts care of the dead at the centre of everything we do. And by care of the dead, I'm not talking about embalming or suturing, covering the dead in make up, or dressing them in hideous pink, polyester gowns. We at Poppy's Funerals don't do any of that stuff. I'm talking about basic respect for the bodies of these people who have lived and been loved. Basic honesty. If a family asks you to dress their mum, to tie her scarf in a particular way, keep your word. And when you've overseen her care and you get to the funeral and you're asked, 'how did my mum look?', you won't have to lie or fob the family off. You can tell that family you tied that scarf yourself. You were entrusted with this important job and you did it.
This week is Dying Matters Awareness Week. It reminds us that dying matters. That death matters. That the dead matter. That the way a family is treated in their hour of need, really, really matters. So if you care about people, if you've ever considered becoming a social worker, a midwife, or a counsellor, you should consider dedicating your life to helping people when death strikes. Because those people really need you. So step forward. Be empowered to join this industry, which is dominated by men who need your help to change it for the better.
Poppy Mardall is shortlisted for the 2014 First Women Awards.
The awards ceremony will take place on Thursday 12 June and is hosted by Real Business in association with Lloyds Banking Group.