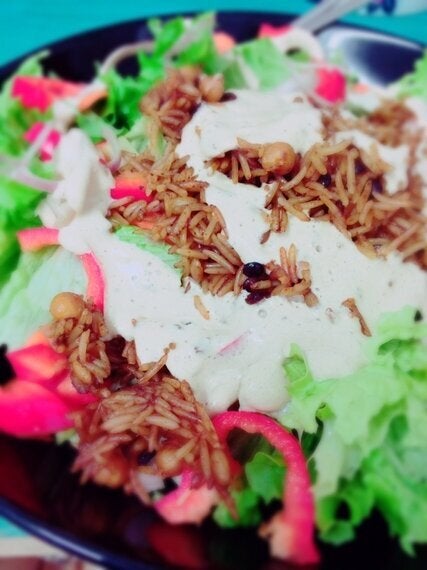 I find it quite hard to eat salads when it's cold and torrential rain hasn't stopped for weeks. My body instead craves hot, soul warming food that makes those cold evenings actually quite cosy. Come summer, I want salad and nothing more, but I have to work a bit harder at this time of year.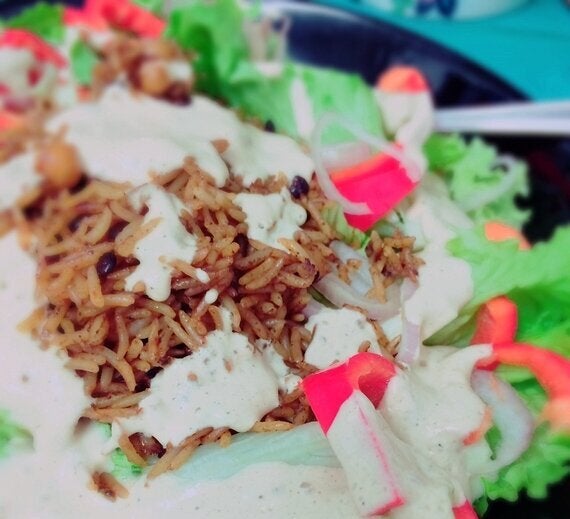 Smoothies are another area that I struggle with in the cold. Especially in the mornings, who wants to dive in to a frozen, fruity slush when they had to count to ten to quickly jump out of bed into a dressing gown and fluffy slippers? I do of course leave out the ice, but then a lukewarm smoothie just isn't so nice and I find myself downing as much of it as I can, for nutritional purposes and not enjoyment and refreshment, and ultimately a third of it will sadly stagnate in the glass.
Whilst I have no solution to the smoothie conundrum, I do have a way to make winter salads more palatable and even, dare I say it, crave-able!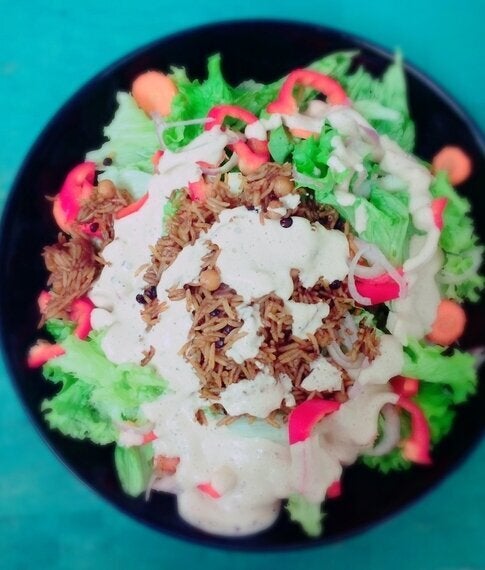 How? Well, add in something hot of course! This for me can be, sautéed mushrooms, baked or boiled potatoes, warm beans cooked with herbs and spices, rice, quinoa or other grains. One of the easiest ways to do this is with a pre-made seasoned grain mix that can simply be microwaved and popped on top f your salad in all it's steaming glory. I love Merchant Gourmet products for this, like their Indian and Mexican Flavoured Grains sachets (Note the Thai is not vegan), conveniently single portioned, calorie controlled and bursting with flavour. Add a little spice to your salad or dressing, like chilli or ginger for extra warmth.
This dressing makes enough for 4 servings, if only one is eating it, as is the case in my household, just keep it in a clean jar in the fridge for up to a week. Use the dressing on salads, in sandwiches or as a delicious dip for crudités, pita or falafel and more! It's a powerhouse of nutrition with;
No cholesterol, high dietary fibre, high iron, high manganese, high thiamin, very high vitamin A, very high vitamin B6 and very high in vitamin C.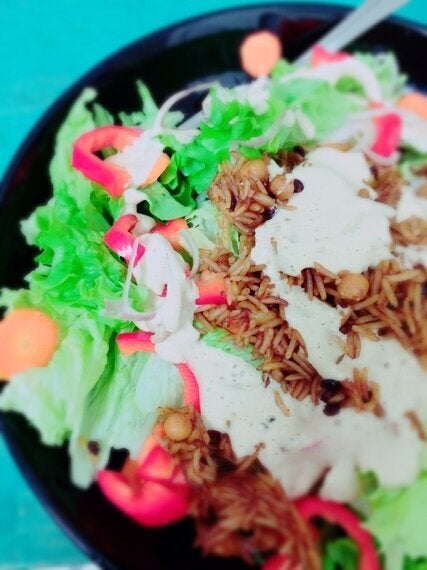 1/4 cup tahini
1/2 cup carton coconut milk drink (from a carton not a can, such as Koko)
2 preserved lemons
1 clove garlic
1 sundried tomato (not oil packed)
1 tsp chaat masala (or garam masala)
1/4 tsp ground ginger or 1/2 tsp fresh minced gnger
1/2 tsp salt
1 tsp ground chia seeds
Crunchy lettuce or salad leaves
Shallot, thinly sliced
Carrot, thinly sliced
Red Pepper, thinly sliced
1 sachet per serving, Indian Flavoured Grains (or 500g cooked mixed grains of choice)
Blend all the dressing ingredients together in a high-speed blender until smooth and creamy, taste and adjust seasoning if desired.
Divide lettuce, shallot, carrot and red pepper between plates and top with the grains, cooked according to package directions and then drizzle over the dressing.
Nutrition per serving: 366 calories, 2.6g saturated fat, 14.9 total fat, 50g total carbohydrates (of which sugars 6.9), 8.8g fibre and 10.2g protein.
Related