What to do if you're not Gillian Flynn, you don't have a Hollywood hit to help shift two million copies of Gone Girl, but you're still determined to make your book a success?
Writing is a solitary business so it's important to celebrate your book's birth into the world. The launch doesn't have to be a fanciful, costly affair, but if you want to spread the word wider than just family and friends, read on.
Decide on the date well in advance - Tuesdays, Wednesdays or Thursdays are best for book launches. The venue can be anything from your friendly local bookshop or library to a nearby café or pub, all of whom will hopefully promote the launch on their website and social media. If you do decide on a bookshop or library, this has one glaring advantage - that their regular customers will be interested in reading (duh!) so are more likely to attend/buy a book.
Obviously you'll be selling books on the night, so make sure you have enough hard copies on display. If you are doing it in a bookshop, then a healthy 50/50% split of the proceeds is a good way to repay them for the extra hours they'll be putting in on the night.
To advertise the launch, make up flyers as invitations and place them (strategically) in local cafes, gift shops, farmers markets etc. You can send this same flyer as a PDF to any journalists, local and national, that you want to ask. NB Journalists are invited to dozens of launches each week, so don't be disheartened if you hear nothing back. But try to make your launch stand out - give it a theme, (related to the book, obviously), throw in some freebies, and if at all possible try to rustle up a celebrity, or at least a known name in your area.
When I had a launch back in September, I invited the Mayor of Kensington and Chelsea. I didn't know her of course, but I just thought I'd give it a pop. Upshot was - she came (in her Bentley!), and as a result, the launch got into the Evening Standard. So if there is one thing I have learnt on this self-publishing path, always take a punt. You never know.
You could also do a tie-in with a local business for a giveaway. It could be as small as free coffee and cake for two at a local café (with the vouchers cunningly hidden inside some of the books on sale) or dinner for two at a local restaurant. In return the business gets some lovely promotion on the flyers and on the night.
If you really want to up the ante, advertise the launch on listings websites. For Londoners, try the Londonist (details should be submitted ten days before), as well as local websites and newspapers.
Don't forget to record the event on the night. Get a friend to take photos for your website and urge media-savvy mates to tweet about it on the night. But above all, have FUN. It's a heck of a feat to get a book out there, and you deserve to celebrate.
On the note of fun - Waterstones Notting Hill are giving me a launch next week. There'll be fine wines, free cinema tickets (courtesy of the Gate Picturehouse), and a nimble-fingered accordion player. So if you fancy it, come along. Tuesday 25th November 6.30 pm. Waterstones, 39-41 Notting Hill Gate, London W11 3JQ.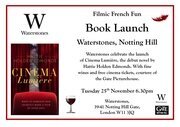 Hattie's debut novel Cinema Lumière is out now and available on Amazon and at all good bookshops.