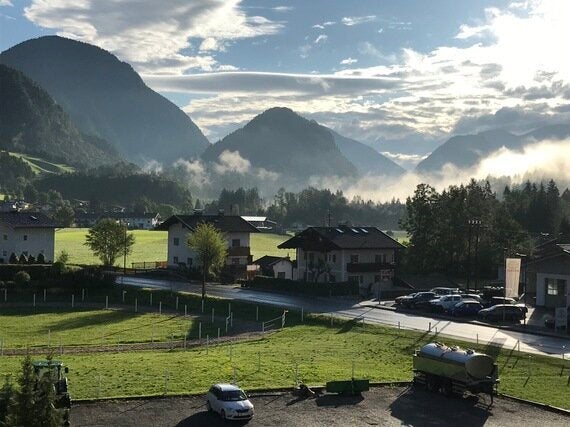 I've got a secret to tell. Only to a few of you, not to everyone. I don't want everyone knowing this and making it impossible to book but I do want some recognition for finding the best thing since sliced bread for families! They don't advertise in the UK, so most are in the dark about what really is on offer for summer mountain holidays with children - especially very young ones. We just accept that we have to suffer, that 'holidays' as we know them don't exist when you have children. On the continent they have mastered the art. I have only ever been to a Kinderhotel in the winter. They often offer free ski lessons from age three, sometimes younger. I'm mad about skiing, my late father gave us all the ski bug and I fully intend to pass it on to both my little boys. My five year old can already ski an easy black run and I'm the proudest mummy ever.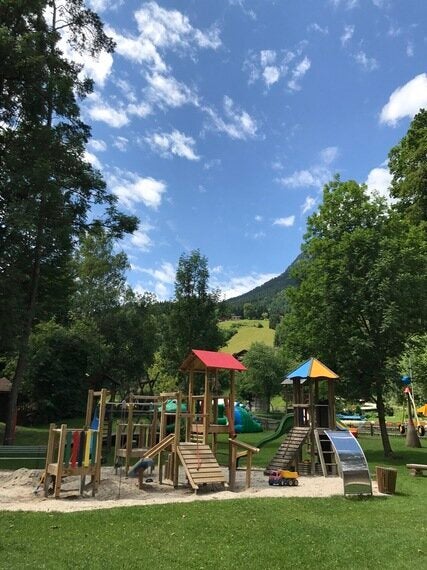 To the Kinderhotel Post in Unken, Austria we went. From Munich, we drove through green landscapes of the Salzburgerland, past castles and other holiday makers all on their way to destinations other than the seaside. Mountains in summer are glorious. I have fond memories of walking in St Moritz, back-pack filled with chocolate, cows with cowbells, lovely lunches in mountains restaurants and walks along ice cold glacier-filled rivers. The real outdoors, fresh air and plenty of space. No cramming onto packed beaches and somehow, less sunburn. I'm as pale skinned as it gets so the thought of sunning myself for hours has never been really of interest or a viable option. That said, don't think that a holiday in the mountains isn't a summer one. Most days we were hitting 30 degrees plus, plenty of time for swimming in the warm bathing lake or the state of the art thermal outdoor pool that emptied each night and refilled in the morning. The hotel's owner goes twice a week to the neighbouring village to collect healing thermal water for it (it has a 10% concentration because by law, in Austria, anything stronger has to be used for medicinal purposes only).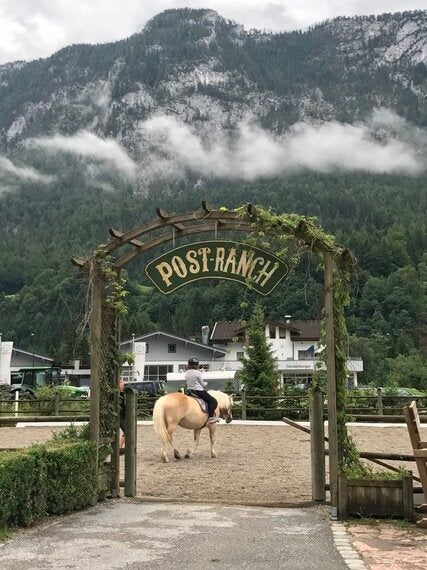 The hotel is typical, traditional Austrian in feel but with an updated contemporary edge. Cosy, yet clean. I love a traditional interior, especially for winter. As we drove in, past the hotels own 'ranch' and into the car park, excitement was mounting as ponies and horses, mini golf and archery came into view. Once inside, we unpacked. Our home for the week a two bedroom family suite, the kid's room with a bunkbed (bottom bunk a cot-bed) and an extra single bed, a built-in changing table, night lights and blackout blinds. One really clever addition in the bathroom, a pull-out step, like a drawer, for the little ones to reach the sink. A first for us. Small things make all the difference. Unpacking was easy - more storage space than I've ever before seen. Half of it went unused as all the Kinderhotels offer free access to washing machines and dryers. With young children, you either take three changes of clothes a day or you wash them.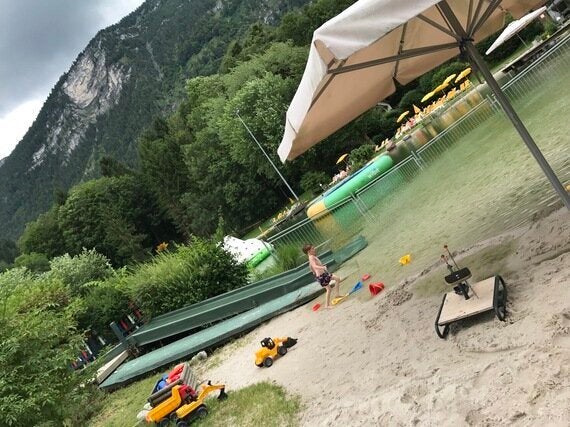 So much to do it's difficult to know where to start. My absolute favourite was the natural swimming lake. Pedalos for the kids, an inflatable 'iceberg' to climb, a swim-up trampoline and even a baby water slide. There's a cordoned off, shallow and shaded areas for the very young and there's even sand. All the fun of the beach but much cleaner! A real outdoor paradise with a mountain backdrop. Our only choices were sitting in the park whilst the kids took their pick of climbing, sandpit, cars, bikes, trikes, zipwire, diggers, you name it, they have it!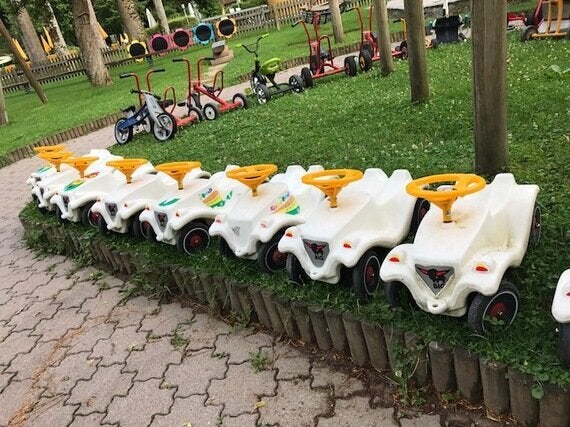 Kid's club is split into three age groups. All with age appropriate activities throughout the day. From 9am until 8pm there is childcare. Including meals if you so desire. A lot of thought goes into the activities here and I was really impressed. One evening Alexander made a herb pillow from chamomile and straw - the 'herb lady' came in to talk to the kids about the plants and they all got a pillow to take home. The Kinderhotel Post has 5 Smileys which means that it offers the best facilities you can have for a Kinderhotel and that is very clear from the minute you walk in.
Value is also key for families and the all-inclusive nature of the offering is a godsend. Food is regional with an emphasis on quality. Eggs and milk come from local farms and the kitchen is run by the son of the family. We put the kids in kids club for dinner. Too nice not to have the time to really enjoy food that wouldn't be out of place in a Michelin starred restaurant. Each night the dishes would delight. Always something new and exciting to try. The kitchen really goes out of it's way to make the food eye-catching, original.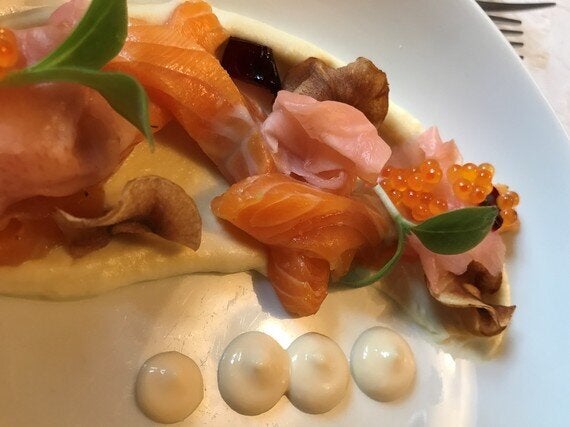 One day we took the cable car from Unken up the mountain. A lunch and a play for the kids in a mountain playground was all the break we needed. We also walked around the chocolate-box perfect village. Another day a trip to Salzburg. Just wonderful and so near. We packed a huge amount into our week yet still felt relaxed. Somehow the rush to get to the pool or the beach often ruins a holiday by the coast. In the mountains you can take everything in your stride!