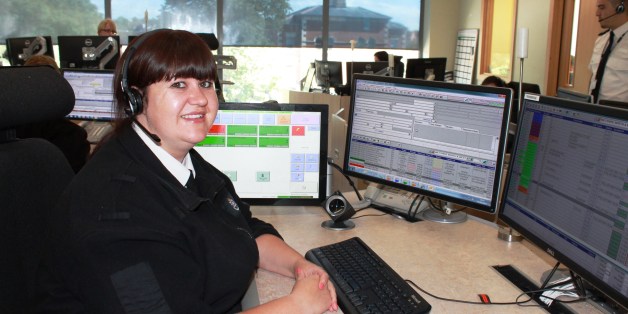 Channel 4
My name is Rachael Woodbridge and I am an Incident Control Operator working for Wiltshire Police. In plainer terms it basically means that I work as part of an amazing team who answer all of the Emergency 999 calls that come into Wiltshire Police on a daily basis, 24/7. I have been working for Wiltshire Police for 10 years now and I can honestly say that I love my job and the amazing people that I work with.
I work a variety of shifts which can be from 0700hr starts to then work 2100hrs starts and work throughout the night. No matter what time of the day my shift starts there are no two days are the same. I think that this has been a massive influence on why I enjoy my job so much and have stayed here for so long. You can never anticipate what lies ahead of you each day when you head in to start your shift, I always go in with the mind set that as long as I manage to help someone today and make their day a little bit easier and better then I am happy and can leave at the end of the shift with a sense of pride in what I do.
When taking 999 calls you will never know what is going to be called in until you are speaking with that individual on the phone and they are asking you for your help. The calls are so varied, they can range from calls where someone is reporting some anti-social behaviour or possibly some criminal damage that is ongoing and we will take all of the details from the caller and aim to get an officer out to them as soon as available, but we also take some not so pleasant calls where people are being assaulted, or are suffering at the hands of a loved one and are making their first call for help to the Police which is sometimes so hard and terrifying for people to do. I think it takes a very brave person to call 999 and when that person genuinely needs help from the Police then I will make it my personal mission to ensure that they get the help, support and guidance that they need to feel that they can breathe a little easier knowing that we are going to help.
I am a tutor for new members of staff who come to join Wiltshire Police. I get a real buzz out of guiding them through their 999 call training. A lot of people who join Wiltshire Police usually have the same feelings of wanting to make a difference and to help people. Many new members of staff have never worked for the emergency services before and I can tell you now, that very first phone call that you ever take will always stay with you for the rest of your life. I can remember mine from 10 years ago, I was sat waiting for the phone to ring, I could feel the adrenaline racing through my body, palms sweating, not knowing whether I was going to be able to type on the keyboard thanks to the sweaty hand situation and then all of a sudden the phone rings....I jump out of my seat and quickly adjust myself and calm myself down enough to answer "Wiltshire Police, My name is Rachael how can I help you?" How the caller took me seriously I will never know to this day, I can still remember so vividly the tremor in my voice, and I hear that same tremor in the voices of my tutees when they take their very first calls. It's amazing how once that very first call is done and out of the way you don't look back and you get this sense of "Yeah I can do this" and the second call comes in and you get through it much easier and feel a sense of confidence with each new call.
I love being part of such an amazing team all working towards the same goal and really appreciate being surrounded by such enthusiastic, hard working and determined people. It makes a challenging and emotional role a lot easier.
My most memorable moment
We had a call made in on the Non Emergency 101 line from a young female, late teens, who was very concerned for her friend who she had received a voicemail from telling her that she could no longer cope with life and that she was going to throw herself off a bridge. When I received that call on the Incident Control side of the room I took it upon myself to find the mobile number for the young female who was in crisis and I called her. This female answered her mobile almost instantly and I could hear sounds of soft sobbing and also a lot of traffic. I explained to her that my name was Rachael and I was calling from Wiltshire Police and that we had a concern for her and I just wanted to have a chat with her to make sure that she was okay and to offer my help to see what I could do to make her feel better.
The female took some time to engage with me, she did however confirm to me that she wanted to end her life and that she had Mental Health problems that she felt were not being addressed and she felt that the only way for her to cope now was for her to end her life, oh and she then told me that she was already on a bridge, over a very busy main road, and that she was on the wrong sides of the barrier and ready to jump. This information was also confirmed by concerned members of the public who were making frantic 999 calls to the Police to report a young female on the wrong side of the bridge.
I managed to keep talking to the young girl and find out from her that she lived with her mother and younger sister, I was able to use this information to gain a little bit of trust with her and asked her to talk to me about her family. Engaging with her like this managed to give me time to arrange for Officers to head to the female's location which at first she would not give, but eventually about five minutes into the call she told me where she was but she was still intent on ending her life. I kept talking to her for what felt like a lifetime waiting for the Officers to arrive on scene but in reality it was only about 10 minutes. The female was adamant that she did not want officers to approach her and if they did then she would jump. I managed to keep calm and ended up talking to her about random things in my life, I even told her about my three-year-old Pug, Frank, and she seemed to soften to this and even had a little laugh with me on the call.
Eventually it felt like she really did trust me and I asked her if one of the Officers could just come a little bit closer to her whilst I stayed on the phone to her, she agreed to this and I also asked her if maybe she would feel a little bit more comfortable if she was on the right side of the barrier so that we could talk a little bit more and then arrange to get her the help that she quite clearly needed. Eventually after what felt like hours (but again was only probably 30-40 minutes) she did go back onto the right side of the barrier and straight into the arms of the Officer waiting there.
Funniest moment
I took a 999 call which is classed as a "Silent 999 Call" as there is a number displayed and sometimes a location but no one actually engages with you. I answered the call and the BT Operator explained that there had been no direct requests made but there were some "weird noises" being heard, there was definitely a little laughter in her voice and I was intrigued to listen for myself. As the call connected I could very much hear some moaning and groaning noises, at first these sounded like a female. I was not sure to begin with if this was going to be a medical call and it was someone in some pain but I continued to listen and then a male groaning noise began as well. It was very clear to hear that these two people were not in any pain whatsoever and were in fact calling 999 whilst having a steamy afternoon session!! Well I thought to myself, this is going to be interesting calling them back and explaining to them that I have just had to listen to their 30 seconds of passion! When I did call back a male answered, I told him that my name was Rachael and I was calling from Wiltshire Police and we had just had a 999 call from his number... silence... not a word for at least five seconds, he then replied with "Oh I'm okay I must have accidentally rolled onto it". To say I struggled not to laugh was an understatement. Poor guy was clearly mortified. I hope that he keeps his phone away from his bed next time.
Best part of the job
Feeling like I've made a difference. If I can go to work each day and come home at the end of the shift knowing that someone has thanked me for listening or thanked me for being there for them when they were in such a bad moment that they needed to pick up the phone and call 999, that is what makes all the difference to me and that is why I keep coming back to work day after day.
I am also truly blessed to work with some of the most amazing people. As I am sure most people are aware this job is not easy and not for the faint hearted, whilst you can make a difference to most people who call in you also do get sworn at and threatened on a regular basis so you do end up having to develop a bit of a thick skin. But that said, with an amazing bunch of people around you, that includes the officers out on the ground who do an amazing job as well, it really makes the role so much easier and I couldn't think of anything else that I would rather do.
999: What's Your Emergency? - Blast! Films for Channel 4, 9 pm, Monday 28 August 2017.