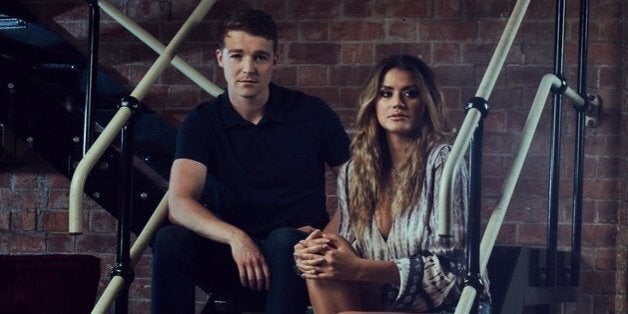 This week's Hollyoaks has been set during Freshers' Week, dramatising situations many students will recognise. There's the awkwardness of making new friends, parties and big life decisions. But there's one that deserves - and is getting - a special mention.
Friday's episode sees newly-single Ellie meet Nick in a bar, at a typically drunken student bash. She goes home with him and is clearly very drunk when she does so. Ellie then wakes up the next day, confused, shocked and upset to discover that they have had sex.
The weeks that follow will focus on the moments leading up to the sex, and the key question: Was it consensual?
The episode is set to spark up a vital debate, which is especially important given the fact Hollyoaks' audience is younger than those of other soaps. Incredibly, sexual consent lessons still aren't compulsory for schools, sixth forms or universities - which explains why I can't remember one single instance where it was mentioned when I was growing up.
This is something that could have changed in February of this year, but the government decided against it. 16-year-olds can legally have sex, but it's not guaranteed that they'll ever learn about the conversations that should happen before two people do so. It's not quite right is it?
While there are a number of charities working to educate young people, no set place on the curriculum means education on consent is often patchy, at best. For many, this storyline could be one of the first times the topic is properly introduced, and it's fantastic that Hollyoaks are shining a light on it with their episode.
Katie Russell from Rape Crisis explains to me: "TV drama has the opportunity to reach audiences that perhaps more traditional campaigning and awareness-raising methods might not appeal to and in a way that is engaging and doesn't feel like being 'educated' or preached at.
"This makes it an important and powerful medium for messages that a relevant to everyone and have the potential to effect positive change."
In doing this, the Channel 4 show is leading a much-needed conversation and the episode is accompanied by an All4 documentary. The short film sees two group of students, one male and one female, share their thoughts on consent, what the word actually means,how it works, and whether a person's ability to consent can be affected by alcohol.
Watching the young people discuss it reveals just how tough of a topic it can be, and through no fault of their own, young people are still in the dark as to what counts as a yes, and what doesn't. These young people are not alone.
I'll never forget those awful sex education cartoons that were wheeled out in the last year of primary school, or the horrific slideshow of STD-ridden genitals that was dug out of the archives for a sixth form assembly, but consent? I have no recollection of anybody ever teaching it. Not once. Not ever.
This is something that isn't going unnoticed. Katie adds: "It's clear there's a lack of understanding about consent and its role in sexual relationships among people of all ages but it's great that Hollyoaks can reach people at a crucial point in their lives when many of them might be becoming sexually active for the first time.
"Many young audiences members might find the storyline resonates with them because they've already been through something similar too of course, and if it encourages even one rape survivor to talk to someone, like Rape Crisis or a friend, and get support, then it's done a great thing."
As debate over whether students should be given consent classes rages on, Hollyoaks is racing ahead, and teaching them anyway - but they shouldn't be leading the pack.
Rape Crisis offer services for women and girls who have been raped or have experienced sexual violence.
The Mix offer 24/7 support to anyone aged 25 and under.
Popular in the Community