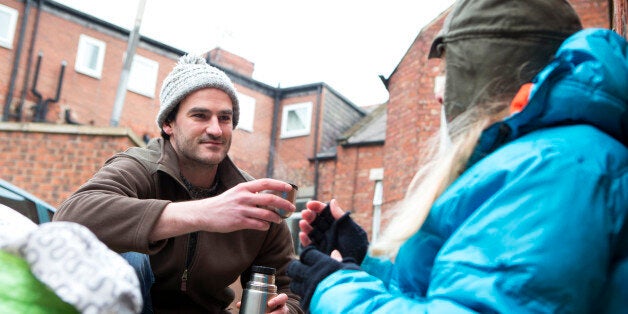 In the run up to Christmas we can spend hours searching the shops for the perfect present, whether we're looking for friends and family or compiling our very own list for Santa.
In fact, our love of big gifts has become so commonplace, that last year the average British household was thought to spend almost £600 on presents.
But while we're distracted with the materialism that's become all too synonymous with December, hundreds of Brits are finding ways to give gifts that are truly priceless.
For the next fortnight, The Huffington Post UK will be shining a light on the volunteers, organisations and kind individuals helping those in need over Christmas, through our latest project 'Giving Back'.
And let's face it, we could all do with some good news.
With Brexit and the US election dividing us left, right and centre, it's tempting to write 2016 off as the year the world lost all sense of solidarity. But charities like Community Christmas are proving we can still rely on our neighbours.
The project aims to ensure no elderly person is forced to spend Christmas day alone by arranging events for local people on the 25th December. With new research by AgeUK revealing nearly a million older people feel lonelier at Christmas compared to the rest of the year, the project has never been more needed.
It's not just the elderly who are vulnerable over the holidays. While millions of children around the UK will be rushing downstairs to unwrap their presents on Christmas day, others won't expect a gift at all.
We'll be hearing from some of the organisations working to make Christmas extra special for these children, such as those helping young carers, bereaved children, or children from disadvantaged backgrounds.
Finally, we know Christmas isn't a merry occasion for everyone. Suicide prevention charity Samaritans responds to more than 5.4 million calls for help every year and these don't stop over the festive season.
The pressure of parties and the expectation to be happy can make Christmas a difficult time, particularly for those living with mental health conditions. So, we've gathered a group of people who've struggled in the past to give their advice for those finding Christmas a challenge this year.
As well as celebrating the people helping others, we'll be giving tips on how you can get give back in your community, whether that's helping the homeless by providing companionship or offering your time to help a local food bank.
It's been a tough year, but together, we can rebuild communities and support one another into 2017. After all, isn't that what Christmas is really about?
HuffPost UK is running a fortnight-long focus around helping others this Christmas. Giving Back will shine a light on the organisations and individuals making a difference in their community, tackling issues such as loneliness, homelessness, food waste and financial struggle. We'd also love to hear your stories. To blog for Giving Back, email ukblogteam@huffingtonpost.com. To keep up to date with our features and find tips on how you can make a difference this Christmas, follow the hashtag #GivingBack.