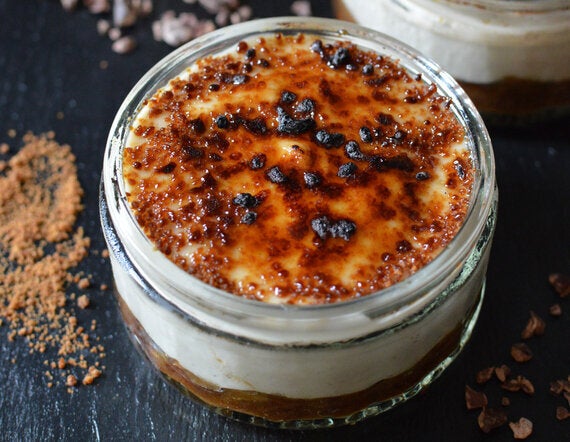 There are hardly any dishes that can't be vegan-ified - the only limit is your imagination!
These creamy, rich and decadent raw vegan salted caramel crème brûlées taste even better than the real thing - fact. And as an extra bonus, they contain no refined sugar, eggs or dairy, so you can enjoy these little pots of heaven guilt-free!
How do you make a crème brûlée without sugar or cream? Easy: with coconut ingredients! The caramel sweetness of this recipe comes from low-GI coconut sugar, coconut syrup and Medjool dates, while an indulgent blend of coconut oil, coconut butter, nut milk and cashews creates a convincing swap for custard crème.
Let's get crème brûlée-ing!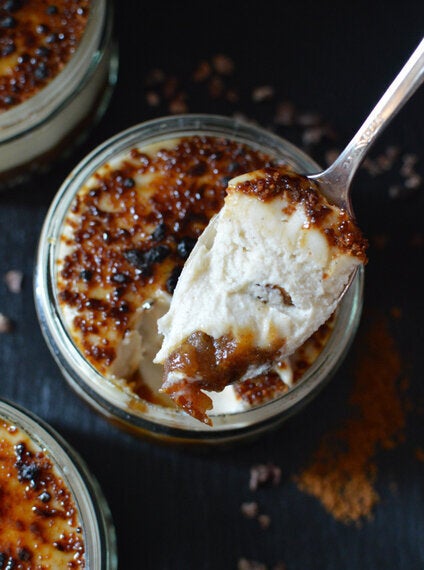 • 10 Medjool dates (pitted)
• 1 large tbsp almond butter
• 60ml water (you may need less if you have a Vitamix/Blendtec)
• ½ tsp Himalayan or Sea Salt
• 2 cups cashews (soaked overnight)
• 2 tbsp coconut oil (optional; if you prefer a thicker texture)
• 2 tsp vanilla bean paste
• ¼ nut milk (e.g. almond)
• Approx. ½ tsp coconut sugar per pot
1. Remove the pits from the dates. If your blender is not particularly powerful, you can soak your dates for roughly an hour before using.
2. Place all ingredients in a blender and pulse until everything has combined. Depending on your blender, you may get a really smooth caramel, or it may be slightly lumpy in appearance, but the lumps are delicious!
3. Place roughly 2 large tablespoons in the bottom of each ramekin, and smooth the mixture until it covers the bottom.
4. Place the ramekins in the fridge whilst you make the custard.
2. Place all ingredients EXCEPT the water in a blender and blend until the mixture turns smooth and creamy. Add more almond milk if needed.
3. Taste the mixture, and adjust the maple syrup to your taste.
4. Pour the mixture into the ramekins, and place in the freezer for 30-40 minutes to allow them to firm up.
5. Once firm, remove from the freezer and place in the fridge until they are ready to be eaten.
1. Before serving, cover the top of each crème brûlée with a layer of coconut sugar, then using a kitchen blow torch, heat the coconut sugar until it melts and forms a hard, sugary crust. You need to keep the flame moving so that you don't burn the sugar. I found that the coconut sugar had a tendency to burst into flames; if this happens, blow out the little flame and continue blow torching - it won't affect the taste!
Store in an air-tight container in the fridge and enjoy within 4-5 days.