It doesn't matter if your black or white? Or does it...
It seems in the fashion industry it does matter, which leads me to this question.
"Is the fashion industry racist?"
That is the message I am beginning to feel it portrays. I mean when it comes to fashion black is always a must, a chic LBD is a staple for any girls wardrobe.
However black it seems is never in fashion if it is your skin colour.
It's 2015, so why is the world still so black and white? Where are the beautiful Hispanic, Asian and black models?
Models of colour still are being ignored.
After working with a cosmetics company for many years and as a white woman I have always felt ashamed and embarrassed that we have never stocked darker shades of foundation. Luckily we have just launched a new range of foundations which cater for darker beauty.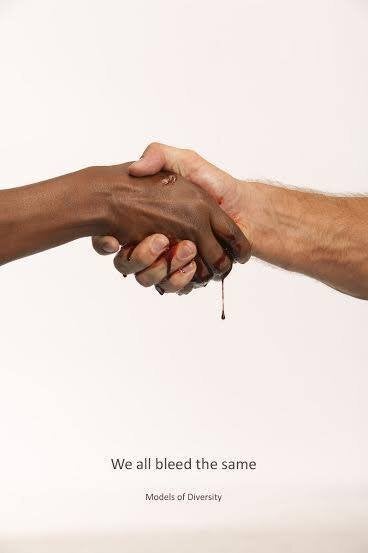 The exclusion continues In New York fashion week where 80% of models who walked the shows were white, the other 20% were made up of Hispanic, Asian and black models.
I guess they had to put a few "token" darker models in, because this makes headlines right? Are darker models used as a gimmick? If you slip a couple into your show does that win the designer a few more fans?
However we must remember 2015 showed a massive milestone when Vogue used a black cover girl in the form of supermodel Jourdan Dunn. Dunn was the first black solo model to grace the cover in 12 years. Well done Vogue let me clap my hands and congratulate you on this, let's make it clear I am being sarcastic as I type this.
How it took Vogue well over a decade to do this is crazy, even more ridiculous is the fact that her beautiful black skin was still not good enough as I personally think her skin has been photo shopped to look lighter.
The latest uproar is about Jourdan being replaced in the Victoria Secret catwalk show by reality star and model Kendall Jenner, now was Jourdan replaced because of her skin colour or the likelihood Kendall would gain the show more exposure, you decide.
I spoke to Mari Koyama from leading Model Agency BMA about the lack of models of colour.
Mari echoed what I had originally thought "People are still in the notion that Caucasian models models are the identity of beauty. Yes we have the likes of Naomi Campbell, Tyra Banks and Iman who have made huge impact on the fashion and modelling world. However there is still a long way to go."
Mari continues to highlight that designers and the fashion industry can help change the face of beauty " The fashion industry in general need to help change the stereotype of beauty and fashion to accept more models of colour. I think we have come to a time where there shouldn't be designers differing models because of the colour of their skin. We have come too far for that."
This is true, the fashion industry can make a change on how beauty is perceived and in turn I would hope in everyday life people would judge someone on them as a person, not to be judged on skin colour.
This is the message Angel Sinclair and her team at Models of Diversity are spreading, EVERYBODY is beautiful regardless of what skin colour you have, because all are beautiful.
MOD model Elesha Turner had some recent success after being awarded with a BEFTA award, winning best female model out of 30 contenders. Amazing news for models of colour, MOD and for Elesha who has worked so hard and is more than deserving for such an award.
Angel Sinclair said " What changes need to be made is that models of colour do not sit back and accept they are a 1 in a 1000 chance, but to STAND UP AND BE COUNTED "
We already have the likes of SimplyBe , Boohoo and Topshop who are embracing models of colour, with them in the forefront in advertising. More brands need to follow suit.
Social media is a massive tool, so use it!
1.Tweet brands, question them as to why they do not use a diverse range of models.
2.Set up a petition, get the message out there.
3.Follow us on twitter @MODSOFDIVERSITY tweet us your views.
With diversity increasing we are only heading in one direction, the RIGHT direction!
Related