London Fashion Week is a must for any fashion junky's diary. A place to see and be seen, the wacky and the wild, the classy and the chic, and let's not forgetting some celebrities perched on the FROW of each show.
This year, British designers Teatum Jones shunned the standard models we are used to seeing on the runways by casting two disabled models - Kelly Knox who was born without a left forearm and Jack Eyers, who wears a prosthetic leg. Both took to the runway to showcase the AW17 collection proving that ABILITY models have a place in fashion, a sector that tends to ignore ability models.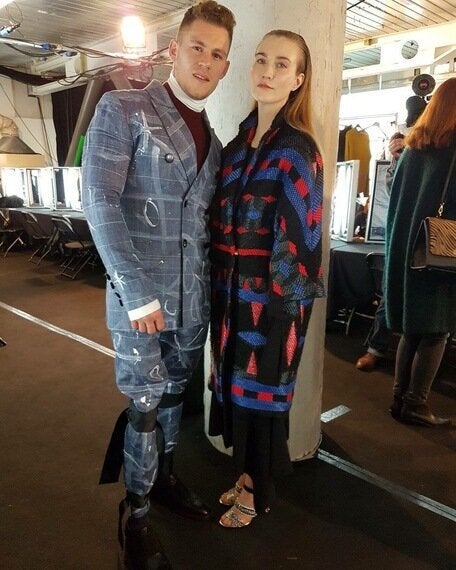 Jack Eyers is no stranger to the catwalk after walking in New York fashion week and various other modelling jobs as well as promoting Models Of Diversity.
Angel Sinclair CEO of Models Of Diversity campaigns endlessly for more ability models to be used as fashion is for all.
Angel attended the Teatum Jones show, on the FROW of course, and was overjoyed by the diversity that was showcased.
"I would hope that as the industry as a whole becomes more diverse, from designers and models to photographers and media to workers behind the scenes, that diversity would emerge naturally. But as the need for our campaign shows, progress is slow. So action is needed and I'm glad to see more diverse shows this season."
Angel Sinclair CEO Of Models Of Diversity
Diversity seemed to be the theme of the day carrying on outside with a group of "mature" models protesting with placards making a statement that they too are ignored in fashion with bold slogans such as: "Grow up London Fashion Week"
Former Page 3 model Jilly Johnson was leading the protest, grabbing Models Of Diversity CEO Angel Sinclair to join in to spread the message also.
I was lucky enough to attend the opening day of the shows thanks to the British Fashion Council inviting Angel Sinclair and myself.
The atmosphere outside on the street was electric, a sea of individual styles showing that each and everyone of us are unique. I attended the Bora Asku show and Eudon Choi show.
Models Of Diversity CEO Angel Sinclair and myself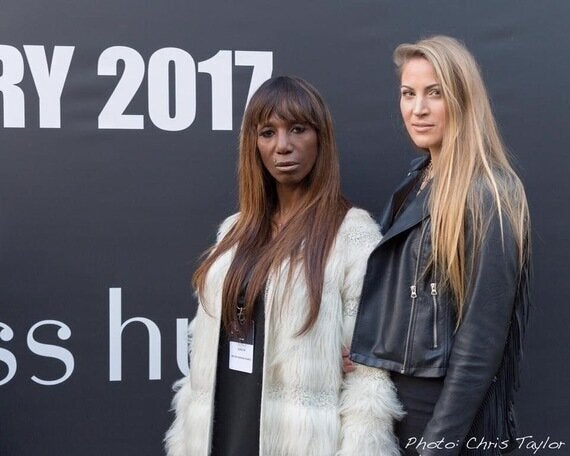 Photo credit Chris Taylor
The models that were cast were painfully thin, as expected I guess, however I was genuinely shocked at just how skinny some were.
Many models I would suggest are merely teenagers so are at that long gangly coat hanger figure before they have developed any womanly shape. Is this what is deemed beautiful? It Is not healthy. I pray one day someone takes action to make it the norm to showcase a healthier figure on the catwalk.
However I must point out that with regards to diversity on the catwalk ALL skin colours were represented. This is great news as models of colour are generally ignored when it comes to fashion in favour of the standard caucasian models that are usually cast.
Between the shows we mingled outside with the London fashionistas, that, get ready for this included fashion legend Paul Costelloe and his six dashing sons all modelling suits from his menswear collection. Possibly the nicest gentlemen I have come across and meeting Paul was a dream come true for Angel.
Models Of Diversity CEO Angel Sinclair and Paul Costelloe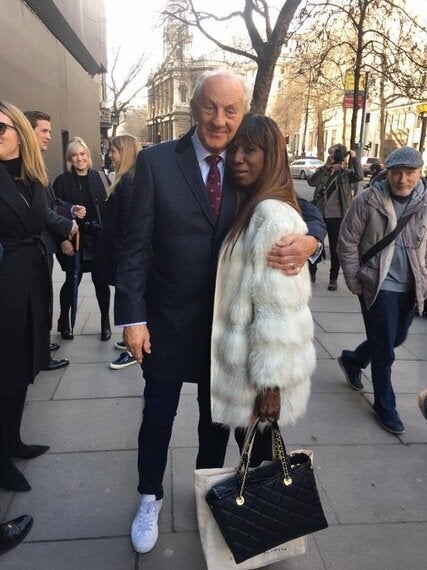 We also had a wander around the designer show rooms which was full of one off exquisite designs.
Naturally I gravitated towards a custom leather jacket emblazoned with "Cute but Psycho" whilst Angel Sinclair enjoyed the Maybelline make up lounge being correctly colour matched for foundation and of course we had to jump in the photobooth for a mini photoshoot.
We had an awesome day and it was exciting to come out of the shows to be handed a copy of The Evening Standard with Models Of Diversity ambassodor Jack Eyers inside from the shows. Thanks London Fashion Week for slowly opening your eyes to the fact fashion is for all and that all need to be represented, fingers crossed for some healthier models for next season and then we are on to a winner.
Related