At the heart of cultural and tourist Majorca with fine views of the sea we stumbled upon Restaurante Caballito de Mar. It is situated on the edge of Palma's old quarter in the front corner of the Placa de la Llonja, nearby by is the Cathedral and The Almudaina Palace.
After quite a trek through the old city we had worked up a great appetite and were looking forward to a long leisurely satisfying lunch.
The restaurant has dining al fresco or you can dine indoors on the ground floor or if you are looking for something more intimate I would recommend dining upstairs.
We visit in early December and the restaurant is tastefully decked out in Christmas decorations.
As soon as you enter the restaurant on the right there are two very large tanks. One of which is home to lobster, very much alive and enjoying a swim, with very little knowledge of the fact that they will soon be somebody's lunch! And the other tank is full of a variety of fish that was caught earlier this morning.
We chose to dine al fresco; well we are in Majorca after all. Even though this is not peak season, the restaurant is quite busy and most of the tables outside are already occupied. Inside there is a table of twelve, a family celebration, having a rare old time! They tell us that this is their local restaurant and they come here as often as they can. Always sign of a good restaurant when you find locals eating there and not just the regular fare of tourists.In fact we are more than likely the only tourists dining here today as it is off season.
Caballito de Mar has a great reputation and we were very much looking forward to sampling the specialities that earned this wonderful reputation.
Being situated right on the Mediterranean, it's no surprise that there is a strong emphasis on fresh seafood at Caballito de Mar.
For starters the children and I all ordered the Tempura of vegetables and king prawns. The portion size was enormous, we would have been better off ordering two to share. The prawn tempura was lovely, the vegetable tempura not so much to our liking. The tempura came with three different dipping sauces our favourite was the chilli one. Karam didn't enjoy any of the tempura, bad choice for her, and Jeevan felt there was too much batter and that it was too greasy. Needless to say the children weren't too impressed. J.snr opted for the Carpaccio of Majorcan red prawns with baby leaves, parmesan crisp, sesame perfume and wasabi. His plate was wiped clean within minutes; he thoroughly enjoyed it, and helped us finish off the remainder of our tempura, although even he struggled with the vegetable tempura.
For mains, Tomas suggested the house speciality, John Dory served with fried onion rings. He presented the fish prior to cooking it to us at our table. Not such a smart move, Karam refused to eat anything that would look at her! So poor Tomas had to instruct the chef to remove the fish head.
Once cooked the fish was returned minus the head to our table! It was quite an elaborate dish. The fish was served on a silver platter swamped under a mountain of fried onion rings.
Tomas proceeded to plate up, first serving the children with generous portions of fish and onion rings and then us. In all honesty a family of ten would have had trouble eating that amount of onion rings! The fish was delicious; it was cooked to perfection and was a hearty portion.
Despite being stuffed Tomas insisted that we try the speciality dessert. Homemade apple tart served with vanilla ice cream. It takes twenty minutes to bake, but it is well worth the wait! The children of course couldn't wait that long, so Karam ordered Creme Caramel and Jeevan opted for good old plain vanilla ice cream, normally served with strawberries, but there were none left so the substitute was pineapple chunks. Our apple tart arrived in due course. Again another healthy portion, which was lucky as J.snr and I were sharing.
Overall we had a great experience at Caballito de Mar. My advice to them would be to introduce a children's menu. Other than that it's a great family friendly restaurant. The waiting staff made the children feel very welcome. One of the waiters even let Jeevan handle the lobster, to begin with he was quite timid, but he soon got the hang of it. He even took it to the outside eating area to give his daddy a scare.
The restaurant has a fabulous location, a little off the beaten track of other tourists; it is a great wee find. Situated next to a beautiful cathedral with stunning views of the sea, it is ideally located.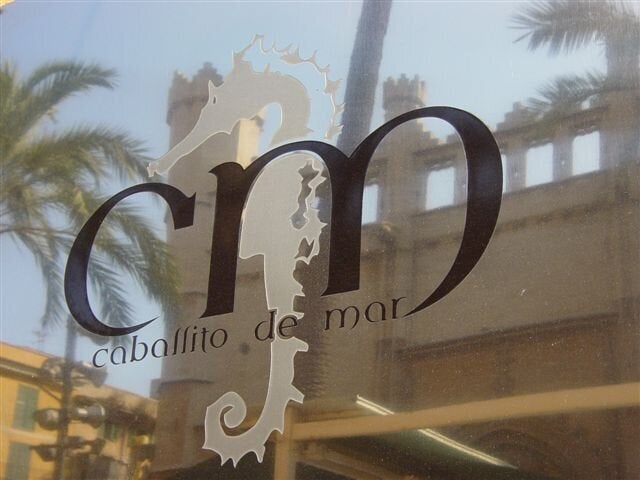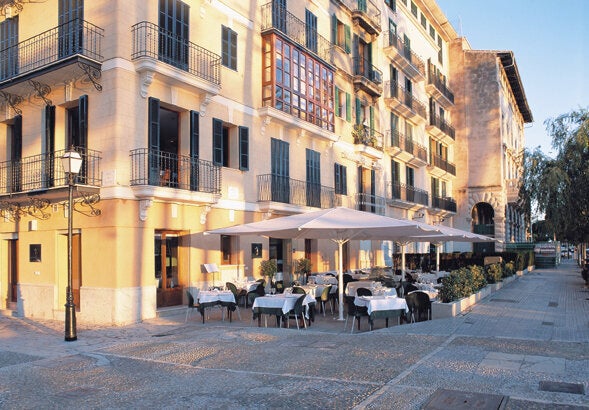 Tempura of Vegetables & King Prawns with Dips