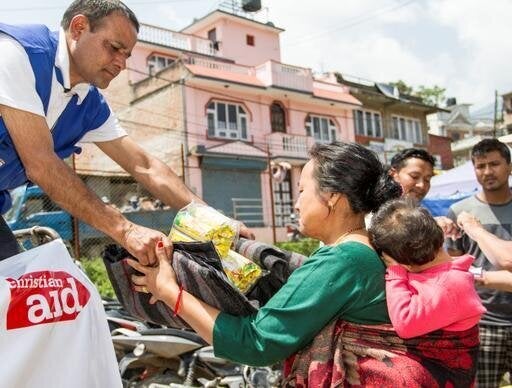 A beneficiary receives relief material from Christian Aid and Partners at a distribution point in the village of Kiritpur in the Kathmandu Valley.
Saturday April 25th started much like any other weekend on the fifth floor of the apartment block in Ghaziabad suburb of Delhi where I live with my wife and two children. Breakfast had just ended and I was looking forward to time with the family when the entire building began to shake.
I've lived through past earthquakes, and knew this was something big. Telling everyone to stay calm I quickly ushered them into a corner of the room where I hoped the beams would protect them from falling masonry.
The shaking continued for a couple of minutes and then there was silence - punctuated only by the barking of dogs and the sounds of burglar alarms going off across the city.
A little later, after we had emerged unscathed, I learned from the internet that the epicenter of the quake was in fact 500 miles away, near Kathmandu, capital of Nepal.
Nepal is a country I know well, having developed an affection for the place and its people on frequent visits since first visiting to monitor a Christian Aid project in 2008.
Deeply saddened and dismayed by the news, I knew I had to get back there as quickly as possible. My first priority, however, was to organise what relief I could before leaving Delhi.
In the hours that followed, the extent of the disaster became clearer. It had been a major quake, measuring 7.8 on the Richter scale, and the death toll was climbing by the hour (eventually reaching more than 8,000).
The country's health services were overwhelmed by the large number of casualties - more than 20,000 - and large swathes of the population remained camped out in the open, too fearful, or unable, to return to their homes, for more than half a million buildings had been destroyed, along with infrastructure such as roads and bridges, and electricity and water supply stations.
Priorities, I knew from experience of past emergencies, would be fresh water and shelter, and food and medical supplies, together with hygiene kits. My first call was to Christian Aid's humanitarian head in London, Nick Guttmann, who authorised the release of an initial £100,000 to meet immediate needs.
PGVS, a local partner through whom Christian Aid had been working on flood disaster preparedness on the India-Nepal border, was ideally placed to move in to provide immediate emergency help.
Their team hurried to Gorkha, west of Kathmandu, one of the worst hit areas where one of their doctors treated 400 people in three days, mostly for cuts, bruises, fractures, stomach upsets and abdominal pain. Some 100,000 water purification kits were also distributed.
Christian Aid funds were also made available within hours of the quake hitting to humanitarian response experts RedR and the water treatment group Aquaplus.
I take some pride in the fact that we were one of very few agencies to respond within 24 hours with water, hygiene and medical aid, which we soon supplemented with food aid and shelter.
Three days later I flew into Kathmandu to co-ordinate our response on the ground. Thamel, Kathmandu's major tourism hub with bazaars, craft shops, and streets full of cafes and budget hotels was a shadow of its former self; instead of the usual vibrancy, there was a sense of suppressed panic caused by frequent aftershocks.
People lived amid the ruins of what had once been their homes, fearful of further quakes, and fearful too of the extra hardship the impending monsoon rains would bring.
Over the next few days I was able to visit some of the far flung villages that had been hit far harder than the capital, where families had lost everything they owned, and had nothing but a tarpaulin to protect them from the elements.
The story of Savitri, aged 65, was typical. "I was busy with daily work in the field, when the earthquake struck," she said. "It sounded like a bomb blast. My house collapsed. My children thought I had died inside and were searching for me everywhere." She survived in a make shift tent until Christian Aid was able to provide corrugated iron and a tool kit for her children to build her an emergency shelter.
Several weeks later, on May 12, after Nick Guttmann had flown in to observe the Christian Aid relief effort at first hand, we were having lunch when there was a second quake, this one to the east of Kathmandu measuring 7.3 on the Richter scale.
As we drove towards a village distribution point, the road frequently swayed in front of us as aftershock followed aftershock. Once again, it was communities living in rural areas which sustained most of the damage.
Before the two earthquakes Nepal was already one of the poorest countries in the world, with around 80% of the population living in rural areas and depending on subsistence farming for their livelihoods.
Its people are resilient and resourceful, but helping them rebuild their lives is going to be a major, long-term endeavour and Christian Aid and our local partners will stand shoulder to shoulder with those hardest hit.
Ram Kishan is Regional Emergency Manager South Asia for international development charity Christian Aid.
Popular in the Community