The Olympics are upon us, and it's time for us to get sports-mad.
The London Games was undeniably an Olympics to remember. Not only were the sporting achievements unforgettable, but the stadium, opening ceremony, and incredible fan support marked the London 2012 Games as one of the greats. The '12th man effect' was felt across the whole city and really spurred the athletes on to clinch one gold medal after another.
With the Olympics taking place nearly 6000 miles from London this year, the pressure is on to keep up the level of support we showed Team GB in 2012 while they are all the way over in Brazil. Just because the Olympics are taking place far from home this year doesn't mean the athletes put in any less blood, sweat, and tears. As an avid Team GB supporter, I'm passionate about keeping that London 2012 enthusiasm alive. So, over the past few weeks, whilst Team GB has been busy getting kitted-out with the latest gear ahead of the opening of the Games, we caught up with the athletes to find out how fan support inspires them and get some tips on exactly what it takes to be a Team GB superfan...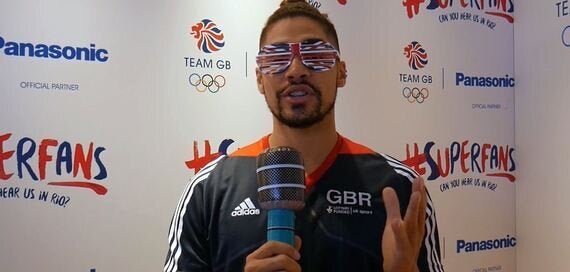 It's not just the sound of your cheers that the athletes need, they love to see their fans dressed up in Team GB attire. Whether it's a Union Jack t-shirt or just a quirky hat, to be a true Team GB Superfan you'll need to look the part.
David Florence, Team GB Canoeist, enjoys seeing pictures and crowd members "with painted faces and Union Jacks everywhere".
It's time to get dolled up and celebrate with Team GB!
2. GET IN THE TEAM SPIRIT
There's nothing quite like getting behind your country and backing your home team, and the Olympics is definitely not the time to hold back. The best Superfans assemble organisations and groups of friends to show their support for Team GB together.
Martyn Rooney, Team GB 400m Runner, loves "seeing the British flag - the Union Jack - in the audience reminds me that I'm not there on my own, that I'm part of a team, performing for my country - it helps me calm down and get ready for my performance".
Grab your mates, get out the flags, and show your team spirit for this year's Olympics!
A good fan is passionate about their team, but a Superfan shows it, so don't be afraid to express your devotion and share your support for Team GB.
Chris Bennett, Team GB Hammer says "the main thing about Team GB supporters is that they're always passionate - no matter where you go, or who you bump into - they always show passion, always want you to do well and so pleased for you. It gives you a bit of pride and makes you feel at home knowing they're supporting you."
What are you waiting for? Get passionate and make Team GB proud.
Just because we can't all be at the Games in Rio this year to support our team, it doesn't mean we can't get behind them here in the UK.
Ben Maher, Team GB Equestrian Showjumper, knows how important it is to follow your team on social media and share your support with them "I remember when I was young, following the sport, and it's really great to see the comments from people of all ages supporting what we do every day".
As an Official Worldwide Olympic Partner in the Audio Video Equipment Category for more than 25 years, we at Panasonic are huge supporters of the Olympics and we're really keen to get everyone behind Team GB for that extra bit of motivation ahead of the Games in Rio this year. Panasonic's heritage as a long-term Olympic partner is important to me because it adds real spark and colour to the brand and we get to help people like our inspiring Team GB athletes.
During the kitting-out ceremony, the athletes also filmed a fun lip-sync video to Years & Years' latest song to thank Olympics fans for all the support they've already seen - let's keep it up as the Games begin!