Wednesday 6 May was an exciting day for the Syrian Arab Red Crescent (SARC) volunteers working in the Douma Branch, just outside of Damascus. They were expecting a delivery of vaccines and medical supplies for their local health centre - a huge achievement in an area cut off from even the most basic humanitarian aid for months on end.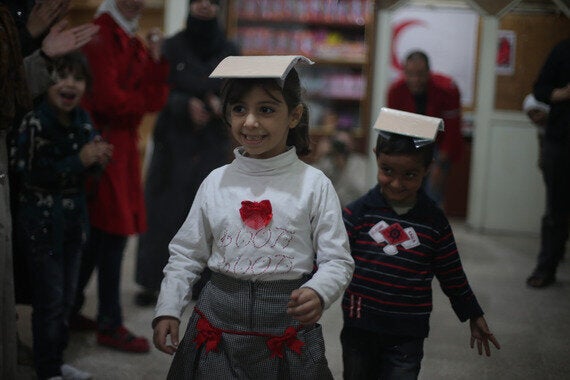 Two children competing as part of an open day activity organized and supported through the efforts of the local volunteers at SARC Douma ©UNICEF/Syria/2015/Bassam Khabieh
"Not all went as planned," says 23 year old volunteer Ayman. "Just as the convoy arrived to the location, a mortar fell and several people got injured. I was chatting to a few girls one minute and the next minute they were running and screaming" he says.
Nineteen year old Isra'a Yasser Al-Habash was another SARC volunteer working with Ayman in Douma that day.
Tragically, she was killed by the mortar fire.
Isra'a's friend Bushra was also injured in the attack. In an interview with UNICEF she recalls how calm and friendly Isra'a was and that she had three sisters. Bushra also says that Isra'a's father was killed in the conflict a year ago.
In her last year of secondary school, Isra'a was preparing to write her final exams in a few weeks. She had been a SARC volunteer for two months.
"Isra'a would tell me how much she liked to help people especially children," Bushra says.
SARC is one of UNICEF's key partners in Syria. The organizations cooperate closely to get life-saving essentials like medicines and clean water to children and families living in hard to reach communities, often cut off from essential aid due to fighting.
"Isra'a is not the first SARC volunteer to be killed in Douma. We lost three others since the conflict began" says fellow volunteer Shadi.
Like many SARC volunteers, Isra'a was courageous and committed to helping people whose lives have been devastated by war.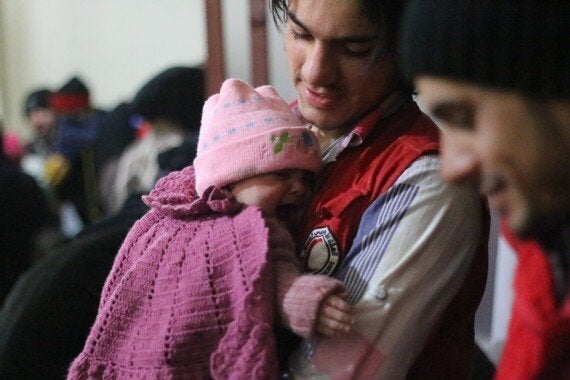 SARC volunteer soothes a baby girl after injecting routine vaccine at SARC clinic in Douma- Damascus Suburbs ©UNICEF/Syria/2015/Hussamsyr
"Humanitarian workers and the emblems of the United Nations, Red Cross and Red Crescent should be respected at all times" says Hanaa Singer, UNICEF Representative in Syria. "When aid workers are attacked, they are unable to assist people who are most in need. Those who attack humanitarian workers are violating the very basics of humanity," she added.
Since the Syria crisis began in 2011, more than 50 SARC volunteers and 14 UN workers have been killed - most in the line of duty.