If you follow these top beauty secrets you can get the flawless, glowing complexion of a supermodel. Here are five simple tricks to make sure your skin is ready for its close up.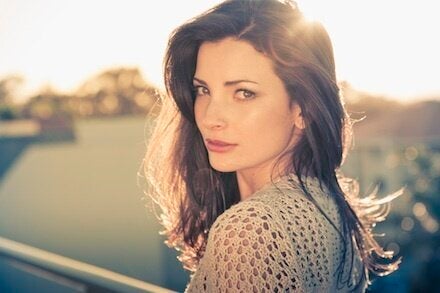 American fashion model Karlie Kloss has revealed that she likes misting her face with rose water in the morning due to its refreshing and moisturizing qualities. Rose water, which is created through the distillation of rose petals and water, is a natural and sweet-smelling beauty product that is great for freshening up skin throughout the day and which can also be used as a toner for dry skin types. It also has anti-inflammatory properties, so is great for reducing redness and soothing irritated skin.
Those with oily skins can also benefit from using a face mist to freshen up their skin throughout the day. Lavender water is particularly good for those with oily or acne-prone complexions. You could even try making your own face mist using purified water and essential oils. This can be stored in the fridge and used to tone and freshen up your skin when required.
Natural skincare has become increasingly popular in recent years, due to the potentially harmful nature of many chemical ingredients used in synthetic beauty products, and many supermodels have cottoned on to this trend. Supermodel Lindsey Wixson is a big fan of natural beauty brand RMS Beauty, and both she and Lily Cole are fans of tea tree oil for helping to keep their complexions blemish-free. Miranda Kerr is also a big advocate of organic products and has even launched her own beauty line, KORA Organics.
If you don't want to splash out on skin products, you could try making your own natural skincare products using ingredients found in your kitchen. Many common kitchen staples can double up as beauty products, such as olive oil - which makes a great natural body moisturiser - and brown sugar, which can be mixed with olive oil to make an exfoliator. Oatmeal is also a useful ingredient for those with dry or eczema-prone skin, either used as an exfoliating cleanser or added to bathwater.
One of the most important steps for maintaining a supermodel-like complexion is to make sure you always apply sunscreen before you leave the house. Czech-born supermodel Paulina Porizkova, 47, puts her youthful complexion down to the fact that she started using a daily SPF on her face when she was in her 20s. Heidi Klum also advocates wearing a daily SPF and avoiding spending too long in the sun.
As these supermodels know, when it comes to wrinkles prevention is better than cure, so try making an effort now to ward off one of the leading causes of wrinkles. While many of us wait until summer to bring out the sun protection, the UV rays which cause premature ageing (as well as skin cancer) can penetrate through clouds and cause irreversible damage. To help delay signs of ageing, wear an SPF of at least factor 15 every day.
Many supermodels, including Adriana Lima and Rosie Huntington-Whiteley, are regularly seen out and about without a stitch of makeup. In fact, many of them make a point of going makeup-free while they are away from work. Ranya Mordanova has revealed that she will only wear concealer on her days off, and Bar Refaeli has said she also likes to go make-up free while not working to allow her skin to breathe.
Going make-up free every now and then is good for your skin, and it can also be good for your confidence to know that you don't need all the cosmetics. To look beautiful without your makeup, try exfoliating your skin and applying a good moisturiser for a natural glow, grooming your eyebrows to help shape your face and wearing colours that complement your natural complexion.
Eat beauty-boosting foods
To get clear and flawless skin it is important to pay attention to your diet as well as your skincare, as most supermodels know. Karolina Kurkova is said to drink green smoothies made from green vegetables and fruit juice as part of her healthy diet, while Mirte Maas has revealed that she eats a diet rich in healthy foods such as whole grains, fresh fruit and veg. Aminata Niaria also puts her glowing skin down to her high consumption of fish, which is rich in beauty-boosting omega-3 fatty acids.
To keep your skin in good condition, make sure you eat a well-balanced and varied diet rich in face-friendly foods, including nutritious fruits, vegetables and oily fish. Deficiencies in nutrients such as iron and vitamin B12 can lead to pale, sallow skin, so make sure you are getting enough of these nutrients in your diet. Nuts are also a great source of vitamin E, which can help the skin to retain its natural moisture levels and stay soft and hydrated.
Read more at realbuzz.com: