Saturday, January 11 - Hundreds gathered outside Tottenham Police Station in North London for a vigil in memory of Mark Duggan, the 29-year-old shot by police in August 2011.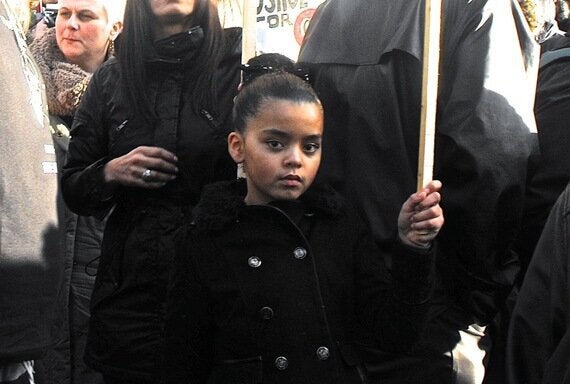 Three days earlier, after four months of a public inquest, a jury found that Duggan had been "lawfully killed". The verdict came as a complete shock to Duggan's family and many in the community. Speakers at the vigil repeatedly referred to the "murder of an unarmed man". Police reports agree that Duggan was in possession of a gun fifteen minutes before he was shot, but the story of what happened to the gun at the time of the shooting has changed several times. The jury found that Duggan was not holding a gun at the time he was killed, but concluded it was a lawful death. The only independent witness to the incident, and who filmed the shooting, insisted that Duggan was holding a Blackberry phone and that he was executed with his hands up over his head.
Fighting back tears, Mark Duggan's aunt, Carole Duggan, thanked the witnesses for "their bravery in speaking out" and promised that the family would continue to pursue the case.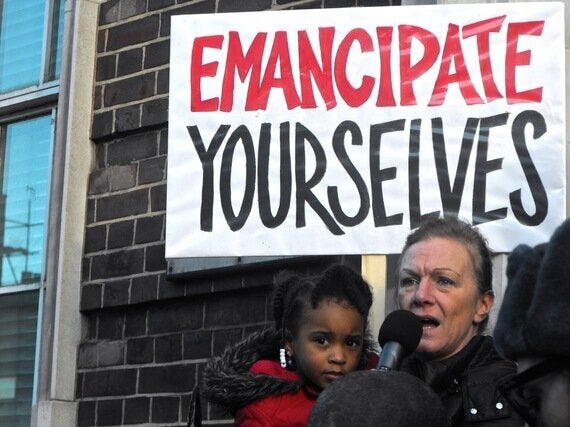 The vigil, attended by both white and black members of the community, was led by members of Duggan's family and others whose relatives and friends had died while in police custody. Speakers took the microphone amidst boisterous chants of "No justice, no peace". The anger had a single target--the police. But both Duggan's mother and aunt have called for people to remain peaceful and to pursue justice through legal avenues.
Two years earlier, Duggan's death and the ham-fisted manner in which the police were seen to handle the incident (waiting over a day to inform the Duggan family of the death, for example) triggered a series of riots that spread to other English cities.
A number of speakers were critical of the media for what they view as a misrepresentation of Duggan's family and of the local community. Carol Duggan urged the community to come together to fight injustice. "The more we people come together and support each other, maybe we can make a better life for our children, for all of those children who have to live in these communities that are over-policed, where they are not free."
"We are not this gangster family that the media has been systematically portraying us as. We're just an ordinary family."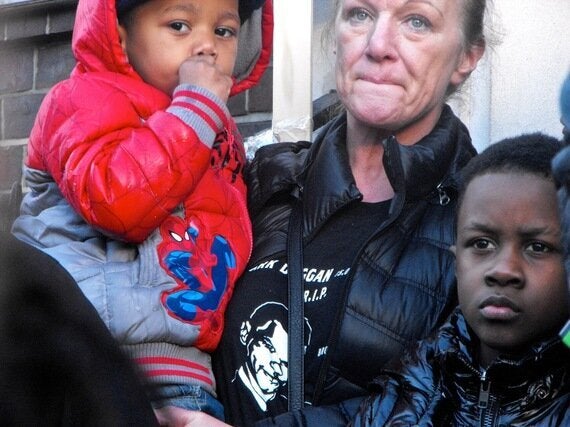 Community leaders expressed their disappointment that Tottenham MP, David Lammy, who had called the jury's verdict in the Duggan case "perplexing and seemingly contradictory," had not attended the vigil despite being invited by Duggan's family.
January 11th was also the 15th anniversary of the death of Roger Sylvester, a 30-year-old man who died a week after falling into a coma following his arrest outside his home. Roger Sylvester's father, Rupert Sylvester, spoke to the crowd and appealed for justice for what he views as his son's murder.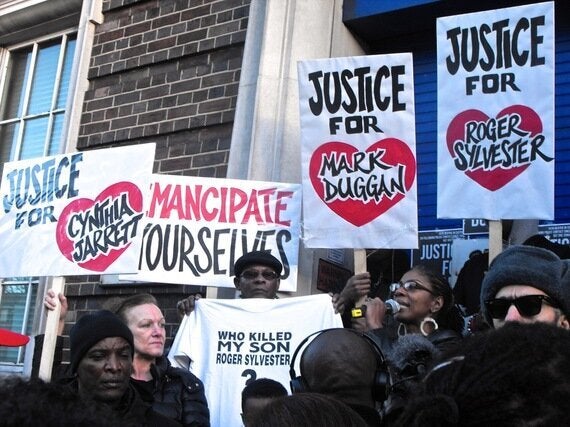 A 2003 inquest found that Sylvester's death had been caused by brain damage and cardiac arrest as a result of the manner in which he was restrained by police, and returned a verdict of "unlawful killing". After a High Court appeal by the officers in the case, the verdict was overturned.
A 2010 report by the Independent Police Complaints Commission (IPCC) states that between 1998/99 and 2008/9 there were 333 deaths in or following police custody in the UK.
Despite fears among police and politicians that some elements could incite violence, the event went off peacefully.