As a keen writer every year when I pack my suitcase and head off on my next travel adventure I always tell myself that I'll write a blog...this never happens. The way I see it you are often too busy having too much fun to stop and right about it. So here is what I decided. I am going to write about each of my trips starting from my first ever journey five years ago, until the present day. I've chosen a photo from each place that I think best represents my time there and I'm going to do my best to provide some hints and travel tips along with a few comedic anecdotes. Enter my blog: Got That Wanderlust.
So let's start at the beginning, always a good place to start. When I was 18 I was fairly shy and happy enough to fade into the crowd. This trip, my first trip, changed all of that.
I had always wanted to travel and was determined to do so as soon as I left school. I defiantly stood up to the family whose woes and worries meant they implored me not to leave. They felt the need to showcase some of the scariest horror films, all set in the US, in an attempt to make me stay. It nearly worked, but I armed myself with a can of mace and promised I wouldn't stray on deserted farms where potential chainsaw yielding men may be seeking camp counsellors.
So I applied to Camp America and got accepted to Round Lake Camp, Pennsylvania. I think possibly the best decision I ever made right there. It was an affordable way to go and see some of the world, I worked for two months and my visa gave me an extra few months to travel afterwards. Camp America helped me through the visa process, dealt with my medical insurance and organised the flights. I knew I would be looked after by a reliable company if something went wrong. It was the perfect solution for a young traveller with limited resources.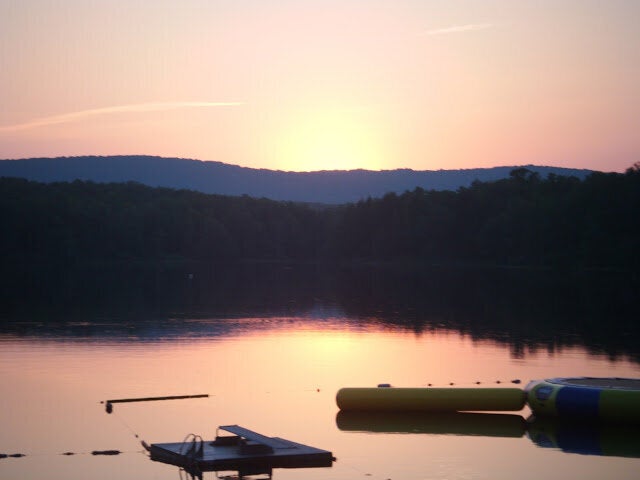 It also seemed like the safest way to go travelling alone. However, I don't think I actually was ever alone. From the moment I stepped on that plane at Heathrow with my bright red T-shirt claiming "Woo I'm going to camp," until the moment I arrived back a dirty brown colour walking through UK customs with no shoes (a story I will later explain), I was not alone.
I met aussies and israelis, americans and dominicans, chileans and columbians and a whole host of fellow Brits. These people became summer family and many of them remain my all time besties.
I worked for 8 weeks at Round Lake which is a special needs camp for Jewish children. It's hard to put into words the experiences I had there but I feel this picture pretty much sums it up. I remember writing home to my parents and describing camp as Dirty Dancing meets Snakes on a Plane...an absolute riot but oh the time of my life. I was the camp's dance specialist and thought of myself as a Johnny Castle type and the kids ensured that the summer was filled with joyful chaos and raucous activity.
As with any trip, it is the people you meet that make it. Although you may not keep in touch with every person you ever met on your travels, they all stick with you because you share those camp memories; that includes the kids as well as the staff. For them, you were their mums and dads for the summer and they sure become as much a part of your life as you were in theirs.
Of course working 24 hours a day with challenging kids pushes you to your limits but that is why the people you meet become your closest friends. You see each other at your ultimate highs and your all time lows, whether that's dancing on tables in the local hillbilly bar or getting caught stashing an un-kosher pizza into your bunk.
I couldn't recommend going to work in a summer camp more. It made me grow that back bone mum always said I needed, and gain the independence that today stands me in good stead. Camp gave me unforgettable memories, the time to travel the rest of the US afterwards, the friends to travel with, the money to pay for it; the only price you have to pay is the fatty fatty bum bum you come home with after months of PB and J sandwiches.
This picture is of the lake at camp. The lake that I cursed every morning when I had to dive into the icy cold water. The lake I refused to get in after a scary spider ran across my face, much to the children's delight, but the lake I loved come Friday night when all was calm and the sun began to set.
Friday night was Shabbat at camp. We celebrated with songs and dances despite the fact that probably 90% of staff were not Jewish- it was just fun. The view as you can see above was so beautiful and Shabbat just meant a good time.
I will never forget my three summers at Round Lake Camp, it's a part of who I am. This picture marks my time there. It is my most sacred place on earth.