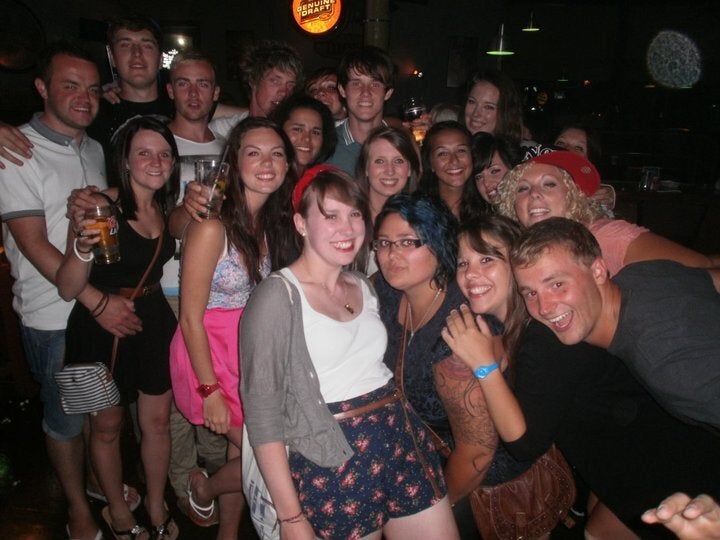 So Mexico ended my US tour for 2009 but obviously I hadn't had enough because in 2010 I went back. Returning to Round Lake Camp, I spent another summer as dance specialist in the Pennsylvania sticks and was able to rack up a hold other host of american cities on my "been there" list.
Scranton, known as the electric city, may not be as well-known as other US destinations but it is more than deserving of a post. It was the closest city to camp, about an hour away, and located in the Lackawanna Valley It became known as the electric city after the streetcar system was established there in 1886- a bit of historical info for you.
For camp counsellors Scranton really was electric. It was like Disneyland for us because it meant real food, great shops and being back in civilization.
The city has numerous hotels, including big names like the Radisson and the Hilton, and for the life of me I don't know why every year we all opted for a run-down motel called the Red Carpet Inn. This was a wholesome, american motel just like the ones you see in the movies. It provided all the bare necessities and at a reasonable price. More importantly it "allowed" us to pack 7 people into a 2 person room, take midnight skinny dips and boogie on the balconies. Well I say "allow," I'm sure technically it wasn't allowed but there were never any complaints...well almost never.
Trips to this fine city have provided me with many a memorable day, mostly because the food was epic and the two malls were a godsend.
The first time I visited Scranton it was my first day off. About twenty of Round Lake's specialists rocked up excited to sample our first piece of American culture.
Arriving fairly late we piled into one of the rooms to chill out and plan the following day. However, it came to a halt when one of my camp besties, the drama specialist, took a funny turn that meant we had to call 911. When paramedics arrived they scooted the patient and myself to the ER. At the time I was pent up with worry but looking back I think it's super cool I actually got to visit a real ER- no sign of George Clooney though and not at all like Grey's Anatomy.
Fearing it was something more serious we waited for hours on test results but eventually doctors confirmed it was just a panic attack. We were free to go but with no shoes or money (apparently I wasn't good at this going to hospital and being prepared thing) hitching a ride back to the hotel proved rather interesting. We finally flagged a taxi who agreed to take us but by the time we got back to the motel the party was over. Nothing like a bit of hospital drama.
My next visit saw us visit a local bar where Scranton residents treated us like exotic creatures. Everyone was eager to find out who this crazy bunch of Brits were and partying with the locals is definitely a cultural experience worth having.
Later that night we headed back to the motel but our large group had picked up a certain Scranton resident who was not keen to say goodbye. We hinted and hinted that this was the end of the night but Majestic was not getting it. He was dressed in what looked like pajamas and covered in cake mixture. Apparently he worked in a cake factory and hadn't felt the need to change after his shift.
Much of the night was spent trying to get rid of this guy so that we could head to bed...after some hefty heave ho from the guys we bid farewell to crazy cake man. Meanwhile Scranton police had arrived to investigate the noise. Fearing the worst the girls lined up in a row and tried to sweetly apologise to the officers. They accepted our apologies and agreed to having us take a series of posy pics with them whilst we insisted on calling them Office Dimples. A bit cringe but jail averted.
So, so far Scranton has provided me with a run in with two of its emergency departments.
These are just a few occasions that stick out in my mind but lord knows there were a good few more fun experiences to be had in Scranton...
Scranton has played host to a whole load of crazy camp antics that I couldn't even begin to write about but I can surely say that it holds a place in every Round Lake counsellor's heart.