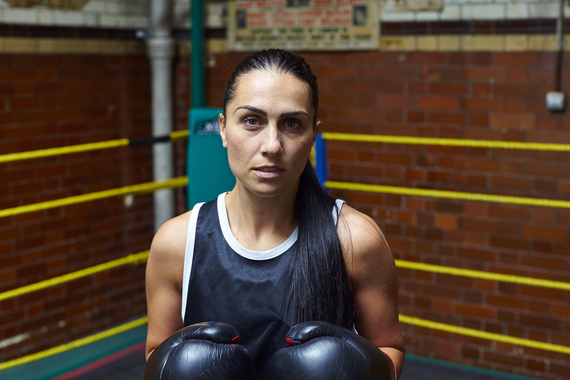 According to a recent survey by Sport England, a third of women still worry about what people think of their appearance and ability when they exercise. At a time where we're seeing women as world leaders, this is a worrying statistic.
In the political and public domains, we are seeing decisive female leadership. Angela Merkel has been leader of Germany, Europe's largest economy since 2005. The recent women's marches in cities across the world, in protest against Donald Trump's inauguration, galvanised citizens from every walk of life. Closer to home, Cressida Dick, just appointed to the position of Metropolitan Police Commissioner is the first woman to be in the job. But at the very same time we are hearing that women feel shy to exercise in front of people. Something clearly doesn't add up.
The question is, how do we start to break down these insecurities? A lot of it comes from the perception of how we look and whether we conform to how an exercising female should appear. The discussion about the visualisation of female athleticism grew last year during the Rio Olympics which has encouraged big brands to represent women exercising in a more realistic way. Adidas' recent campaign is aimed at focusing on the strength and 'pure determination' of women, showing them as they sweat and grimace with effort while in the gym. Nike, at the end of last year used plus sized models in its advertising campaigns for the first time. This is a landmark moment for sporting brands; some of the most well-known sporting brands in the world are putting their heads above the parapet and creating a diverse portrayal of women in the active wear industry. Hopefully many brands will take their lead and adopt the same approach.
One of the most notable campaigns in the UK has been Sport England's 'This Girl Can', which aims to inspire all women, showing they can achieve what they set out to achieve in sport. In its latest campaign, Sports England has focused on targeting women of all ages, encouraging them to hit the gym and push themselves while being proud of how they look and what they can achieve.
Imagery is a powerful tool in changing perceptions; it is something that we are exposed to every day. We need to use images to display diverse and true representations of women, not just in the high profile campaigns (as mentioned above) but in the day to day image choices that brands make.
At Getty Images we have seen a rise in the popularity of images depicting women who care less about how they look and more about what they can do, a visual trend we are calling 'Gritty Woman'. We predict that strong women will feature heavily in visuals and imagery throughout 2017, being used to inspire and motivate female audiences. Sport will play a part in that.
Our recent work with the Women's Sport Trust aims to challenge how female athletes are represented in the media. This curation of images, which we made available free of charge to schools, universities and not-for profit organisations to promote the powerful depiction of women and girls in sports, showcases many of the world's top sporting women who demonstrate that skill, strength and passion is what makes women inspirational, not appearance.
This year, and moving forward, I expect more brands to use visuals that celebrate women who are unapologetic in their opinions and actions. This honesty will ultimately fuel a more body positive society and increase engagement with those brands brave enough to break the mould. Hopefully by doing this we can get more women in the gym without fear of criticism and judgement.